Deck:
A billion-dollar 'gold rush' could send grid rates through the roof.
Author Bio:
Bruce W. Radford is publisher of Public Utilities Fortnightly.
Money may be difficult to come by for Wall Street financiers in these dark days, but apparently not for electric transmission construction—at least so far. A rash of recent orders from the Federal Energy Regulatory Commission shows that generous financial incentives remain available to companies seeking to expand the nation's grid capacity.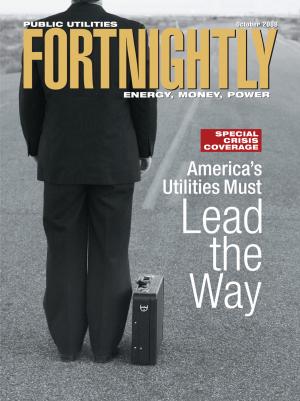 Congress virtually mandated such incentives in the 2005 Energy Policy Act (EPAct), for grid build-outs that promise to ensure reliability or reduce the delivered price of electricity by relieving transmission congestion. The most recent award came only two weeks ago, when FERC granted an incentive adder to return on equity (ROE) worth a whopping 275 basis points for a 1,200-MW, high-voltage DC line proposed by New York Regional Interconnect, to bring upstate generation resources to market (Dkt. EL08-39, 124 FERC ¶61,259, Sept. 18, 2008).
Yet these incentives have sparked a storm of protest for two new transmission projects proposed in New England. That's where rising costs for construction materials have drawn attention to past and possible future cost overruns, and where cost hikes already have forced transmission rates up significantly, to ever-higher fractions of the retail distribution rate. Meanwhile, regional concerns over climate change (plus state-imposed measures to boost renewable energy) already have spawned disputes over grid-planning rules, driving a wedge between state regulators and the regional ISO—even pitting state against state—amid charges that renewable mandates and regional efforts at carbon control have led to a "greenwashing" of markets and the role they play in resource development.
This storm hit its apex on July 18, when the chairman of the Massachusetts state utility commission (DPU) delivered an impassioned plea to fellow members of a New England stakeholder group trying to sort out these issues, warning of dire consequences if state regulators should continue to hand over planning decisions to ISO engineers with slide-rules who remain financially unaccountable to retail ratepayers.
The two grid projects that have raised such a furor are slated for construction in the state of Maine.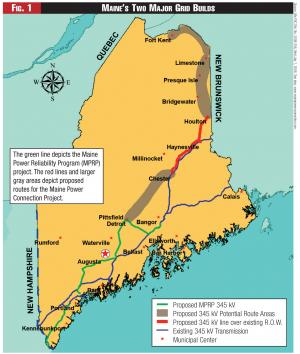 • Maine Power Reliability Program. First, on July 1, Central Maine Power (a subsidiary of Energy East) applied to the state PUC for authority to build the largest single endeavor in company history, the MPRP. This project, a 245-mile, 345-kV transmission line (plus substations and related upgrades) is estimated to cost $1.36 billion. That's about four times the value ($341 million) of CMP's total transmission plant in service at the end of last year (See www.mainepower.com).
• Maine Power Connection. A second application filed the same day at the PUC finds Maine Public Service Co. coupling with CMP on a different grid project slated to cost another $625 million. For this plan, the two utilities would divide costs on a 30-70 basis (MPS/CMP), with the MPS cost share figured at $184 million. Yet, consider that Maine Public Service as of mid-July claimed a total market capitalization of only $75 million. Its $184 million project share would run nearly 10 times the total value ($19 million) of transmission plant dedicated to service at MPS, as of year-end 2007 (See www.mainepowerconnection.com).
Given the huge size of the projects, both utilities say they would rely on external financing. And to aid that effort, the utilities also have filed separate applications for each project at the FERC, seeking incentive rates that include ROE adders, current rate recovery of construction work in progress (CWIP—but only for the MPRP) and even possible cost recovery in the event of project abandonment.
As sole sponsor, Central Maine Power advances its MPRP project as a "reliability transmission upgrade" (RTU) approved by the ISO New England RTO (regional transmission organization) as a part of the regional system plan (RSP), and thus eligible for incentive rates under Federal Power Act sec. 219, and FERC Order 679, as a project necessary to maintain grid system reliability (See, Petition for Declaratory Order Authorizing Incentive Rates, FERC Dkt. EL08-74, filed July 1, 2008).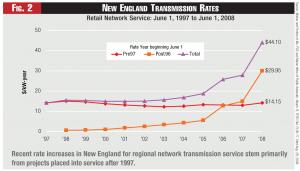 Central Maine's request, if granted, would boost ROE by 150 basis points—from 11.64 percent (OK'd in 2006 in FERC Opinion 489, for all New England grid owners participating in the RTO), all the way to 13.14 percent. Yet Maine PUC utility analyst Richard Kivela points out that CMP's own data shows that CMP and other Energy East subsidiaries get by at the retail rate level with ROEs of 10.55 or less, granted by state PUCs in the region. And Eric J. Bryant, senior counsel in the Maine Public Advocate's office, views ROE adders as "one of the primary causes for rising costs in this part of the country," as seen in this excerpt from an email message that Bryant sent to the FERC on June 19:
"I just negotiated a multi-million dollar distribution rate decrease with our largest utility, and the entire decrease was wiped out by an increase in transmission costs.
"The adder is only part of the problem. FERC's delegation of all cost responsibility to the ISO-NE (a utility that is not required to examine least costs) is the rest of it."
The MPC project, sponsored jointly by CMP and Maine Public Service, stands on entirely different footing.
At present, Maine Public Service does not belong to ISO New England, and its service territory remains isolated as well, lacking a direct connection to the rest of New England, and instead relying on grid connections with New Brunswick and the Canadian Maritimes for a good measure of fuel diversity, resource adequacy, and ancillary services.
Thus, the MPC project, proposing 200 miles of new 345-kV line in Northern Maine, would not be required to ensure and maintain reliability within Maine and New England; the region is getting along fine today without the line. Rather, the project for the first time would forge a direct and sturdy link with the rest of Maine and New England, spanning a 25-mile gap and allowing MPS to join the RTO. (The remaining 175 miles of 345-kV line would reinforce portions of the MPS and ISO grid systems to enable development of a proposed 800-MW capacity wind farm in Maine's Aroostook County, see below.) Connecting MPS with New England would mean an expansion of the ISO market area, with major implications for state energy policy, since the Maine PUC previously openly questioned whether the state's utilities should withdraw from the New England RTO.
Earlier this year, in response to inquiries from the state legislature, the PUC argued that RTO methods for transmission-cost allocation tended to distort resource-planning decisions. The Maine regulators pointed out that regional "socialization" of grid-expansion costs (through postage-stamp rates) for projects designed to enhance reliability tended to favor grid solutions over generation sited closer to load (See, Final Report to Utils. & Energy Committee, Me.PUC, Jan. 15, 2008).
Also, by boosting grid capacity into and out of its service area, MPS would make possible the development of the planned 800-MW Aroostook Wind Energy (AWE) venture, not to mention imports from Canada of massive amounts of renewable energy (wind and hydro), that likely will become available in the future. Some say that New England will need projects such as the MPC, if ever it should entertain realistic hopes of complying with state-imposed renewable mandates, or its equally ambitious goals for carbon control, as put forth in the Regional Greenhouse Gas Initiative (RGGI).
Thus, CMP and MPS submitted their project as an economic grid expansion, known in New England as a METU (Market Efficiency Transmission Upgrade), which presumably would qualify for FERC incentives by reducing the cost of delivered electricity by reducing congestion (See, FERC Dkt. EL08-77, filed July 18, 2008).
Nevertheless, as with CMP's MPRP project, the Maine Power Connection has run into problems. In short, despite adding wind energy to the regional portfolio, the project might not actually reduce power prices, since Maine would remain export-constrained, which would limit sales of cheaper Aroostook wind power across the region—not to mention that experts believe gas-fired turbines (the unit of choice in New England) likely would continue setting the marginal clearing price in the RTO's regional spot energy markets. Also, the project certainly will not reduce congestion, but in fact might increase it, by inviting imports of Canadian power into Maine, where they would remain bottled up without enough grid capacity to move the power further to Southern New England, where it would be needed to meet renewable mandates. The only constraints that MPC might relieve would be the congestion that it would cause itself—the traffic added to the grid from the Aroostook wind farm, which would exist only on condition of building the new line.
As the Connecticut Consumer Counsel and state utility commission explain, incentive rates for the MPC project will allow the sponsors to "insulate themselves from all risks and collect hundreds of millions of dollars to build a transmission line to nowhere."
Donald Downes, chairman of the Connecticut DPUC, writing to ISO-NE president and CEO Gordon Van Welie on July 10, likened the MPC project more to a gen-plant proposal or resource-development venture, rather than a classic regional transmission project. He suggested a simultaneous evaluation of multiple competing development proposals, "rather than a 'gold rush' approach in which individual proposals are examined in isolation on a first-come, first-served basis."
Lastly, the ISO never has recommended the MPC project as a system expansion, and has not yet agreed to include the project as a qualifying METU within its current Regional System Plan, so that it appears the project cannot qualify under EPAct and FERC Order 679 as having "resulted" from a fair and open regional process for transmission planning that evaluates energy pricing and line congestion. Rather, the RTO so far has treated the MPC project only as an "elective" upgrade, proposed by the utilities on a "volunteer" basis.
There's much more to it than this, but suffice to say that as the first-ever METU project proposed for New England, the MPC raises so many novel questions that the RTO has formed a new working group, the Economic Studies Process Stakeholder Group, to reconsider how it will integrate market-based generation resource development with ISO-sponsored and rate-regulated transmission planning. That's where Massachusetts DPU chairman Hibbard steps in, with no shortage of forthright advice.
Hibbard's 5,000-word talk is available in full on the ISO-NE website. And while the draft is marked "not for citation," the Maine PUC and the Maine Office of the Public Adovcate already have filed a copy at FERC as evidence in the MPC grid-incentives case.
On one hand, Hibbard believes the science of climate change "is clear and unequivocal," and swears that "we would be fools" to ignore the "vast, wind, hydro, biomass and other low-carbon resource options within and just beyond the borders" of the New England region—resources that Hibbard says "are counted in gigawatts, not megawatts."
Yet Hibbard claims also that the wind industry "is no longer one that needs to be pampered," since wind resource development is driven no longer by wildcatters, "but by institutions with extremely deep pockets and sophisticated development strategies, including FPL …Boone Pickens … and Iberdrola, a company that has a market capitalization of more than $60 billion."
Thus, Hibbard warns at length that utility industry resource planning must acknowledge these truths, but must avoid allowing the process to be co-opted by ISO engineers with slide-rules, who owe no financial accountability to ratepayers:
"Opinions on whether we will or will not meet renewable or environmental standards, or whether or not specific generating development options will depress market prices, or lower the marginal price of a carbon allowance, are valuable judgments that should be considered in the development of state law and policy, but they cannot and must not be used as any formal justification for infrastructure development or the allocation of transmission or any other system costs, where those determinations are made in a forum that is driven only by stakeholder committees and subject only the jurisdiction of FERC.
"And that is where I fear we are headed."
Cost Overruns
Citing what it alleges as significant cost overruns for electric transmission projects now underway, the New England Conference of State Public Utility Commissions (NECPUC) filed a complaint earlier this summer, questioning the wisdom of granting open-ended ROE adders (since they grow in lockstep with project budgets) and urging FERC to step in and stop the bleeding.
In the NECPUC complaint, the New England state regulators advance the very sensible notion that transmission rate incentives must be keyed to consumer benefits, and so must be made subject to a downward adjustment ordered by FERC if costs should rise in the future, above the level projected in the original application for the incentive. In particular, NECPUC wants to roll back certain ROE adders that FERC granted to utility transmission owners participating in the New England RTO, a group known as the NETOs, which includes Central Maine Power.
In many cases, according to NECPUC, these cost overruns pertain to New England transmission projects that ISO-NE OK'd for its 2004 transmission expansion plan (RTEP-04), and that were scheduled to go into service by the end of calendar 2008, and so qualified for an incentive-driven 11.64 percent ROE under the terms of FERC Opinion 489, which governed incentive rates for the NETOs for projects proposed before Congress passed EPACT, and before the FERC issued interpretive rules under Order 679 (See, Opin. No. 489, Dkt. ER04-157, Kelly and Wellinghoff, dissenting, 117 FERC ¶61,129, Oct. 31, 2006).
The state regulators cite numerous examples, some listed here, comparing project cost estimates from 2004, with actual or current estimated costs as given by ISO-NE in its Regional System Plans for 2007 or 2008:
• NSTAR 345-kV Trans. Reliab. Proj. Costs up $57 million (30 percent), from $217 million in RTEP-04, to $283 million in RSP-07.
• Central Maine Proj. ID 149. Costs up from $3.3 million (2006) to $7.5 million (Oct. 2007).
• National Grid Project ID 170. Estimates up from $5.54 million (2006) to $13.4 million (Oct. 2007).
• Northeast Utils Proj. ID 187. Costs up from $120 million to $183.2 million between July 2006 and Oct. 2007. And then to $234.2 million as of April 2008.
• Northeast Utils. Middletown-Norwalk Proj. Current price tag approximately $1.4 billion—"about twice as much as its estimated cost only a few years ago." (Expected in service early 2009.) (See, Complaint of NECPUC, pp. 3-13, FERC Dkt. EL08-69, filed June 12, 2008.)
According to the Maine PUC, cost overruns like these, plus the incentive rate adders granted by FERC, have led recently to "extraordinary increases in regional transmission rates."
For example, the PUC reports that the formula rate filing for the New England TOs shows an increase in rates from $27.90/kW-yr to $44.40/kW-yr between 2007 and 2008 (see Figure 2), translating into an approximate 6.5 percent increase in the distribution component of Central Maine Power's retail residential rates. The PUC adds:
"With the increases in transmission costs due to major new projects, a pattern of significant cost overruns, and the commission's ubiquitous and generous grant of ROE adders in recent years, transmission is becoming an increasingly large component of the overall electricity rate.
"Currently it is close to 10 percent of the all-in rate for CMP residential customers and 20 to 24 percent of total CMP delivery-only rates" (Motion to Hold Petition in Abeyance, p. 18, FERC Dkt. EL08-77, filed Aug. 29, 2008).
In defending incentives for its MPRB project, Central Maine projects that its interest coverage ratio during the construction period will decline from 4.4 to 3.4, a figure more characteristic of companies with credit ratings lower than CMP's current BBB+/A3 ratings. It adds that a FERC incentive allowing current rate recovery of CWIP would help boost its coverage ratio to 4.2 during the height of construction.
Maine PUC analyst Richard Kivela counters, however, that for T&D utilities like CMP (and MPS) that have divested themselves of generation assets and which carry very low business risk profiles, the S&P guidelines indicate that a 4.2 coverage ratio actually would be consistent with a "high-A" to "low-AA" credit rating.
Kivela adds that CMP's case for incentives is undercut by Iberdola's friendly merger offer of $28.50 per share for stock in CMP's parent company, Energy East. According to Kivela, Iberdola's offer represents a premium of more than $1.2 billion over book value, indicating that an appropriate ROE for CMP would fall within the range of 10.5 to 11.0 percent—substantially lower than CMP's requested figure 13.14 percent, reflecting FERC incentives for grid expansion.
Maine Makes a Market?
In August 2007, ISO-NE released the final draft of its "New England Electricity Scenario Analysis," in which the RTO documented that the region would need another 8,000 MW of electric capacity by 2020 to 2025, but that adding gas-fired capacity to meet that challenge (the likely capacity of choice absent major changes in RTO policy), would expose the New England region "to potentially high prices and additional fuel-diversity issues."
The analysis concluded that alternative paths favoring renewables could save New England over $1.5 billion per year (almost 14 percent of total system costs) versus the "business as usual," carbon-heavy path represented by power plants already proposed and listed in the region's interconnection queue.
In particular, the report favored wind and other similar generating choices that could provide energy "at low to no fuel cost," thereby resulting in "the lowest system-wide electric energy prices, emissions, and use of fossil fuels."
That policy document today drives much of New England's big picture planning. Yet it appears that facts on the ground are conspiring against such thinking.
First, EPAct and FERC's interpretive rules for grid-expansion incentives reward only those projects that ensure reliability or reduce line congestion, and MPC, unfortunately, does neither.
In fact, New England as of 2007 had "little persistent transmission congestion," according to Stephen J. Rourke, ISO-NE vice president for system planning, in remarks he gave on July 9 in Hartford, at a DOE workshop on transmission congestion.
Second, MPC likely would not even cause spot-market energy rates to fall much in New England, since the RTO's single-price auction market for energy relies on locational marginal pricing, and even a large dollop of imported wind capacity probably would not displace gas-fired turbines from their position as the price-setters operating on the margin.
Third, the MPC project would produce a perverse rate-making result, in effect transferring costs to retail ratepayers, in the form of higher regional transmission rates, that otherwise ordinarily would fall under the responsibility of power-plant developers.
Massachusetts DPU chairman Paul Hibbard explained this idea in July in his "not for citation" presentation before the ISO's new ESP Stakeholder Group:
"Price will be determined by the marginal price of natural gas fired, generation … We cannot change this. We cannot change it by building different types of generation. We cannot change it by building transmission to remote generation. And we cannot change it by selecting the types of wholesale generation resources added to our region—whether fossil, nuclear, or renewable."
Hibbard now explains the discouraging reality of banking on a big grid build-out to bring distant renewables to urban markets:
"Separately funding transmission from new generation resources whether in Southern New England, offshore, or to bring power in from New York, Northern New England or Canada cannot materially impact the wholesale cost of power in the region. On the other hand, it would affect the price of delivered power at the retail level, but only by increasing it by the cost of transmission that otherwise would remain the responsibility of the generation developer."
Is it true what they say: "As Maine goes, so goes the nation?"
If so, then Massachusetts regulator Hibbard offers some sobering advice:
"The price tag for the Maine Power Connection (and interconnection projects under consideration by this working group) is extraordinary—in the billions.
"So it simply won't be enough to just assert or model that a project or plan provides carbon benefits—they will have to be certain."