Deck:
A billion-dollar 'gold rush' could send grid rates through the roof.
Author Bio:
Bruce W. Radford is publisher of Public Utilities Fortnightly .
A billion-dollar 'gold rush' could send grid rates through the roof.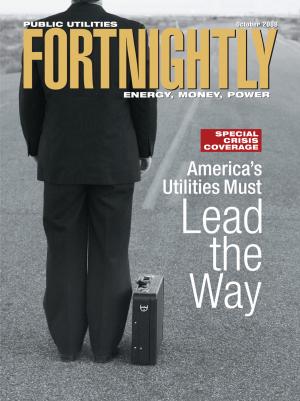 Money may be difficult to come by for Wall Street financiers in these dark days, but apparently not for electric transmission construction—at least so far. A rash of recent orders from the Federal Energy Regulatory Commission shows that generous financial incentives remain available to companies seeking to expand the nation's grid capacity.
Congress virtually mandated such incentives in the 2005 Energy Policy Act (EPAct), for grid build-outs that promise to ensure reliability or reduce the delivered price of electricity by relieving transmission congestion. The most recent award came only two weeks ago, when FERC granted an incentive adder to return on equity (ROE) worth a whopping 275 basis points for a 1,200-MW, high-voltage DC line proposed by New York Regional Interconnect, to bring upstate generation resources to market (Dkt. EL08-39, 124 FERC ¶61,259, Sept. 18, 2008) .
Yet these incentives have sparked a storm of protest for two new transmission projects proposed in New England. That's where rising costs for construction materials have drawn attention to past and possible future cost overruns, and where cost hikes already have forced transmission rates up significantly, to ever-higher fractions of the retail distribution rate. Meanwhile, regional concerns over climate change (plus state-imposed measures to boost renewable energy) already have spawned disputes over grid-planning rules, driving a wedge between state regulators and the regional ISO—even pitting state against state—amid charges that renewable mandates and regional efforts at carbon control have led to a "greenwashing" of markets and the role they play in resource development.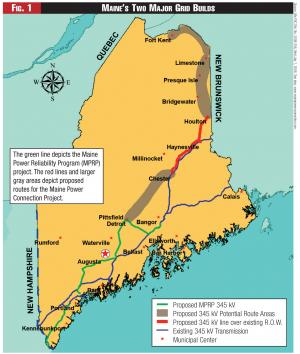 This storm hit its apex on July 18, when the chairman of the Massachusetts state utility commission (DPU) delivered an impassioned plea to fellow members of a New England stakeholder group trying to sort out these issues, warning of dire consequences if state regulators should continue to hand over planning decisions to ISO engineers with slide-rules who remain financially unaccountable to retail ratepayers.
The two grid projects that have raised such a furor are slated for construction in the state of Maine.
• Maine Power Reliability Program. First, on July 1, Central Maine Power (a subsidiary of Energy East) applied to the state PUC for authority to build the largest single endeavor in company history, the MPRP. This project, a 245-mile, 345-kV transmission line (plus substations and related upgrades) is estimated to cost $1.36 billion. That's about four times the value ($341 million) of CMP's total transmission plant in service at the end of last year (See www.mainepower.com).
• Maine Power Connection. A second application filed the same day at the PUC finds Maine Public Service Co. coupling with CMP on a different grid project slated to cost another $625 million. For this plan, the two utilities would divide costs on a 30-70 basis (MPS/CMP), with the MPS cost share figured at $184 million. Yet, consider that Maine Public Service as of mid-July claimed a total market capitalization of only $75 million. Its $184 million project