Deck:
FERC fights for the green-grid superhighway—even if Congress won't.
Author Bio:
Bruce W. Radford is publisher of Public Utilities Fortnightly .
FERC fights for the green-grid superhighway—even if Congress won't.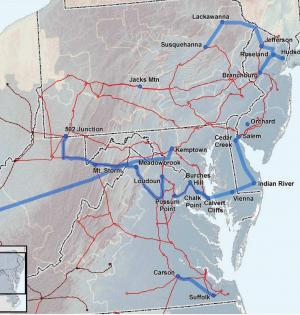 The Senate's deadlock over carbon cap-and-trade legislation has not deterred FERC Chairman Jon Wellinghoff from an agenda bent on promoting renewable energy and fighting climate change.
Last fall, even as Congress dithered, FERC launched a landmark initiative that likely will lead to sweeping new rules for expanding the nation's electric transmission grid, grounded on Wellinghoff's belief in wind, solar, and green power resources.
The scope is breathtaking. The effort covers not only the process of transmission planning ( e.g., local, regional, and super-regional), but also the heretofore sacrosanct precinct of cost sharing for new projects. Past columns have documented how planners and system operators have set utility against utility, state against state, and region against region through the unequal parsing of grid expansion costs (see " T Party Revolt ," October 2009.) But now FERC proposes to take grid planning and cost allocation to an entirely new level, attempting for the first time to account for the overall societal benefits that many ascribe to renewable energy, such as reductions in greenhouse-gas (GHG) emissions, cuts in oil imports, and greater national security.
At this stage, the commission has conducted several preliminary technical conferences around the country ( e.g., Atlanta, Phoenix and Philadelphia), and has invited the power industry to comment on a series of seemingly harmless questions, such as:
• How should merchant projects be treated for planning purposes?
• Is there adequate coordination among planning entities?
• Is the project queue process hindering the ability to plan?
• Should each transmission provider hold an open season to solicit financial interest for new projects? and
• Are dispute resolution procedures adequate to address disagreements that arise in planning?
Other questions, however, are clearly pivotal, and reveal clues about what Wellinghoff might be thinking:
• Should prospective grid developers coordinate their projects in the interest of right-sizing to make the best possible use of available corridors?
• Should stakeholders address cost allocation matters over larger geographic regions? and
• How should non-quantifiable costs or benefits be identified, factored in, or otherwise weighted? (see Notice of Request for Comments, FERC Docket AD09-8, Oct. 8, 2009.)
These ideas leave no doubt that FERC intends very soon to issue a formal rulemaking proposal to set down concrete rules governing how power producers, utilities, and ratepayers must share the cost of constructing the grid superhighway. And if FERC acts, it may well prefer the highway-byway model of cost allocation, according to the load-ratio shares of transmission owners (TOs) operating within the regional footprint, with a beneficiary-pays method applied to local, low-voltage facilities, based on actual distribution load-flow factors (DFAX), but with costs spread widely (socialized) over broad geographic areas for extra-high-voltage (EHV) highway lines, such as ITC's massive and controversial $12-billion Green Power Express project (www.thegreenpowerexpress.com).
Seeing the handwriting on the wall, the ex-FERC chairman James Hoecker, now a private attorney representing the non-profit WIRES trade association (Working Group for Investment