New Opportunities: CMS Energy named Mamatha Chamarthi to the newly created position of chief information officer. She was senior manager of information technology for Daimier Financial Services.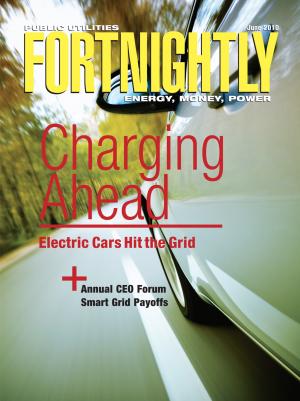 Duke Energy named Jim Stanley as senior v.p. of power delivery for U.S. operations. He was president of Duke Energy Indiana and succeeds the retiring Sandra Meyer.
Constellation Energy appointed Mary L. Lauria as chief talent officer. She was v.p., talent management and leadership development at Wyeth.
The New York ISO (NYISO) named Rick Gonzales as its new COO, as part of a leadership team reorganization. He was v.p. of operations. The ISO also named Richard Dewey as senior v.p., information technology. He has served as v.p. and CIO since October 2008. Rana Mukerji is named senior v.p., market structure, and has been with NYISO since May 2006.
CenterPoint Energy named Walter Bryant as v.p. of gas operations in Mississippi. He currently oversees all aspects of gas distribution in Arkansas and Oklahoma and now adds responsibilities for gas operations in Mississippi and Louisiana.
FirstEnergy promoted James H. Lash to president and chief nuclear officer of FirstEnergy Nuclear Operating Co. (FENOC) from senior v.p. of operations at FENOC. He succeeds Joseph J. Hagan, who retired. Peter P. Sena III will replace Lash as senior v.p. of operations from v.p. of operations.
UniSource Energy named Steven W. Lynn as chief customer officer from v.p. of communications and government relations.
OnCor appointed Brenda Jackson as chief customer officer from senior v.p. of business operations.
The National Association of Regulatory Utility Commissioners (NARUC) appointed Commissioner Eddie Roberson of Tennessee as chairman of NARUC's subcommittee on education and research.
TransCanada named Russ Girling as president and CEO effective July 1, replacing the retiring Hal Kvisle. Girling presently is COO.
Tres Amigas appointed Frank Barbera as director of reliability assurance. He brings three decades of utility experience to the position.
Black and Veatch appointed Ken Williams its treasurer and senior v.p. He was CFO with a non-profit organization.
Navigant Consulting announced that Julie R. Solomon joined the energy practice as managing director in the Washington, D.C. office.
Patton Boggs hired former FERC Commissioner SueDeen Kelly as a partner to co-chair its Washington, D.C. energy practice.
Steptoe & Johnson hired Kurt L. Krieger as of counsel in the firm's energy team in Charleston, W.Va.
Boards of Directors: The Electric Power Research Institute (EPRI) named James (Jim) L. Turner its board chair. He is a group executive of Duke Energy and president of its U.S. franchised electric and gas business.
First Wind added former FERC Chairman Pat Wood III to its board of directors.
Unitil Corp. re-elected Michael J. Dalton, Edward F. Godfrey and Eben S. Moulton to three-year terms on the board.
PNM Resources re-elected nine standing board members and added Bruce W. Wilkinson as the 10th member. He was chairman and CEO of McDermott International. Those directors re-elected are: Adelmo E. Archuleta, Patricia K. Collawn, Julie A. Dobson, Robert R. Nordhaus, Manuel T. Pacheco, Bonnie S. Reitz, Donald K. Schwanz, Jeffrey E. Sterba, and Joan B. Woodard.
Retirements: The Midwest Independent Transmission System Operator (Midwest ISO) announced the retirement of Roger Harszy, v.p. of real-time operations. He was with the Midwest ISO since 2000. Richard Doying, v.p. of operations now is responsible for all market and real-time operations.
We welcome submissions to People, especially those accompanied by a high-resolution color photograph. E-mail to: people@pur.com.