Deck:
How customer satisfaction drives returns on equity for regulated electric utilities.
Author Bio:
Andrew Heath, Senior Director, Energy Practice, J.D. Power and Associates
The business model for the electric utility industry might appear backwards, compared with models used by traditional businesses today. Utilities often spend money first, and then recoup it later if they can demonstrate trust and explain the need for expenditures to the Public Utilities Commission. If the utility does a good job, its rate case outcome might be positive. It takes a savvy utility leader to know when to apply resources, allocate funds, and develop successful customer service programs to drive operating margins, return on equity and shareholder value.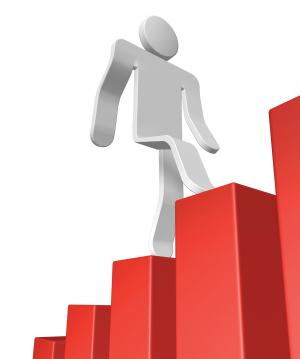 How do utilities know if it's all working? Customer satisfaction is a key indicator. It's an important variable, and leading utilities are constantly aware of how customers perceive them. Customer satisfaction affects a utility's credit rating, profit, return on equity (ROE), and shareholder value.
During the past decade, J.D. Power and Associates and Standard & Poor's have examined the relationship between customer satisfaction and key financial metrics in the electric utility industry, such as profitability and credit ratings. During the same period, the number of electric rate cases has steadily increased. Due to this increase, J.D. Power has undertaken an examination of the relationship between customer satisfaction and ROE in the industry. Similar to profitability and credit ratings, customer satisfaction has a notable impact on ROE for regulated electric utilities. Regulated utilities need to understand their level of customer satisfaction and what drives it. Knowing how to increase customer satisfaction is important and can play a critical role to help improve ROE.
When the customer satisfaction results of regulated electric utilities are categorized into quartiles, results show that higher levels of satisfaction one year prior to a rate case are associated with higher ROE. On average, a 10-point increase in customer satisfaction, based on the 1,000-point index scale utilized by J.D. Power and Associates, correlates with a 0.04 percent increase in ROE. More notable is the finding of a 0.50 percent increase in ROE among utilities in the top quartile of customer satisfaction one year prior to a rate case, compared with utilities in the bottom quartile of satisfaction during the same time frame. This 0.50 percent increase, applied to an equity base of $1 billion, equates to a $5 million annualized increase in earnings available to shareholders. Moreover, utilities in the top quartile also receive rate increases closer to the amounts requested than do utilities in the bottom quartile (see Figure 1).
The main implication of these findings is that investing in the customer experience might yield rewards as significant as investing in tangible assets, such as power plants, transmission lines, and distribution infrastructure. Striking the right balance between increasing customer rates and improving system reliability and customer service is something utilities take very seriously when approaching a rate request proceeding.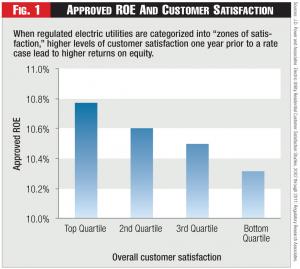 To consider the relationship between customer satisfaction and rate case outcomes, two senior-level executives from two electric utilities shared their views, approach and successes with J.D. Power and Associates. They include:
• Bill Spence, chairman, president, and CEO of PPL Corp., which owns PPL Electric Utilities based in Pennsylvania, as well as Louisville Gas & Electric and Kentucky Utilities based in Kentucky, and Western Power Distribution based in the United Kingdom. PPL's operating utilities serve 10 million customers, operate in both competitive and traditionally regulated markets, and have 200,000 miles of power lines.
• Joan Shafer, senior vice president of customer services of We Energies, the trade name of Wisconsin Electric Power and Wisconsin Gas LLC, which provide electricity and natural gas to areas of Wisconsin and the Upper Peninsula of Michigan. We Energies serves more than 2 million accounts, has more than 45,000 miles of electric distribution lines, and more than 20,000 miles of gas lines.
These discussions focused on six key factors: power quality and reliability; price; billing and payment; communications; corporate citizenship; and customer service. Each factor impacts overall customer satisfaction and thereby impacts a utility's performance in three key areas—operating margin, credit rating, and return on equity. Moreover, managing or improving customer satisfaction has a significant effect on rate case approvals.
Investing in Satisfaction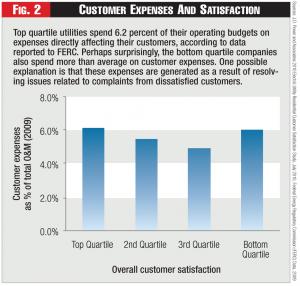 Driving positive customer satisfaction at a utility is a complex issue with multiple layers. It takes leadership, vision, and a significant investment in resources to develop policies and implement programs at every customer touch point. In the past two years, customer satisfaction with electric utility companies has declined slightly, according to J.D. Power data. In this environment the utilities that understand their customers' level of satisfaction are able to manage and improve it.
According to Spence, PPL takes a broad-based approach to customer satisfaction, beginning with reliability, and including pricing, billing and payment, corporate citizenship, and customer service. It's also reflected in how the utility responds on the phone through its call centers during a storm, and how it communicates with customers on an ongoing basis via messages in bill inserts and public relations activities in the community.
A utility company needs to consider customers, regulators, legislators, and shareholders when making investments to improve, enhance, or maintain customer satisfaction. All stakeholders in the process need to understand where the utility company is going, how it plans to get there, and the impact of the investments.
Shafer of We Energies describes customer satisfaction as capturing "vital moments of truth." She says the company seeks to highly satisfy its customers by providing power quality, reliability, and thorough customer service. To do this, it considers every customer touch or transaction that occurs and identifies the things it must get right from customers' point of view. She says the company then goes one step further with a follow-up call. The utility prioritizes clear, open and deliberate communication with its customers "before the transaction, during the transaction, and after the transaction," Shafer says.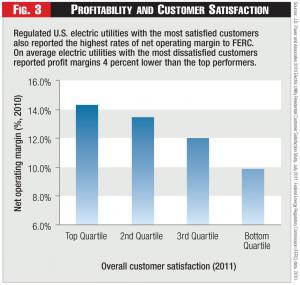 This approach demonstrates the importance of focusing on customer satisfaction at every level of the organization. Along with employee safety and a financial responsibility to shareholders, customer satisfaction is something a utility should live, breathe and talk about all the time to make sure it has a sense of urgency associated with it, according to Shafer. It requires a rigorous focus on the subject of customer service and never changing the conversation about providing the best customer service.
Further, a utility company's financial outlook and rate case outcomes are driven by providing top-quality customer service, fair prices, and the most reliable network. Spence describes this as a "virtuous cycle." Positive performance drives positive regulatory outcomes, which drive positive financials, which can then be reinvested in the business to keep that cycle going. The opposite phenomenon, a "vicious cycle," also can happen, he says. Poor performance drives poor regulatory outcomes and financial penalties, as well as lower credit ratings that make it harder for a utility to invest in its infrastructure, starting a downward cycle in the opposite direction.
The concept of a virtuous cycle requires dedicated and educated employees providing quality customer service. If employees are able to satisfy customers consistently over time, they build customer trust. This in turn helps establish trust with the regulator, who looks to customer satisfaction as a bellwether on how a utility is performing. When the regulator trusts the utility as a corporation, the utility can accomplish what's needed for the overall financial structure of the business. "That virtuous cycle reinforces our outcome with shareholders," Shafer says.
A virtuous cycle starts by investing in the development of ongoing programs that enable customer satisfaction on routine activities. One example is making customer calls ahead of scheduled appointments to confirm the appointment time, and placing a follow up call with the customer after the appointment to ensure everything was satisfactory. If a customer service representative (CSR) can't satisfy customers, or if customers provide negative feedback, escalating the call for follow up can improve customer satisfaction. When a CSR faces a complex situation with a customer, empowering the CSR to assess the situation and make a timely decision might satisfy the customer.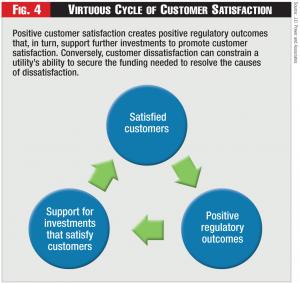 When assessing investment priorities for improving the customer experience, benchmarking the key components of customer service helps each utility to validate progress against the industry, and drives continuous improvements. It allows the company to look at trending data over time, compared with its peer group. Because companies in all industries have a great deal of influence on customer perception, when customer satisfaction declines, it's important to identify the problem and respond to it. For example, PPL Electric Utilities had a significant price increase in 2010 after an extended period under a rate cap. The increase was dictated by wholesale commodity prices in the region, and there wasn't a lot that PPL Electric Utilities could do about it. However, there are other areas in the system where improvements are possible to help achieve higher customer satisfaction. Improving the billing and payment process, reaching out to customers in a timely fashion to help them understand why their bills are going up, and providing tips how to manage their power usage to lower their bills make a difference in customer satisfaction.
Shafer says We Energies invests time and resources for both the internal and external benchmarking of customer satisfaction. Such measurements are useful, because until a utility understands satisfaction needs from the standpoint of the customer, it's just guessing about how to achieve it. The utility must know what a customer needs ahead of a transaction and then measure it afterward to ensure the customer confirms it was done right. It's important to survey customers on a regular basis to understand how satisfied they are with the utility and how satisfied they are with a transaction, and then compare those results to other utilities on a regional and national basis.
The two biggest issues utilities face on a regular basis are the average duration time of an outage and the number of outages in a given year. This is measured by the utility and regulators following two industry metrics: CAIDI (customer average interruption duration index) and SAIFI (system average interruption frequency index). Outages can be due to a severe storm, a vehicle hitting a power pole, or failure in the utility company's infrastructure, and might be momentary or last for hours.
Customer satisfaction can be improved by investing in time and resources to reduce the number of outages and their duration. Response time is an important factor, whether for an outage or another customer issue. PPL's Western Power Distribution in the United Kingdom uses "Target 60" as a benchmark for restoring service. The goal is to achieve as high a percentage as possible of customers back online within 60 minutes.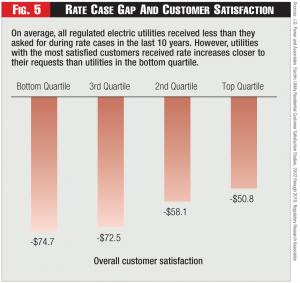 Reducing the amount of time necessary to answer a call, the time to resolution on the call, and the number of repeat calls for the same issue can improve overall customer satisfaction. Improving satisfaction also can reduce the number of complaints to the public utilities commission.
When there's an outage, the utility company must provide customers with efficient ways to report a problem and for the problem to be resolved in a timely fashion. Spence focuses on material and logistics to ensure the right equipment gets to the outage location expediently, and works closely with emergency management agencies. Utilizing an interactive voice response system provides customers with a way to know their outage has been reported and that they're on a callback list with an estimated time for power restoration.
The Internet and social media have become effective tools to communicate with customers. These tools allow customers to directly post questions or comment on a topic, and the utility company can respond to the questions and provide status updates via Twitter. The benefit of allowing customers to connect with the utility company in real time or their preferred time frame also increases overall customer satisfaction.
We Energies recommends utilities conduct outage management predictive work behind the scenes on weather conditions that can cause an outage and the number of customers who might be affected. The information gained in such an exercise allows a utility to get ahead of a problem and share it across the company for readiness. During lengthy outages, it's important to keep customers informed of the progress of the restoration or to confirm service is restored. When restoration is completed, placing a follow-up call to customers to explain why the outage occurred brings the customer information process full circle (see Figure 2).
The Power of Peer Groups
To improve customer satisfaction, a utility company can look to its peer group or outside the utility industry for ideas. For example, PPL Utilities took benchmarking trips to such companies as Vanguard Group, a financial services firm, and QVC, a video and e-commerce retailer, to learn more about call center management and performance. QVC manages high call volume when calls spike, due to sudden demand for a hot item on sale, by deploying additional in-home customer service representatives. The QVC scenario is much like that for a utility when a storm causes a power outage and there's a dramatic increase in customer calls.
The use of third-party call centers in the utility industry can be very effective in supplementing call center support during an outage. It's most important that the quality of a customer call and the customer experience is consistent, whether speaking to a representative directly at the utility or at a third-party call center.
One peer utility with high customer satisfaction reviewed its standard letters with customer service leaders and received feedback on softening the tone of responses. A large financial institution shared its experience regarding electronic communications with customers. Customers respond to calls for action, not receiving more information, e.g., including an action button in an email to prompt the customer to sign up.
A virtuous cycle is supported by reaching, teaching, and communicating with employees at the utility, and can have an effect on customer satisfaction. Employees need to understand the expectations of the utility, the regulator, and customers. This includes communicating changes within the organization on its policy or approach. By hosting several manager meetings each year, supervisors can meet to share current levels of performance for both system reliability and customer satisfaction metrics, including what's working, what isn't working, and what the company is doing to improve. Then this information should be shared across the company's regional operations and presented to teams at every level within the utility. Such a presentation might include a safety topic of the day, or the way to handle customer interaction when routine tree trimming occurs in a neighborhood.
Satisfaction and Shareholder Value
According to Regulatory Research Associates, rate cases are on the rise. This trend is driven by an increasing need for infrastructure updates, system expansion, and accommodating rising costs. However, one of the primary drivers and key performance indicators for all companies is profit and shareholder value. Research conducted by J.D. Power in 2011 examined the relationship of electric utilities' customer satisfaction performance against their most recently published net operating margin data, as reported by utilities to the Federal Energy Regulatory Commission (FERC) for 2010. These data were merged with the corresponding customer satisfaction results from the J.D. Power and Associates 2011 Electric Utility Residential Customer Satisfaction Study.
Results show a positive relationship between the level of customer satisfaction and net operating margin. In fact, electric utilities performing in the top quartile of customer satisfaction also report higher levels of net operating margin, or profit (see Figure 3).
Operating margin and credit ratings are driven by the outcomes from the regulatory process. PPL's Spence observes, "I think it's really a combination of the revenue requirement and the percentage of what you requested to what you receive, as well as a return on equity, that drives your operating margin and your credit metric. If you have customers who are satisfied and your reliability is among the top in the industry, there's a strong correlation with a good regulatory outcome in rate cases."
Analysts who follow utility stocks frequently look at a utility's ability to recover its costs on a timely basis, and at the regulatory construct in a particular state. Does it allow for timely recovery of those costs? Are costs being viewed favorably by the regulator? In some instances, a utility spends money first and then asks for a rate increase to cover the costs. Every regulatory proceeding involves challenges by either the regulator or other parties that intervene in rate cases. It's important to explain the need, use, and customer benefit for the requested funds. Perhaps the money is needed to add employees or to invest in more efficient technology that will actually save the company money in the long run.
In Pennsylvania, legislation titled Act 11 of 2012 allows for the timely recovery of reasonable and prudent costs incurred to repair, improve, or replace eligible property needed to ensure and maintain adequate, efficient, safe, reliable, and reasonable utility services. According to Spence, the law benefits a utility's operating margin—and its shareholder value—by ensuring it will recover costs in a timely basis. Rather than waiting every couple of years for rate cases, the utility can recover the costs incurred every quarter. As an example, for a near-term project, contractors can be mobilized a year at a time at today's prices, offsetting increases that might come in the future. This provides more efficiency, predictability, and cash flow visibility for financing needs. From a credit-rating standpoint, rating agencies like a mechanism of this type because it provides lower business risk.
Transactional Efficiency
Financial performance is an important goal for a utility, and every employee can contribute to the bottom line. Specifically, employees can create efficiencies to help take transaction costs out of the business and keep operating costs as flat as possible over time. For example, missing a customer appointment adds substantial expense that can be avoided. First-call resolution is another way to reduce transaction cost. A notable negative impact occurs when the utility can't resolve an issue on first contact and the customer must call the utility back. Skilled employees who are more efficient and more effective are more likely to satisfy customers. Shafer observes, "A utility company can be a top provider of customer service and customer satisfaction and take tremendous cost out of the business. This helps decrease the operating margin and improves the company's profit and shareholder value." (See Figure 4).
According to J.D. Power and Associates industry data, utilities with the highest proportions of "highly satisfied" customers—i.e., the top quartile—have received rate increases closer to their requests than did utilities in the bottom quartile (see Figure 5). When measured in absolute terms, the average utility in the bottom quartile received an approved rate increase of $74 million below the original request, whereas top-quartile utilities received an approved rate increase of $50 million less than initially requested. Utility regulation is a complex process, and it would be naïve to assume any process this complex could be simplified into a single linear equation with just one predictor, such as customer satisfaction. However, one of the many variables associated with approved ROE is customer satisfaction, and utilities that satisfy their customers are more likely to satisfy their shareholders.
The integrity of the utility and its management team has a lot to do with customer satisfaction and rate case outcomes. Utilities are franchise organizations serving customers in a geographic area. In most cases, customers can't choose their provider and thereby hold the utility to a high standard. When regulators trust that a utility will do what it said it was going to do, they're more likely to give that utility the benefit of the doubt, compared to a utility they can't trust. These values apply for both customers and regulators, and they drive utilities to do the right thing for customers. Transparency drives trust and integrity in the utility's relationship with regulators. It's an intangible factor, but it's very important for rate case outcomes.
In an uncertain economy, sensitivity with rate case requests is important. A utility needs to make sure that a request is absolutely necessary and that there are no other ways to do something more efficiently. Employees often are challenged to find a way to do more with less to avoid a rate case. Additionally, the timing might not be optimal for a good outcome. However, when a rate case is approved, explaining the cost to maintain a reliable system against the increasing customer charges must occur. It's best to offset any customer frustration regarding a rate increase with a positive approach to ensure the charges are manageable to customers. In some cases, customers actually can save money. The utility can provide tips to reduce utility bills, even if there will be a rate increase. In some situations, a customer consultant might add a personal experience by saying, "I'm a customer, too. Here's what I've done."
Relentless Focus
Customer satisfaction can be a leading indicator of return on equity. The findings of J.D. Power and Associates' research, combined with the perspectives of utility executives, suggests that both virtuous and vicious cycles drive rate case outcomes, and utilities can benefit directly from investing in programs aimed specifically at improving customer satisfaction. Data submitted to FERC indicate that when electric utilities invest in their customers, there's a corresponding improvement in customer satisfaction, suggesting that efforts can be aligned to achieve benefits for both customers and utilities.
For regulated electric utilities, higher customer satisfaction is associated with higher rates of ROE and allowed returns that are closer to the requested returns. Other factors, especially prevailing interest rates, also drive ROE. Indeed, it's unlikely that customer satisfaction is a primary driver of ROE. However, even a relatively small influence can deliver substantial benefits, given the major impact that approved ROE has on a regulated utility's financial performance.
For utilities with higher levels of customer satisfaction, it's encouraging that, on average, regulators are likely to view more favorably those utilities' requested ROE when reviewing a rate case. This positive regulatory environment, in turn, provides the utilities with additional support for further investments in their operations that continue to promote customer satisfaction. Unfortunately, the same dynamic might also explain why many utilities with dissatisfied customers fail to improve—they lack the regulatory support necessary to secure approval for the investments required to convert their dissatisfied customers into satisfied customers.
Driving positive customer satisfaction at a utility is a complex issue with multiple layers. It takes leadership, vision and a significant investment in resources to develop policies and implement programs at every customer touch point. Successful utilities take a proactive approach to improve customer satisfaction. It begins with a relentless focus on every customer transaction, and continues with communicating clearly and frequently ahead of, during, and after a transaction. When utility managers consistently prioritize performance, employees understand the importance of customer satisfaction, and its role in managing costs and improving shareholder value. Utility leaders know the importance of building customer trust, achieving integrity with regulators, and the combined effect associated with successful operating margins, credit ratings, ROE, and rate case outcomes. When this strategy works, it's a virtuous cycle.