Deck:
Refining the business case for advanced  distribution investments.
Refining the business case for advanced distribution investments.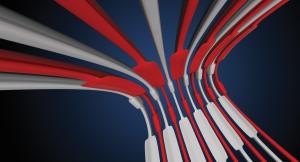 When a CenterPoint Energy meter installer arrived at a customer's home last July, he didn't expect to have his life threatened. But that's exactly what happened. Fifty-five year-old Thelma Taormina pulled a gun and forced the worker to abandon the service call.
CenterPoint promised legal action against Taormina. But instead of being punished, she's achieved minor celebrity status in Texas, where she's part of a movement to resist smart meter deployment. Local news media published a photo of Taromina looking indignant, standing next to her home's electric meter and a sign that says "No Trespassing – No Smart Meters."
The incident arguably marked a low point in the smart grid saga, happening in the middle of a drought for new contract awards by investor owned utilities (IOU). During the past year or so, Fortnightly has reported numerous smart grid project announcements at electric cooperatives, municipals, and other public power utilities—but very few at IOUs.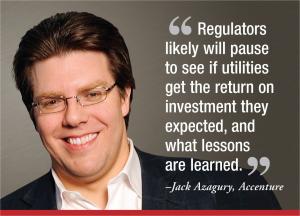 With gun-toting customers waiting in ambush, perhaps it's no wonder. But notwithstanding the extreme responses of a few vocal opponents, the smart grid seems to have hit a dry patch in its development cycle. To learn why—and to get an idea of where we're headed—we spoke with several experts in the field:
• Jack Azagury, Accenture Smart Grid Services;
• Kevin Cornish, Black & Veatch;
• Frits Bliek, DNV KEMA; 
• Russ Vanos, Itron; and 
• Greg Myers, Sensus.
Their comments describe an industry that's coming out of a boom phase, and now stands at a crossroads, facing an uncertain path. But while not all paths lead inexorably forward, they do seem to be aimed at the same future destination—an intelligent network that will transform the way utilities produce and deliver energy for their customers.
Even Thelma Taormina.
How'd We Get Here?
Fortnightly: 2012 was a slow year for smart grid project announcements at IOUs, versus co-ops and public power utilities, and compared to previous years. Why?
Azagury, Accenture: Many of the smart grid projects that were announced in 2009 through early 2011 were funded by the Department of Energy, with ARRA [American Recovery and Reinvestment Act] grants. Since then, the level of activity has slowed down, for a few reasons. First, obviously we went through a boom phase with federal funding, and that boom is now gone. Decisions to cover costs for smart grid rollouts lie in the hands of state regulators. A number of states already decided to approve smart grid investments, and now we have a small trickle of states that are moving ahead. Illinois is one of them. (See "Illinois Imbroglio," p.28) But state regulators likely will pause and look at utilities on the East Coast, Texas, Florida, and the West Coast to see if utilities in those areas get the return on investment (ROI) they expected, how the technology is working, and what lessons are being learned. That will take 12 to 24 months. After that, we'll see more states ready to