Author Bio:
Emmanuel Ansah, Will Barnes, Lauren Biernacki, Julie Duncan, Lisa Garcia, Sal Orsino, and Jared Osorio make up the team of seven PSE&G employees nominated for Fortnightly Top Innovators 2019.
What makes someone a top innovator? Where did they come from in their organization? What caused them to dream up their innovation? And how do they plan to further build on this development? We posed these questions to some of this year's top innovators.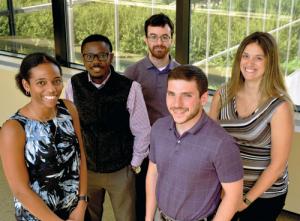 PUF: Lisa, you're the product owner for the New Jersey part of PSE&G. Give an overview of this project and talk about the team.
Lisa Garcia: We've developed an Alexa skill for PSE&G. We started in April of 2018 and launched it in December. This was something that we wanted to be at the forefront for our customers, giving them another option to access their account, to pay their bill, and get their usage.
With voice assistants becoming more popular, we wanted to make sure that we would be there if our customers chose to do business within that channel. We released it last year and we've been building new features throughout the year.
You now have the ability to pay your bill through Alexa, get your usage, report an outage, and schedule service appointments, with or without our Worry Free appliance service coverage. You can also ask Alexa for things like savings or safety tips.
PUF: For PSEG Long Island, how do you work together?
Will Barnes: Since Alexa is an Amazon product, we adopted something similar to the way they operate as a team model. Even though we are individual product owners for New Jersey and Long Island, customers mostly have the same needs, though some specifically may differ, for example Long Island does not provide gas service or Worry Free service. 
We worked collaboratively to come up with one Voice User Interface model so that we would be consistent on both ends, in New Jersey and Long Island. We had to work closely together to get the best of both worlds, and to get the product up and running.
PUF: There are two sides to the team working together. There's a technical side, then there's the business side.
Sal Orsino: Yes. A few years ago, Alexa started as my summer internship project. I was an intern, and we put together a demonstration of what Alexa could do. It was, what does PSE&G stand for? Where is its territory? Questions like that. That was summer of 2017.
Over the next few months, senior leadership was one of the biggest joggers for delivering a legitimate voice channel for our customers. They saw the value, and we put together a proof of concept. So, throughout February, March, and April of 2018 we were building out our basic functionalities like checking your electric usage, making payments, and checking your balance.
For the initial duration before our first go live, I was the main technical resource, doing all the development on the front end, and the back end for the skill. That led to my career.
PUF: Julie is also listed as a developer. Julie, are you working with Sal on this? When did you come in, and what do you do?
Julie Duncan: Yes. I started at the end of February of this year. I help Sal out with the development.
Sal Orsino: That's a bit of modest terminology. I have to give Julie the credit. She's taken our skill up to a new level over the last couple of months.
PUF: Emmanuel, you're the scrum master. What do you do?
Emmanuel Ansah: The scrum master is the facilitator for an agile development-product team. As the scrum master, I manage the interactions and collaborations between the business and development team so we can collectively achieve the goal for the project and product as a whole.
Additional roles that are included in this framework are the product owner and the development team. The product owner represents the business for the product and makes executive decisions in line with the product's vision. The development team is a self-organized team focused on executing these decisions and delivering working software for the product.
In the fashion of agile development, we have scrum ceremonies that are interactive and collaborative - one of the key activities we have is our daily standup call. This is no more than a fifteen-minute call where we have the development and business team provide a quick status of what activities are being worked on in line with achieving the sprint goal.
On the daily standup call, each team member shares progress of what was done on the previous day, what they will be working on for the current day and if there are any impediments blocking the team from achieving our collective goal. Impediments are then discussed among the team to resolve them. In instances where more discussions or other teams are required to resolve the impediments, we regroup on a separate call. 
Another key component of the agile development approach is the sprint, which is a time-boxed period where we execute our development. The length of each sprint is decided by the team, but we typically release our features after three or four-week sprints. The functionalities we want to develop for any given sprint depends on the team's mutually agreed upon goals and priorities.
We meet at the start of every sprint in what is called a sprint planning meeting, where we decide what user stories, or requirements, we will pull off the product backlog, based on the team capacity and the duration of our sprint. The product owner provides final approval on the goals to start development. Midway in the sprint there are conversations reviewing features with IT and the business, then toward the end of the sprint we perform a sprint review.
The sprint review is a checkpoint to review everything that has been done in that sprint. To prepare for our next sprint planning meeting, we consider what the remaining open items are. These items are then put back into our product backlog, which is our living document full of user stories explaining the functionality we want to achieve.
PUF: What is the term, ceremonies?
Emmanuel Ansah: Ceremonies are required events that establish how development work is executed. The ceremonies are daily stand-up, sprint planning, sprint review/demo, and sprint retrospective. The sprint retrospective culminates all the activities for the sprint, and this is conducted at the end of each sprint. During the sprint retrospective meeting we review what we did well, what we didn't do well, and then how best we can incorporate improvements to make our next sprint better.
PUF: Lauren, you're the business analyst?
Lauren Biernacki: Yes. I'm an engineer from gas operations. When the project started, senior leadership had a vision to include appliance service appointments in the skill. The feature would allow customers to schedule service appointments with our field technicians. My role on the team was to be a liaison between the Alexa team and the technicians in field operations for the appliance service appointments.
PUF: Jared, what's your role?
Jared Osorio: Regarding the Alexa product, I wasn't in the people team. Lisa's on my team and we focus on digital customer experience. In our portfolio we have the Alexa skill, mobile app, a texting communication program, outage maps, and a My Account customer website.
That's all of the ways customers can interact with us digitally, and through self-service. That's something we're looking at holistically. When we heard about Sal and his project and we saw the initiative, we wanted to be a part of it.
We understand that this medium has the growth potential, the same way as mobile fifteen years ago, before the iPhone perhaps. We see the asset of visual aids and how important technology is going to excel exponentially once it reaches its tipping point.
We want to be there and be in the channel for customers when it becomes viable. Potentially, it could shift most of our customer interactions from a screen through a speaker or a headset. We want to give it as much attention and design as possible. We want to make it a good user experience.
PSE&G has a wide diversity of customers. You have folks in their twenties, single in an apartment, versus older people and they're probably not using Alexa. How do you deal with people having different needs and maybe are confused by technology? Some people are good with it, but others are not.
Granted you've got smarter companies like Facebook and Google that serve everybody well. But, it's challenging. So, we try to look at some of the target demographics of the skill and make sure we're in line from that perspective.
We have a mantra. We don't want to over complicate things. We have complex products. We understand that people don't often understand what they're buying from us and we try to break it down as simply as possible so we can relate to customers.
PUF: Since the focus here for top innovators is what's cutting edge and creative, what was the most creative part you were involved in?
Lisa Garcia: The most creative aspect of the project so far was building our service appointments within the skill. It was complex because there are a number of different appliances that we service, and some have different scenarios that we had to capture. We had to make sure that we covered everything and did it in a way where a customer would be speaking to the device as if they were speaking to a human.
We wanted to make that as seamless as possible and not long winded, with a lot of questions. We really had to put ourselves in the customer's shoes to see how they would say things.
Will Barnes: To Lisa's point trying to have Alexa give you this personal experience, we wanted to try to emulate a conversation with a representative and it's two-fold. One, we could avoid that phone call to a customer service rep, which opens up our lines to answer calls quickly. It's also giving that experience to customers.
They want to ask their questions freely and not have to press one, or have the voice assistants say, sorry, what was that? It can simplify that. One of the ways we did that was not something we promote on our website.
But we built a little piece into Alexa, which is, why is my bill so high? It's a common question that we've gotten through the call center. This is something Alexa can help with if anybody asked. 
She would be able to respond with; it looks like the temperature was higher this month than paid the same time last year. It's probably the little tips to a customer to hint as to why it's possible the bill was higher and in some cases to even say, your bill is the same as the same time last year, because some customers may forget that.
PUF: Sal and Julie, what did you see that seems like it was cutting edge or creative?
Sal Orsino: One of the more creative things that we've gotten to do is not live yet, but it's part of our overall vision down the line. That's connecting to smart appliances in your home.
We have a proof of concept developed internally where we can connect to smart devices such as a Nest thermostat. For example, following what Will said, you might ask, why's my bill so high this month?
We can say, well now it's only seventy degrees outside but you have your air conditioner on sixty-eight. You should turn off your air conditioner and open your windows. Would you like me to turn off your thermostat?
Those thermostats generally have economical settings that we can connect to. That's part of our bigger vision, being able to suggest something, and act for you as well. That's being fully integrated into your smart home.
PUF: Julie, you've been in for less than a year, but are you in on that too? Is that something that's fun to work on?
Julie Duncan: Definitely. One of the features that we look forward to watching customers use is reporting power outages, which everybody experiences. When we were developing this, we heard the question, how are we supposed to report an outage through Alexa if you're out of power? 
A lot of people forget that you can open up your Alexa app and use the skill on your mobile phone - simply tell PSE&G that I have a power outage and that is all it takes to notify us. It's one other way to notify us that the power's out.
PUF: Lauren and then Jared, was there something that you saw as creative?
Lauren Biernacki: With Alexa, we built so many tiny nuances throughout the skill that one person might experience, but not everyone will. For example, if someone says, I smell gas. Alexa tells the user, you should leave the house, go at least three hundred and fifty feet away, and call PSE&G and then automatically shuts down so that you can't use her anymore because you shouldn't be using any electronics.
Jared Osorio: With this team in particular, it's all the things they mentioned. For the thermostat, the gas usage, and certain departments, those are incredibly innovative. I liked the way the team approached it because great companies, and great design, is about fitting into your customer's lives.
That's what Alexa is. It's the beginning piece. All the things that you just heard were how we can add value into those little moments of your life. The team took hold of that.
We developed a platform that customers are enjoying. We can easily take that and switch to a Google platform, or Siri if that becomes the next digital advance, because we've got a framework. Our ability to have that knowledge in house and then position ourselves and pivot when needed is going to be tremendous.
 
Pictured are the PSE&G Alexa Team from left: Julie Duncan, developer; Emmanuel Ansah, scrum master; Tim McCaffery, business analyst; Sal Orsino, developer; and Lisa Garcia, product owner.

Fortnightly Top Innovators 2019 articles: