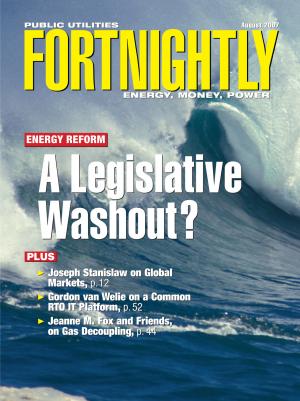 New Opportunities:  Atmos Energy Corp. announced that John Paris has assumed duties as president of the company's Mid-Tex Division. Paris joined Atmos Energy in 1985, and has held numerous positions in operations, marketing, and engineering.
ISO New England Inc. elected two new board members: Roberta S. Brown , president of Sassafras River Associates LLC, and Richard E. Kessel , president and CEO of Environmental Power Corp. They replace board members Mary Sharpe Hayes and Richard A. Abdoo .
The board of directors of Public Service Enterprise Group (PSEG) named Richard J. Swift as its presiding director. Swift has been an external member of the board since 1994 and is a retired chairman, president, and CEO of Foster Wheeler Ltd.
The Nuclear Regulatory Commission selected William M. McCabe as CFO. McCabe served the Department of Education as chief of staff and senior advisor, and acting CFO and key advisor to senior management since 2002.
The board of directors of ONEOK Inc. elected Julie H. Edwards and Jim W. Mogg to the board. Edwards rejoins the ONEOK board. She originally was elected to the ONEOK board in January 2004. Mogg is the retired chairman of DCP Midstream Partners. From 2004 to 2006, he was group vice president and chief development officer for Duke Energy Corp.
AGL Resources chose Henry P. ("Hank") Linginfelter , vice president of regulatory affairs for Atlanta Gas Light Co., to become president of Virginia Natural Gas Inc. upon the closing of AGL Resources' acquisition of VNG, expected later this year. Linginfelter has been with Atlanta Gas Light for 17 years, and was elected as a vice president three years ago.
Calpine Corp. promoted Melissa Brown to senior vice president of strategy and financial planning and analysis. Brown joined Calpine in March 2006 as the senior vice president-treasurer and will maintain this role on an interim basis. Also, Lloyd Will joined Calpine as the senior vice president of structuring and analytics. Prior to joining Calpine, Lloyd filled various leadership roles at NRG, Areva, UBS Bank, Enron, and Manitoba Hydro.
FirstEnergy Corp. promoted Lisa Wilson , previously FirstEnergy Solutions controller, to senior assistant controller for FirstEnergy. Kelley Mendenhall , previously director of business performance for FirstEnergy, replaces Wilson.
PECO Energy Co. promoted Lisa Crutchfield to senior vice president, regulatory and external affairs. She joined PECO in 2004 after a stint with Duke Energy. Mike Innocenzo was named vice president, distribution system operations. He previously served as director, quality services. Mary Ludford moved from sister company ComEd to become vice president, finance, at PECO. Paul Bonney was appointed PECO general counsel and vice president, legal.
Resigned:Reliant Energy 's Jerry J. Langdon , executive vice president, public and regulatory affairs, and chief compliance officer, resigned effective June 30 to pursue another career opportunity.
Retired: Long-time DPL Inc. Director Ernie Green retired from the DPL board. He had been a member since 1991.
Awarded:ITC Holdings Corp. CEO and president Joseph L. Welch was honored as one of Ernst and Young's 2007 U.S. Entrepreneurs Of The Year. The award recognizes the