Deck:
ITC and AEP jockey for the lead in building the grid of tomorrow.
Author Bio:
Bruce W. Radford is publisher of Public Utilities Fortnightly.
The Obama stimulus package may have grabbed headlines with its promise of nearly $1 trillion in new spending for the overall economy. But that's just chump change, in a manner of speaking, compared to what the U.S. electric industry plans to spend on new electric transmission lines in the next several years.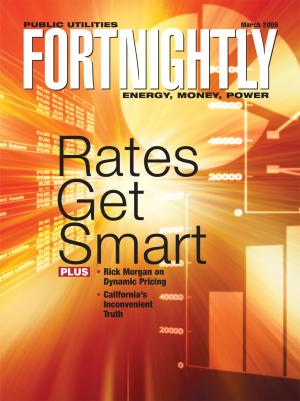 Enacted on February 17, the American Recovery and Reinvestment Act of 2009 (see, H.R. 1., Title IV, secs. 401 & 402) grants $3.25 billion each in additional borrowing authority to the Bonneville Power Administration and the Western Area Power Administration, for new, upgraded, or replacement transmission facilities that BPA or WAPA might choose to finance and construct.
But compare that paltry $6 billion-plus with the news from the week prior.
On February 9, even as Barack Obama headed out from the White House to stump for his stimulus, a group of the nation's major grid system operators released a study estimating the nation's electric industry sector needs to spend some $80 billion—more than 10 times the size of that portion of the stimulus package directed specifically at transmission construction—in order to achieve a 20 percent retail penetration for renewable wind energy in just the Eastern Interconnection.
That estimate comes from the Joint Coordinated System Plan (JCSP), a collaborative effort among the PJM Interconnection, the Midwest ISO, the Southwest Power Pool, the Tennessee Valley Authority, the Mid-Continent Area Power Pool (MAPP), and various participants within the Southeast Electric Reliability Corporation (SERC). The study employs a single, multi-regional analysis, rather then conducting parallel, regional-specific analyses (see www.jcspstudy.org.)
Citing the JCSP study, plus 39 others addressing the same problem, the Lawrence Berkeley National Lab reported that same week that estimates of the unit transmission cost needed for bringing wind energy up to a 20 percent market share were congregating around a median of about $300/kW, or about 15 percent of the current prevailing marginal cost of $2,000/kW of installed wind-generation capacity (see The Cost of Transmission for Wind Energy: A Review of Transmission Planning Studies, by Andrew Mills, Ryan Wiser, and Kevin Porter, LBNL-1471E, February 2009).
By coincidence, perhaps, the same week of February 9 brought news from ITC Holdings, the nation's largest independent, stand-alone electric transmission company, heralding what may prove to be the biggest single grid project seen in this country in at least 30 years, if not ever, and costing an estimated $10 billion to $12 billion.
Dubbed the Green Power Express, the ITC project would comprise approximately 3,000 miles of extra-high-voltage 765-kV AC lines, running roughly parallel along several distinct rights-of-way, all the way from North Dakota to Indiana, with South Dakota, Iowa, Minnesota, and Illinois in between. Designed as a green-power "superhighway," the line could move as much as 12,000 MW of wind energy to the Midwest load centers such as Chicago, the Twin Cities, and Southeastern Wisconsin.
It was as if the president himself had drawn up the blueprints. He told MSNBC in an interview in late October that, "if we're going to be serious about renewable energy, I want to be able to get wind power from North Dakota to population centers, like Chicago."
As with other major transmission projects proposed recently, ITC has filed a formal application with FERC, consistent with the commission's 2006 pronouncement in Order 679, asking FERC for certain financial incentives for the project, including: 1) a rate-base allowance for construction work in progress (CWIP); 2) guaranteed recovery of prudently incurred sunk costs in the event of project abandonment; 3) an incentive-based rate of return on common equity of 12.38 percent; and 4) accrual and amortization of costs and carrying charges pending design and approval of a rate-making method to recover the project's revenue-requirement cost—no small matter, as ITC does not serve load and so does not send out and collect monthly power bills from retail electric customers. (See FERC Dkt. ER09-681, filed Feb. 9, 2009; see also, www.thegreenpowerexpress.com).
'Unparalleled' in Risk
ITC's Green Power Express has upped the ante on transmission project size only a few months after FERC had approved what then had been the largest grid-expansion project ever to win financial approval under Order 679.
That earlier project was the $6 billion Energy Gateway Transmission Expansion Project, a collection of eight distinct line segments operating at 230-, 345- and 500-kV (about 2,000 miles) across a six-state region including California, Idaho, Oregon, Utah, Washington and Wyoming. It was proposed by PacifiCorp to deliver up to 3,000 MW of renewable energy from Wyoming to distant load centers in Salt Lake City and Portland, and also to connect the utility's West Coast and Rocky Mountain control areas for the first time.
Even then FERC described the Gateway project as "unparalleled" in size, cost and risk, and had rewarded the project with an ROE incentive of 200 basis points. Testimony during the incentive-rate case revealed that the Gateway Project's estimated $6 billion cost would total more than three times the value of PacifiCorp's then-current total transmission rate base of $1.8 billion. PacifiCorp added that, by contrast, it had spent an average of $111 million per year on capital investment in transmission between 2002 and 2007 (see Dkt. EL08-75, Oct. 21, 2008, 125 FERC ¶ 61,076).
Nevertheless, PacifiCorp's reign at the top of the project heap lasted little more than four months, and ITC's perch, assuming it too wins incentives, might prove to be just as short-lived.
That's because FERC hasn't yet promulgated, or even proposed, the idea of interconnection standards for transmission lines, including rules and protocols for establishing priority within the overall queue of projects awaiting completion of studies on feasibility and system impacts by grid-system operators and regional grid-planning committees, and ultimate certification in a given regional transmission expansion plan (TEP), as it has done for generating plants.
To make matters worse, FERC policy envisions a right of first refusal, whereby a utility entity that serves native load in a regulated service territory (load-serving entity or LSE) can review plans proposed by other companies to build a transmission line within its franchise territory, and then choose whether or not to build the line as its own rate-based asset.
In other words, once a grid project is out there in the public domain, competing for scarce capital and expressions of interest from wind energy developers and others who might want to subscribe to, or gain access to, the promised capacity, the project sponsors remain very much at risk, and could well confront a competing or parallel project that moves in after the fact and seeks to share the same market.
And that's precisely what has happened to ITC's Great Plains subsidiary, which has been working with Sunflower Electric Power Co-op. and Mid-Kansas Electric Co. on a new package of interconnected transmission facilities across Kansas and Oklahoma, within the Southwest Power Pool.
In December, ITC had seen its plans overtaken and possibly trumped by twin projects, known as Tallgrass and Prairie Wind, which mirrored ITC's planned lines.
Tallgrass Transmission LLC and Prairie Wind Transmission LLC are partnerships formed by Electric Transmission America (ETA), a joint venture formed between subsidiaries of American Electric Power and MidAmerican Energy Holdings. OGE Energy Corp. also joined with ETA on the Tallgrass project. On the Prairie Wind project, ETA is joined by Westar Energy (see www.tallgrasstransmission.com; www.prairiewindtransmission.com).
But the point to remember is that while the Tallgrass and Prairie Wind projects won generous financial incentives from FERC under Order 679, despite the fact that ITC's projects appear somewhat farther along, and also in spite of certain unproven allegations that have injected a hint of bad blood into the case—a native utility with contrary interests took steps to delay the ITC project by sitting on its right of first refusal (see, Dkt. Nos. ER09-35, ER09-36, Dec. 2, 2008, 125 FERC ¶61,248).
The case developed after SPP had proposed the idea of a comprehensive regional "overlay" of large-scale 345-, 500- and 764-kV (or even higher) lines to transform the regional grid and address long-term transmission needs, and had commissioned a study from Quanta Technology LLC, published in June 2007 and updated in March 2008. That study evaluated the effects of increased wind energy development on the SPP system, and developed and compared four basic overlay designs, including what became known as the SPP "X-Plan," describing an x-shaped pattern of new grid lines in Oklahoma and Kansas to meet long-range needs for the region (reliability and interregional power transfers) and would add new West-to-East transfer capacity to deliver wind energy to load centers, such as Oklahoma City, Wichita, and Little Rock.
Seeking to design grid projects that would mesh with SPP's long-range vision, ITC Great Plains sought and won certification from the Oklahoma Corporation Commission as that state's first transmission-only utility, with authority to construct, own, and operate grid lines in Oklahoma (O.C.C. Final Order 559350, Sept. 11, 2008). It also won approval for another leg of the X-Plan from the Kansas Electric Transmission Authority (the "KETA Project" segment) and had sought certification of the final segment (the "Kansas V-Plan") from state utility regulators at the Kansas State Corporation Commission. Also, the KETA and V-Plan segments had won inclusion as economic upgrades within SPP's 2008-2017 regional TEP, with the expectation that KETA and V-Plan segments would be included in SPP's balanced portfolio of projects and qualify for region-wide cost recovery through postage-stamp rates.
ITC, Sunflower, and the Kansas commission raised these and other points before FERC, arguing unsuccessfully that granting an incentive would be premature, because the Tallgrass and Prairie Wind partnerships weren't certified yet as transmission utilities in Oklahoma or Kansas.
The winning of incentives by Tallgrass and Prairie Wind in FERC's order dated December 2 represents a victory of sorts for American Electric Power and its vision of a top-down nationwide overlay of 765-kV extra-high-voltage lines, as opposed to a bottoms-up, node-by-node or flowgate-by-flowgate approach to modernizing the grid.
However, ITC might have gotten the jump on American Electric Power, at least at FERC, with the February filing of its incentive application for the massive Green Power Express.
For on December 2, AEP issued a news release stating it was "evaluating the feasibility" of building a multi-state, extra-high voltage transmission project across the Upper Midwest to support the development of renewable energy:
AEP proposes building the first 765-kilovolt (kV) extra-high voltage transmission lines to connect major wind developments in the Dakotas and surrounding states to the existing 765-kV network that ends near Chicago … The transmission proposal is in the conceptual stage, but it is anticipated that linking Upper Midwest wind resources with the existing extra-high voltage transmission infrastructure in the Chicago region will likely require more than 1,000 miles of new extra-high voltage transmission lines at a cost of between $5 billion and $10 billion.
And bruised from its battle with the Tallgrass and Prairie Wind projects, ITC Great Plains filed its own application in January, seeking financial incentives from FERC for its KETA and V-Plan projects (see FERC Dkt. ER09-48, filed Jan. 15, 2009).
Secret Conversations
Last summer, in hearings before the U.S. Senate Committee on Energy and Natural Resources, the president of AEP Transmission, Susan Tomasky, threw down the gauntlet by telling Congress that it should take the next step beyond the Energy Policy Act of 2005, and pass new legislation giving the FERC full siting authority over interstate transmission lines.
"The plea in this testimony is quite simple," said Tomasky. "We urge you and Congress to recognize that we must take action, possibly very difficult action."
Such a radical step would go far beyond the remedial "backstop" transmission-siting authority that Congress granted to FERC in EPAct 2005, in cases where state-siting efforts are delayed or break down. Such a drastic step also would place the regional independent grid-system operators (ISOs) and regional transmission organizations (RTOs) in limbo. That's because FERC's Order 2000 regime (which created today's RTOs) and Order 888/889/890 regime (governing the pro forma Open Access Transmission Tariff, or OATT) assume that regional transmission planning remains a key function for the RTOs and ISOs.
RTOs study the topology of the regional transmission network, with its nodes, flowgates, choke points, and locational pricing differentials. They study the likely locations of future generation projects, as suggested by interconnection queues, resource-adequacy analyses, and bidding patterns that emerge from capacity markets, such as New England's FCM (Forward Capacity Market) and PJM's RPM (Reliability Pricing Model). They refer to data collected through their own day-ahead and real-time markets for energy and ancillary services to pinpoint the location and causes of grid congestion, and the likely price and cost savings to be achieved by various grid upgrades and projects.
AEP suggests that this micro-managing style of grid-project selection focuses too much on local issues and misses the forest for the trees, as Tomasky explained further in her Senate testimony:
"As it stands today, most of this planned investment is what the industry would call 'reliability spend'—investment to make sure the current system works.
"While this investment is critical, it is also incremental. It won't be sufficient to meet the needs of our country's energy future."
In fact, it appears that rival company ITC actually shares AEP's vision of the high-voltage grid overlay that would create a unified, national backbone system over top of the existing grid, just as President Eisenhower's Interstate highways did for the post-war road network. That point came out at the technical conference on barriers to construction of interstate transmission, held at FERC last October, where ITC Holdings CEO Joseph Welch weighed in:
"All the energy issues that face us are national issues. They're not local, they're not state issues.
"We know where the wind blows. We know where the loads are going to go. We know absolutely beyond the shadow of a doubt what the RPS standards are. Yet we want to design these [lines] one at a time and build a spaghetti network that's both inefficient and ineffective, where we could just make the calculation."
Tomasky also participated at the October conference. When FERC Commissioner Moeller asked her how others had reacted to her "relatively bold statement" to the Senate, Tomasky suggested that strong central planning would have more allies than one might think:
"You know, the reaction has actually surprised me. I have a lot of secret conversations now with people who want to say that they really do believe that, but they can't really do it for a bunch reasons."
In fact, Tomasky recommended to FERC that RTOs and ISOs should give up some of the strict technical rules they employ in transmission planning, such as the different cost-benefit tests and different cost-allocation methods used for projects supposedly needed for reliability, versus "economic" projects that are designed to reduce congestion to bring lower-cost power to high-cost areas, but which are not strictly needed to meet reliability standards:
"We're getting to a point that those things in between reliability and congestion [are] primarily artificial.
"The key difference is time. The congestion project is basically a reliability problem waiting to happen.
"If you can encourage RTOs … to not differentiate … between economic projects and congestion projects, it would go a long way towards assuring that the projects you do build are optimal."
Grabbing the Anchor
The new T lines mentioned above (Gateway, Green Power Express, Tallgrass, Prairie Wind, V-Plan), are designed to provide carrying capacity for renewable energy at cost-based rates collected via the sponsoring utility's OATT, or using the OATT on file with the appropriate RTO or regional grid operator. But that doesn't mean the merchant-transmission sector has been left out.
In fact, during the month of December 2008 three key merchant-transmission proposals were filed at FERC proposing to charge negotiated market-based rates for new lines designed to carry renewable energy. In fact, these three applications seek to bend the rules now in force for merchant projects, and would require the commission to do some rethinking on what sort of policies would be needed to make sure that the merchant sector can continue raising capital for grid investments during the current economic downturn.
The first two projects, the Zephyr and Chinook lines, are sponsored by the limited partnerships owned by Trans- Canada subsidiary NorthernLights Inc., and are aimed at bringing wind and renewable energy from Wyoming and Montana, respectively, west through southern Idaho and then south through Nevada to the Las Vegas area, to gain access also to retail markets in Arizona and southern California (see Zephyr Trans. LLC, FERC Dkt. ER09-433, filed Dec. 19, 2008; Chinook Power Trans. LLC, FERC Dkt. ER09-432, filed Dec. 19, 2008).
These two projects are notable in that they purport to make available only 50 percent of available system line capacity to buyers on open-access principles through an open-season solicitation. The remaining 50 percent of capacity would be reserved and presubscribed in a closed process for the benefit of an unnamed wind energy generation developer, who also would help underwrite the initial capital investment.
By excluding one-half of project capacity from resale through an open-access process, and instead reserving that capacity for a private "anchor tenant," the Zephyr and Chinook projects would violate criteria number 4—allocation of initial transmission rights through an open season—of the so-called "10 commandments" required of merchant transmission projects, as first announced by FERC in the Connecticut-Long Island Cable case (see Northeast Utils. Serv. Co., Dkt. ER01-2584, Mar. 18, 2002, 98 FERC ¶61,310).
In fact, the idea of relying on an anchor tenant to help fund a large capital project has a long history in the natural gas pipeline industry, and the industry reaction to the Zephyr and Chinook applications uniformly has been positive. It appears quite likely that FERC will approve the two applications as filed, or else require only minor amendments. Moreover, FERC has suggested in prior rulings on merchant-transmission line applications, such as the September 2005 Sea Breeze order (Dkt. ER05-1228, 112 FERC ¶61,295) that the 10 commandments are not etched in stone, but remain flexible.
The third case, however, remains quite problematic, and has spawned a wave of protests.
In this third case, arising out of New England, the Hydro-Quebec subsidiary HQ Energy Services (US) Inc. proposes to join with Northeast Utilities and NSTAR Electric to build a high-voltage, 1,200-MW DC line from Quebec across the border to New Hampshire. The three named companies would build the line, which is not needed for reliability purposes, and so would appear to be an "economic" project amenable to region-wide cost-sharing. But in this case, the two U.S. load-serving utilities would be selling all their transmission rights back to Hydro-Quebec, at negotiated, market-based transmission rates (not through an OATT). Hydro-Quebec then would use those purchased grid rights to ship clean, renewable hydropower south to the NSTAR and NE Utilities, for ultimate consumption by native-load retail customers of NSTAR and NE Utilities. The parties did not submit any rate schedules, but asked only that FERC approve the "basic structure" of the deal (Petition for Declaratory order, Northeast Utils., Serv. Co. & NSTAR Elec. Co., FERC Dkt. EL09-20, filed Dec. 12, 2008).
There would be no open season at all. There would be no process to allocate transmission capacity rights to bidders at large through an OASIS site. And there would be no sale of the transmitted energy through the day-ahead or real-time energy markets run by the ISO New England RTO.
The energy marketer, Cargill Power Markets LLC, calls the project a "hybrid between a traditional anchor-shipper model long used in the natural gas industry and a traditional merchant-transmission line."
A group of generators operating in New England, including FPL and Mirant, protested that they would not be given a chance to bid on access to the line, and call the plan "a thinly masked attempt to evade fundamental Commission unbundling and anti-monopoly policies."
Call it what you will: 1) a 100-percent anchor tenant deal; 2) an electric-side "gray market" deal bundling energy with transmission service; or 3) a merchant-transmission project where the "merchant" is actually a regulated electric utility with a native-load service obligation. Surely FERC will find the deal too radical to approve.
However, by taking grid development completely private, and reserving all renewables and grid capacity to sponsoring parties through private sweetheart deals, the project does avoid the biggest question of all:
Who pays for all that stimulus?