Deck:
The changing architecture of demand response in America.
Author Bio:
Ahmad Faruqui , Ryan Hledik and Sanem Sergici are economists with The Brattle Group. Faruqui ( ahmad.faruqui@brattle.com) led the multi-company research team (including Brattle Group, Freeman, Sullivan and Co., and Global Energy Partners) that produced the FERC assessment cited in this article. The authors acknowledge research assistance from Lamine Akaba and Jennifer Palmer.
The changing architecture of demand response in America.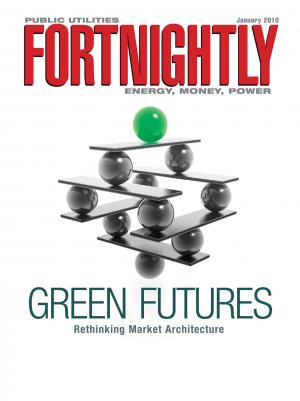 There is universal agreement that demand response (DR) should play an important role in meeting America's energy needs. And total disagreement on the nature of this role. Two key questions continue to be debated with much vigor in regulatory proceedings before state commissions and in executive boardrooms. First, how big of a role can DR play in meeting future energy needs? And second, what should be the mix of programs in the DR portfolio?
With a view to advancing this debate, the authors present the key findings from a comprehensive assessment of the potential for DR that was submitted by the Federal Energy Regulatory Commission (FERC) to Congress last year. Evidence points toward a major shift in both restructured and regulated states toward dynamic pricing programs. This shift might change the architecture of DR in the country. But before this change can take place, several barriers need to be overcome. Scientific experimentation can play a salient role in this endeavor. However, while many experiments have been conducted and provide significant insights into customer behavior, the results might not be transferable to other regions. There will be an ongoing need for experimentation to guide the development of appropriate public policies and to address customer and regulatory concerns that are unique to each geography.
FERC Assessment
A report filed by FERC with Congress last June stated that existing DR programs in the United States have the capacity to offset 4 percent of current U.S. peak demand. 1 The existing crop of programs is dominated by traditional, reliability-driven programs such as direct control of end-use loads including residential air conditioning and curtailable and interruptible rates for large commercial and industrial customers. 2 These programs have a long history going back half a century.
There is considerable geographical variation in the amount of DR, largely driven by such factors as the rate of load growth, the cost of avoided capacity and the regulatory disposition toward demand-side programs. Some areas, such as California, Florida and New England, have significant DR activity while others, such as Alaska, Montana and Wyoming, have little.
If this level of DR is preserved through the next decade, the FERC report states that DR would shave 38,000 MW off U.S. peak demand in 2019. The report further states that if the existing mix of programs expanded geographically to include regions that currently have little DR activity and if customer participation rates in every region were to reach the levels representing today's best industry practices, the potential impact of DR programs would be significantly higher, reaching 82,000 MW, or 9 percent of U.S. peak demand.
In October, the U.S. Department of Energy (DOE) issued 100