Deck:
NERC confronts a case backlog now numbering in the thousands.
Author Bio:
Bruce W. Radford is publisher of Public Utilities Fortnightly.
FERC's recent technical conference on electric reliability, compliance and enforcement didn't really get cracking until well into the second hour. That's when Gerry Cauley, president and CEO of the North American Reliability Corp., confirmed that of nearly 5,500 possible standards violations identified by NERC since its official inception in 2006 as the nation's electric reliability czar—an average of 30 new cases per week—some 3,000 remained open and unprocessed.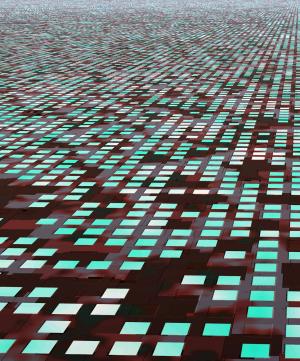 But it remained for Steve Naumann, testifying a few minutes later as Exelon's V.P. for wholesale market development, to put numbers into context for FERC and attendees at the mid-November conference:
"Input minus output equals accumulation," he said, referring to a formula he said he learned in engineering school.
"That concept applies to filling a bathtub, to carbon dioxide in the atmosphere, and to the processing of NERC violations.
"Whether we refer to the difference … as case load or backlog, there is an accumulation issue with NERC violations and the trend is upward" (see Figure 1).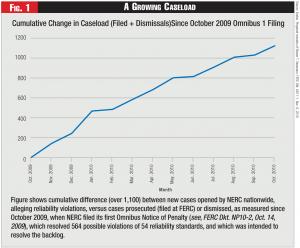 Imagine the inefficiency that attends such a backlog. Daniel Skaar, president of the Midwest Reliability Organization, one of NERC's eight delegated regional enforcement entities, testified that his agency sometimes ends up prosecuting a utility or other industry respondent for a violation occurring three years in the past, which the respondent actually mitigated two years earlier by correcting its compliance policies.
And with FERC only now beginning to address problems that come with integrating wind or solar into the grid, the situation might only get worse.
In July of last year, at a reliability "summit" held at FERC to discuss how standards get developed, Commissioner Philip Moeller speculated on how intermittent resources would affect NERC's efforts at reliability enforcement:
"This is the going to be a big issue… I see the trend as something that can perhaps swamp us."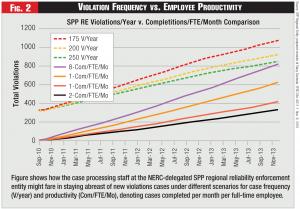 WECC CEO Louise McCarren put on a brave face at the July summit: "In the West we're already seeing a significant trending down in violations."
Yet two months later, in its order assessing NERC's three-year performance, FERC noted that McCarren's Western Electricity Coordinating Council had been cited by NERC as one of its "less-effective" regional enforcement entities, and in fact had cancelled all compliance audits for fourth quarter 2008 without even consulting NERC (Dkt. RR09-7, Sept. 16, 2010, 132 FERC ¶61,217).
Cauley himself conceded in November that while NERC's current caseload was likely "transitional" (the original wave having crested), a new wave of violations related to cyber security was "still building."
Commissioner Moeller drilled down in November in a question he posed to Stacy Dochoda, general manager for the NERC's SPP regional entity:
"Stacy, did I hear you right that the average employee takes a month to handle each violation, even with a zero-dollar penalty?"
Dochoda replied that initially, it took even more staff time to complete a no-penalty case, since "you have to justify it."
Drawing FERC's attention to a graphic she had prepared (see Figure 2), showing how staff productivity and violation frequency would affect the case backlog under various scenarios, Dochoda summed it all up:
"This is the chart that keeps me up at night."
March Massacre
FERC's newfound focus on NERC's activities arose seemingly out of the blue last March when the commission laid down the law in a dozen or so decisions on electric reliability, all on the same day, that either rejected new proposed standards, mandated a change in NERC's internal procedures, or gave deadlines to NERC to comply with FERC directives that had been issued some three years earlier, in Order 693, but which had apparently fallen through cracks within NERC's bureaucracy:
• Transmission Planning: Rejected NERC's interpretation of the transmission planning reliability standard regarding system performance following loss of a single bulk electric system element (Dkt. RM10-6-000, March 18, 2010, 130 FERC ¶61,208).
• Contingency Reserves: Remanded a WECC standard for resource and demand balancing, as it was less stringent than the NERC-wide standard for contingency reserves, and was based on only eight hours of operational data (Dkt. RM09-15-000, March 18, 2010, 130 FERC ¶61,202).
• Frequency Response: Gave NERC a six-month deadline to modify its frequency response standard BAL-003-0 (RM06-16-010, March 18, 2010, 130 FERC ¶61,218).
• System Definition: Proposed to revise NERC's definition of the "bulk electric system" to include all transmission facilities rated 100kV or above—a move that FERC eventually finalized, while allowing NERC to suggest an alternative solution if equally sufficient to address FERC's concerns (Order 743, Dkt. RM09-18-000, Nov. 18, 2010, 133 FERC ¶61,150).
• Voting Rules: Directed NERC to revise balloting rules for approving standards to prevent a voting minority from delaying or blocking compliance with FERC directives (Dkt. RR09-6, March 18, 2010, 130 FERC ¶61,203).
This March Massacre sent a wake-up call to NERC, but ruffled feathers in some corners.
"The commission's March 18 order on frequency response had a real unfortunate ready, fire, aim dynamic," complained Allen Mosher, APPA's senior director of policy analysis and reliability.
David Mohre, executive director for energy policy at NRECA, the National Rural Electric Cooperative Association, was even more candid:
"When you see an order that has directives that you never thought or heard about before, and you've got 30 days … like, what's going on here? There's no place for that in this reliability structure."
Yet the real turning point, perhaps, had come in February, a month before the Massacre, when FERC announced it would re-examine a NERC-proposed $80,000 penalty against Turlock Irrigation District for a vegetation-caused outage in 2007 that led to a loss of 270 MW of firm load, in an outage affecting some 20,000 retail electric customers (See, Dkt. NP10-18, Feb. 26, 2010, 130 FERC ¶61,151).
Noting that NERC earlier had proposed a $225,000 penalty against Commonwealth Edison for reliability violations leading to three less-severe momentary outages, FERC questioned whether NERC had examined or attempted to take into account the actual harm from load loss in the Turlock event:
"Because the consequences of Turlock's alleged violation are much more severe … the penalty against Turlock arguably should be higher than the highest penalty amount yet assessed for the same violation."
These words sent shock waves through the industry. In fact, FERC's July summit was likely called to calm fears arising from Turlock, as Commissioner Spitzer implied in his opening statement—"I want to assure you that loss of load is not a per se violation of the reliability standards … that's not the Federal Power Act."
But industry experts decidedly were not assured. They noted repeatedly that NERC has always treated load-shedding as good utility practice if that's the last option in the operator's tool box to avoid a cascading outage across a wide region.
APPA CEO Mark Crisson observed that under FERC's penalty guidelines as originally proposed last March (later finalized in September, after the summit, as noted in the November Fortnightly, p. 34, "Top Ten legal Decisions of 2010"), the Turlock outage could warrant a $15 million penalty:
"That's pretty close to the annual budget of a system with 20,000 customers."
And the threat could prove as bad (or worse) than the execution. At the November conference, testifying on behalf of the Large Public Power Council, Sacramento Municipal Utility District CEO John DiStasio explained how municipal utilities must walk the line:
"There is often a huge chasm between the potential penalties detailed in a Notice of Alleged Violation, and the settlement with a regional entity. That gap seems to us often to signify that the NOAV is out of proportion with what the regional entity reasonably believes the violation is worth.
"This is especially true for a municipal utility seeking financing, which must report the potential liability, even if the ultimate result is not likely to be damaging. The potential penalty may leave a utility little choice but to enter into a settlement, even if it genuinely believes it acted appropriately."
Traffic Tickets
FERC's stick-and-carrot approach (first the wake-up call, then outreach at the summit) appears to be paying dividends.
For example, the electric industry seems united in favor of a less-onerous administrative sanction—a "traffic ticket"—in the case of minor violations, such as documentation failures, that pose little if any risk to reliability. FERC endorsed that approach formally in its three-year performance assessment issued in September, but nevertheless advised that utilities cannot simply plead nolo contendre. Rather, any traffic ticket must come with a legal finding that a violation in fact occurred. Otherwise, FERC said, the prior violation could escape notice if a repeat violation should occur, leading to "insufficient recognition" of compliance history in a subsequent penalty matter (See, 132 FERC ¶61,217, para. 219).
FERC Chairman Wellinghoff raised the matter again at the November conference, asking NERC CEO Cauley "how fast" he would put a traffic ticket regime in place.
"We're shooting for January," said Cauley, "but not on the first.
"And that's 2011," he added, for good measure.
And last month NERC submitted to FERC a new version 7 of its ANSI-accredited process manual for developing reliability standards, thus complying with a FERC directive issued in September. The new manual should allow drafting teams to collect informal feedback from industry stakeholders in the early stages of standards development, thus taking the process "off line," as NERC CEO Cauley has described it, with no need to conduct a formal written comment-and-reply procedure akin to a federal rulemaking (See, Compliance Filing of NERC, Dkt. RR10-12, Dec. 1, 2010).
This last reform should prove welcome, as it now takes NERC an average of 21 months to initiate and complete a new standard. At the July summit, Wellinghoff cited that lag as especially problematic in the case of smart grid development (for which NIST is developing commercial standards for technological applications, interoperability, and so forth), if FERC should find that some NIST standards might intrude on reliability: "NIST has already taken over a year and a half … I would not want another 21 months to elapse."
Many want NERC to embrace an "80/20" model: focus on the 20 percent of standards that produce 80 percent of the benefits in improved reliability. Yet that still leaves the problem of ambiguous terms buried in the text of reliability standards. California Independent System Operator, for example, recently documented how often certain ambiguous adverbs and adjectives crop up in NERC standards: "significant" (19 times); "sufficient" (72); "appropriate" (198).
APPA's Mosher told this story at the July summit:
"When I first … started attending NERC operating committee meetings, I went running from the room screaming at one point, saying, `Can't you get an English major into the room here?'
"They were writing things that told nobody what they had to do. They were completely ambiguous."
A National Conversation
At the July summit, FERC commissioner Moeller posed a thought experiment:
"One of the things I'd like to do is ask people to think about where do we want to be … in 10 years on reliability, because we've been so focused on the now, that it's been difficult to think out."
When FERC approved NERC in 2006 as the official reliability czar, with powers of enforcement subject to commission oversight (which most experts felt was absolutely required after FERC began introducing market elements into the bulk power sector), it naturally approved the customs, procedures, and protocols that made up the reliability structure as of that moment. Yet, the simple act of transforming a voluntary process to a mandatory one might well lead inexorably to a new archetype; could it be that a market-based bulk power industry also demands a market-based reliability regime?
Consider the FERC's stated intention in Turlock—that it will consider the effects of loss of load when it reviews the penalties that NERC proposes to assess for violations of reliability standards.
At the July summit, the consensus seemed to be that a cascading outage marks the real line in the sand. To follow up, FERC staffer Joseph McClelland at one point led a long discussion of what makes a cascading outage different, and how reliability standards would change if risk of cascade was the true litmus test.
In May 2008, in the heady days following NERC's reincarnation as an enforcement agency, its then-sitting general counsel David Cook announced approval by the board of trustees of a multi-part definition of the term "adequate level of reliability," which included in its sixth and last element an oblique reference to load loss:
"The System has the ability to supply the aggregate electric power and energy requirements of the electricity consumers at all times, taking into account scheduled and reasonably expected unscheduled outages of system components."
Yet E.ON U.S. maintains that this interpretation violates Congressional intent, as manifested in Federal Power Act sec. 215(a)(3), which expressly excludes from the definition of "reliability" any associated requirement "to expand transmission or generation capacity." And, as E.ON also points out, FPA sec. 215(i)(2) expressly bars either NERC or FERC from enforcing standards for system and service adequacy, but instead assigns all responsibility for adequacy and reliability of electric service to the states (see, Comments by E.ON U.S LLC, FERC Dkt. AD10-14, filed July 26, 2010).
Thus, FERC's Turlock ruling puts NERC on the hot seat, forcing it to make judgments it was never intended to make—judgments that might be better left to a market.
Some have suggested a CEO-led forum that would function outside of regulatory supervision and settle on a what some call the "cost curve"—that is, decide how much reliability the nation really needs, and can really afford.
NERC's Board Chairman John Q. Anderson seemed to favor that idea and explained at the summit how it might work:
"The objective would be to have very specific issues that we all understand need to get out on the table. Some of them are going to be the elephant-in- the-room type of issue that gets danced around when there's legal proceedings."
Many point to the Institute of Nuclear Power Operations (INPO) as an exemplar, which facilitates collaboration and disseminates lessons learned in a collegial atmosphere. In fact, the North American Transmission Forum seems to be recasting its activities in that direction, following its signing last summer of a memorandum of understanding with NERC.
Commissioner Spitzer attempted at the July summit to throw out a rough cost-benefit rule on what outages might be acceptable:
"Is load-shedding an acceptable operational procedure following a single contingency in a rural fringe area of the system, where the rest of the interconnection is not affected and customers have chosen not to build reinforcements?"
Stephen Wright, CEO of Bonneville Power, put the problem this way:
"There is a point out there at which you move from an outage to a cascading outage, and you say, `boy, that cost is just too high.' The difficulty that we have right now is we just haven't had that conversation, and the legislation doesn't speak to that. It doesn't tell you where is that point. We need to have that conversation and decide where we want to be, and candidly, there will not be a single voice from the customer community on this."
And by "single voice," Wright meant that customers—especially industrial customers—want different levels of reliability. ELCON's John A. Anderson echoed that point at the July summit:
"My membership ranges from electric arc furnace steel companies that would just absolutely love to be able to have demand response … to Intel, on the other end, that has an entire room in the back full of batteries … and that's when they have two high-voltage feeds coming in from two different transmission lines."
This difference in customer preference turns reliability into a financial issue—a matter of profit and loss, as Anderson had explained a few minutes earlier:
"Manufacturing processes are becoming much more technical and much more computer-driven and even when there's a hiccup where the lights don't seem to blink, it can cause major problems within a manufacturing facility.
"But at the same time, they're in a world-wide competition that's really very vicious. Cost, even a mill here and a mill there, it really is a big deal."