Deck:
DeAnn Walker, Chair, PUC of Texas
PUF: What is it like to be chair of the commission? What's goes on in a typical day?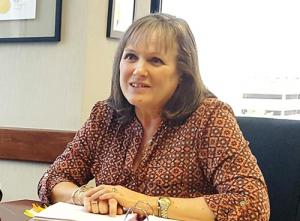 Chair Walker: I absolutely love my job. The chairman role is an intersection of my favorite things: reading legal briefs and figuring out how to make things work the way they are designed to function. I have spent almost my entire professional life in the industry, getting an up-close look at its strengths and weaknesses. The chance to emphasize the former while trying to rectify the latter to help Texans live more affordably and create more jobs is a very big deal to me. 
The deeper I dive into the issues, the more I am reminded that our industry's number one strength is a legion of people who roll up their sleeves every day and do the work of making sure the lights come on. It is more than a job to most people in the industry, especially the linemen. Everybody from those linemen to CEOs all realize their job is also a bit of a vocation in public service.
A typical day in the office starts early - I go to 6:30 a.m. Mass every day on my way to work, so it gives me a jump on my workload and focuses my day on what is important. A lot of my schedule is driven by our effort to keep the wheels of progress turning by holding an open meeting every two weeks. 
So, our team builds piles of briefs on my desk that I go through with a fine-toothed comb in preparation for writing memoranda and speaking at the meeting. In the run-ups to our open meetings, I meet with my advisor and our counsel, the Office of Policy and Docket Management, to review the particulars of each item on our agenda. The conversations can get pretty spirited, but I prefer to leave no stone unturned when it comes to assessing the merits of each case.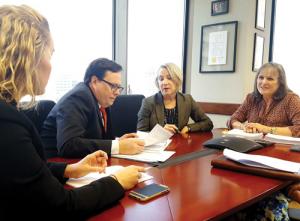 I also meet with market participants from every part of the industry to field their specific concerns and keep a finger on the pulse of the overall market. Throw in meetings and calls with people from ERCOT, the Texas legislature and other state agencies and the calendar fills quickly.
At the end of the day, I really want to be sure that we are helping our state thrive based on the benefits of a competitive market.
PUF: Turning to trends in the electric power industry, in your state and nationally, what's your take on the current situation? Is the industry and regulation of it going well or not, and in what ways?
Chair Walker: I think the electric power industry in Texas is very healthy, with a whole constellation of power companies who have bought into the realities and responsibilities of our energy-only market. 
Now, this summer will certainly be a test of the market's resilience, but I am confident that ERCOT and our market participants have been doing their homework and fine tuning the system to handle whatever challenges may come our way. 
Guiding a competitive energy market is not easy. The laws of supply and demand, discussions of economic cycles and the like make sense on paper, but they are another thing entirely when faced with consumers who are frustrated with an unanticipated increase in their electricity bill. 
Part of the challenge that we share with market participants is not only informing and educating people, but also staying engaged with concerned parties, whether they are customers or legislators.
I think that it is easy to get into the mindset that government has the answer to every question and a law to solve every problem, but Texas is showing that competition and its potential payoffs are a driving force for innovation and efficiencies. Our role here at the PUC is more about strategically tapping the brakes and tweaking the steering wheel than it is about standing on the gas pedal to get things moving. 
Those innovations keep all of us on our toes. For example, figuring out where batteries fit into our deregulated system is a big question that must be answered. I always advocate for a deliberate approach on our decisions, but I am also mindful of that tipping point when deliberate becomes delay. 
The industry players and investors who fuel innovation and development want clarity and consistency in their own deliberations, so our job is to thoughtfully consider impacts on all affected parties and make informed decisions that flow to our end goal: a reliable and economical source of power for the people and businesses of Texas. 
PUF: Please look out into the future, into the next three to five years. What's your take on the future on the industry and regulation of it? Are you optimistic, or concerned, or downright worried for where we're headed?
Chair Walker: A lot of my job involves considering the past, both in terms of legal precedent and in those actions taken by industry players that crossed a line. You might say we are much more forensic than predictive. However, we must look forward because our state population is expanding rapidly, our economy is continually growing and technology is evolving at a rapid pace. 
We need to work closely with our legislators so they understand the realities of the marketplace as a precondition for writing new laws. Our shared responsibilities to constituents in households across the state help keep us on the same page.
I will not make a prediction of what I think the technology mix for generation will be. The market is doing a wonderful job of figuring that out, ranging from new innovations to decommissioning economically burdensome plants. I expect the inherent profit motive will keep our power companies leaning into the challenges we have already discussed.
On the technology front, improved energy efficiency and advancing battery technology will continue changing the landscape, as solar and wind have done to date. In those cases as well, our market-driven approach will help sort out the winning ideas with the end goal of ensuring that power remains reliably available and reasonably affordable. 
Security is also at the forefront for us, with market participants doing the heavy lifting on cybersecurity protections all along the cycle, from generation to transmission to distribution. The astonishing number of malicious penetration attempts that entities endure in the course of a day is mind-boggling. We will keep our eyes on that and work to protect our grid from all enemies, foreign and domestic.
Across the board, I am optimistic about the industry's ability to innovate its way through challenges and maintain a sense of responsibility to the citizens of Texas.
State and Future of Power articles: