Deck:
Raising the stakes in RTO markets.
When Chairman Jon Wellinghoff emerged from a FERC meeting room one Thursday last October, he spoke briefly to reporters about why it was OK—and actually a good thing—for Duke Energy's Ohio and Kentucky utilities to move from the Midwest ISO to the PJM Interconnection. As reported by Energy Daily, Wellinghoff said utilities should be free to pick "the most competitive RTO [regional transmission organization] that provides the best opportunity for their business models to operate." Further, the chairman said it's healthy for markets like MISO to "realize another RTO may have a superior structure that is attracting more utilities, and they maybe should consider changing their structure" (see Jeff Beattie, "FERC Lets Duke Utilities Switch from MISO to PJM," Energy Daily, Fri., Oct. 22, 2010).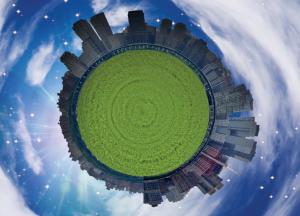 Wellingoff's comments disappointed MISO and intervenors like the American Public Power Association (APPA), which represents public power agencies and municipals, many of which are price-takers in wholesale markets. APPA suggests that FERC is giving short shrift to the cardinal rule of ratemaking under the Federal Power Act—i.e., that any pricing system must produce rates that are "just and reasonable." To the degree generators like Duke (and FirstEnergy in 2009) are exiting markets in pursuit of bigger capacity payments for the very same power they generated before, APPA says customers will be stuck paying higher bills. From the customer's viewpoint, market forces aren't working to produce just and reasonable rates—or anyway not as just or reasonable as they might be in a system that didn't reward RTO shopping.
For that matter, APPA says capacity markets in general are misguided, and should be phased out in favor of a system of bilateral contracting for capacity, and auction trading for excess generation (see APPA's Oct. 1, 2010 comments in Maryland PSC Docket PC-22; and APPA's Competitive Market Plan, Feb. 2009). Policy makers in some states seem to agree, with California opting against creating a capacity market to address its resource adequacy needs, and with legislative and regulatory actions in both New Jersey and Maryland aiming to circumvent or even undermine the market (see sidebar "The Politics of Capacity Dumping").
However, Duke's departure so soon after FirstEnergy's identical move suggests capacity auctions are gathering momentum—at least in the northeastern quadrant of the North American grid. Less than two months after the meeting where FERC granted Duke's migration request, the Midwest ISO took Chairman Wellinghoff's words to heart, proposing in December 2010 to expand its voluntary and heretofore short-term capacity markets to a more comprehensive and longer-range auction.

"Some folks think energy-only is the way to go," says Todd Hillman, MISO's executive director—customer management. "But given today's regulatory and market construct, it's not feasible to have an energy-only market. Midwest ISO has no plans to go that direction."

Whether developments in the Midwest ISO signal a general shift toward capacity markets, however, remains uncertain at best. In fact, it looks like the capacity contest is just heating up.
Long and Short
Duke and FirstEnergy weren't the first utilities in the Midwest region to pick PJM over MISO. American Electric Power (AEP) led the way in 2004—three years before PJM introduced its capacity auction, known as the Reliability Pricing Model (RPM). Although all three companies cited a varied list of technical and geographic reasons behind their decisions, conventional wisdom—and the FERC chairman—suggests they were attracted first and foremost by the economic advantages of selling their power in PJM instead of MISO (see Figure 1).
Capacity is more valuable in PJM for a complex set of reasons, some of which date back to the original makeup of MISO, which became the first FERC-approved RTO in 2001.
Historically, PJM and MISO have been distinguished by rather different market and regulatory conditions. PJM is dominated by deregulated states, with many unbundled utility holding companies selling electricity and power capacity on an unregulated wholesale basis—and with electricity retailers and load-serving entities (LSE) procuring supplies at wholesale. MISO, on the other hand, is comprised primarily of states that never unbundled their vertically integrated utilities. Most such utilities bring their own power resources to the market, or they get it through bilateral contracts with third-party generators or their own affiliates.
"Traditionally the Midwest ISO has been a bilateral market," Hillman says. "Bilateral contracts have provided the mechanism for capacity trading in the Midwest, although it hasn't necessarily been a fully transparent, cleared market. That's neither right nor wrong. It's just the way it's been done" (see Figure 2).
Another important difference between the two markets is that PJM contains sprawling urban load centers in locations like New Jersey, Maryland and the District of Columbia. By contrast, most of MISO's biggest load centers, such as St. Louis and Minneapolis-St. Paul, are somewhat smaller than those in PJM, and are separated by large tracts of wind-swept farmland. In fact, the biggest city in the geographic Midwest—Chicago—resides in the territory of PJM member Exelon.
These distinctions are made all the more important by one other fact: the Midwest has more low-cost coal generation, and also increasingly wind power, than PJM does.
Seven years ago, Fortnightly's own Bruce Radford wrote, "Despite [a] complicated picture, one simple fact stands out: most potential savings from AEP joining PJM appear to come not so much from the technical performance of PJM's market structures, but from opening the doors to allow the export of greater volumes of cheaper coal-fired power from the Midwest to the Mid-Atlantic. A lot of cheap coal-fired power in the Midwest [is] itching to invade PJM, where higher-priced gas-fired power calls the tune" (see "It's Down to Dollars for AEP and PJM," Fortnightly's Spark, February 2004).
Indeed, capacity constraints and higher prices in the Northeast were the main reasons that compelled PJM, the New York ISO and ISO New England to create capacity markets in the first place—to attract investment in new capacity resources that weren't getting built as fast as reliability planners thought they should, especially in the territories of unbundled utilities. MISO generally hasn't had the same problem, which explains why MISO heretofore hasn't prioritized capacity markets.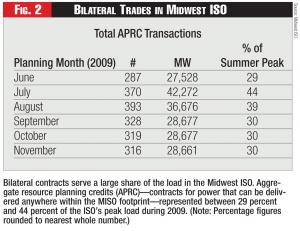 "In states that have deregulated retail energy markets, it is less clear who is responsible for [assuring] adequate resources are available to meet demand," commented MISO in the Duke Ohio migration docket at FERC. "Because vertically integrated utilities comprised nearly all Midwest ISO members when the market was developed, the Midwest ISO does not have a centrally procured capacity market" (MISO comments, July 26, 2010, FERC Docket No. ER10-1562-000).
Over time, however, generation-owning companies whose operations overlap the two geographic regions are seeing dollar signs in the RPM, and they aren't seeing them in MISO's comparatively nascent Voluntary Capacity Auction (VCA).
"The decision [by Duke Ohio and Kentucky] to withdraw appears motivated principally by the desire to receive higher capacity market revenues in PJM," stated Potomac Economics, the independent market monitor for MISO, in comments submitted to FERC on Aug. 19, 2010. "The Midwest ISO's voluntary capacity auction continues to clear at prices close to zero due to the prevailing excess capacity on the Midwest ISO system, while RPM capacity market revenues for [Duke] in PJM are estimated to be $352 million annually."
A figure like that is enough to make any company stand up and take notice, but it also raises an important question: who pays that $352 million—and what are they getting for it?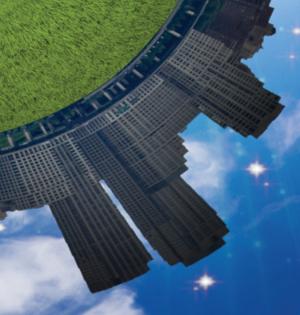 Attracting Resources
In the simplest terms, RPM is intended to apply market forces to the business of ensuring electric capacity is adequate to meet peak loads.
Different RTOs take different approaches to planning for resource adequacy. In the case of MISO, load-serving utilities are required to provide load forecasts, and generators must qualify the resources they're offering into the market. MISO calculates a reserve margin for each LSE, and the LSE is responsible for procuring adequate qualified resources to meet its forecasted load plus the reserve margin.
Beyond that, locational marginal pricing (LMP) structures aim to address local resource constraints, by rewarding participants for bringing power into the market where it's most needed. Both MISO and PJM use LMP mechanisms for energy auctions, as do other RTOs, such as ERCOT in Texas and the California ISO. And since 2007, PJM's RPM auctions have applied the same concept to capacity trading.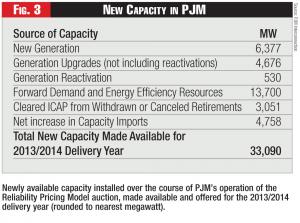 Each year in May, PJM holds an auction for a year's worth of capacity to be delivered three years in the future, and then it also conducts three additional auctions for incremental needs—four, 13 and 23 months ahead. In this way, PJM hopes the forces of supply and demand will attract the capacity necessary to meet future resource adequacy requirements, while its real-time and day-ahead markets take care of current energy needs.
Although the basics of the RPM have remained pretty much the same since its inception, PJM has been making changes and adding features. Most notably, two years ago the RTO introduced demand response (DR) and energy efficiency as biddable resources—the difference between the two being that DR involves dispatchable load, to be curtailed for a given time period, while efficiency eliminates demand for the entire year. Efficiency providers can earn capacity payments on a given negawatt for no more than four years.
"The result is a forward capacity price signal that's led to a significant investment, with more than 10,000 MW of cleared DR and efficiency," says Andrew Ott, PJM's senior vice president of markets. "That's a big investment in demand response and efficiency."
Indeed, negawatts of one kind or another represent by far the biggest share of resources offered in PJM's capacity auction for the 2013/2014 delivery year—double the next-biggest category, new generation (see Figure 3). Largely by virtue of clearing massive amounts of demand resources through the RPM capacity auction, PJM has managed to secure reserve margins well in excess of the NERC reference reserve margin—despite projections of substantial demand growth and plant retirements during the next several years (see Figure 4).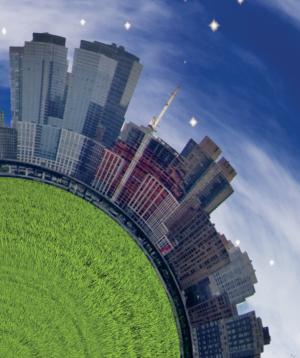 The next step for PJM might be to extend the horizon for forward auctions beyond the current three years. "This is being discussed and debated among stakeholders now," Ott says. How far into the future is part of the debate. Five years? 10 years? Long time frames for capacity bidding aren't necessary, Ott says, but something longer than the RPM's current four-year horizon (i.e., a full year's commitment in the third year ahead) would bring a greater degree of certainty to the market.
"Having forward capacity commitments doesn't solve every problem, but it certainly narrows the uncertainties for purposes of resource adequacy and transmission planning," he says. "It's beneficial to have certainty out to a point, and from there you have scenario modeling—looking at a range of possibilities to see what might evolve. The information in forward capacity markets can better inform that kind of decision making by narrowing the scenarios."
And, incidentally, extending the auction horizon might help prevent PJM from being leapfrogged by its next-door rival MISO, which is proposing enhancements to its VCA.
"FERC asked us to look at ways we can better coordinate activity across our seams, and provide better market-based price incentives for resource investments as well as consistency with our energy market," Hillman says.

MISO and PJM finalized a new seams agreement in early January, and now MISO is working with stakeholders to develop its concept for a more robust capacity auction. Currently the VCA is limited to bids and offers a single month ahead. MISO's December draft proposal envisions converting the monthly auction to an annual auction for full-year commitments, and opening the bidding horizon prospectively to between three and five years. MISO would create what it calls locational resource zones (LRZ), so bids and offers would reflect local constraints.
According to the MISO draft proposal, the enhanced auction would remain voluntary, but all load and capacity would be required to bid into the market; entities that don't wish to actually buy or sell power via the auction would net themselves out by bidding load to match their offered supply.
This is the way MISO's day-ahead energy market works now, Hillman says, with a large share of LSEs self-scheduling by posting matching bids and offers. Their inclusion in the auction is intended to produce a clearing price based on the entire footprint, rather than just the smaller sample of spot trades.
"Everybody has to be in the market," Hillman says. "But you can self-schedule your load against your resources, and your exposure to the cleared price will be nil. That's important for companies that have generation in their rate base. We have to make sure that as part of a level playing field, we're incorporating enhancements that will assist our members in retail-choice states without jeopardizing the interests of those in regulated states."

MISO hopes this approach will produce transparent price signals and ultimately provide buyers with lower capacity prices, so eventually those who self-schedule will begin to see economic benefits from participating fully in the auction. "We're not necessarily building the market for today's situation, because right now we have overages," Hillman adds. "We're thinking about what the market could be like two or three years down the road. Just a few years ago gas was priced at $15, coal deliveries were hard to get, and people were concerned about cold winters and hot summers. Now is the perfect time to think ahead."
Like PJM, the Midwest ISO is trying to figure out the appropriate time horizon for forward capacity auctions, as well as the number of annual terms open for bids and offers. "The goal is to balance market uncertainty—meaning EPA regulations, state mandates, plant retirements and fuel costs—against how much time you need to develop new resources," Hillman says. "One thing is for certain: the further out you go into the future, the less certainty you have."
Dumping Capacity
Despite the apparent attraction of capacity auctions in the Northeast and Midwest, RTOs elsewhere in the country have thus far spurned the idea.
In Texas, for example, ERCOT recently replaced its zonal pricing system for energy and ancillary services with a nodal system, but it continues to eschew anything resembling a long-range capacity market.
And last summer the California ISO decided, after an exhaustive three-year process, to forgo creating a capacity market—in part because the structure didn't seem to serve the state's policy goals. "We find, on balance, that maintaining the current bilateral contracting approach best meets [California's] program objectives at this time," wrote the California ISO in a filing before the state PUC. "Proponents of the centralized capacity auction mechanism did not persuasively demonstrate how such a system could be structured to prioritize renewable resources and otherwise support the Commission's environmental goals" (see "Decision on Phase 2—Track 2 Issues: Adoption of a Preferred Policy for Resource Adequacy," CPUC Rulemaking 05-12-013, issued June 7, 2010).
Resistance to capacity markets also seems to be rising within the heart of PJM.
Just last month, the New Jersey Assembly passed legislation (A3442/S2381) that among other things accused PJM's capacity auction of loading $1 billion of additional costs onto ratepayers in the state, and tilting the playing field against new market entrants. Assuming Gov. Chris Christie signs the bill as expected, the state will be required to enter 15-year power purchase agreements for 2,000 MW of new gas-fired combined cycle capacity, with that capacity to be offered in the RPM at a price of $0—effectively dumping a large chunk of capacity into the auction and forcing the clearing price downward.
The legislation has elicited fierce responses, both pro and con. Monitoring Analytics, PJM's independent market monitor, issued a report last July criticizing the idea and warning lawmakers that it would backfire. "The result of such a subsidy would be to artificially depress the [RPM] auction prices below the competitive level… [R]evenues to generators both inside and outside of New Jersey would be reduced, as would the incentives to manage load and invest in cost effective demand side management technologies. [It also would] increase the probability that additional subsidies by New Jersey ratepayers will be required for any future capacity additions needed to maintain reliability."
The market monitor further warned that such subsidies would have a contagion effect, forcing neighboring states to provide the same kinds of subsidies to bring capacity into their areas. As a case in point, the Maryland Public Service Commission took comments last year on the possibility of forcing regulated utilities to enter long-term power purchase agreements for new supplies located inside the state (Maryland PSC Case No. 9214). The case arose from a request by independent power producer Competitive Power Ventures (CPV) for the PSC to compel Maryland utilities to negotiate 20-year PPAs for the output from CPV's planned 640 MW combined cycle project in Charles County (Maryland PSC Case No. 9117). On December 29, the PSC circulated a draft request for proposals (RFP) that stipulates BGE, Delmarva, Allegheny Power and Pepco will solicit bids to supply, in total, 1,800 MW of power capacity under contracts as long as 20 years.
Although the state wouldn't be procuring the power directly, as New Jersey would under A3442, it would have a similar effect on the market—especially if bidders propose projects that would undercut the clearing price, which is precisely what CPV had promised to do with its project, and presumably would again in a bid under the prospective Maryland RFP.
"[I]t has been almost 30 years since a facility of the St. Charles Project's scale and value has been constructed in Maryland," wrote CPV's attorneys at Dickstein Shapiro in an Aug. 18, 2009 filing before the PSC. "When a new resource of this size is bid into the PJM capacity auction at $0, the supply curve effectively will shift to the right, lowering the clearing price for capacity, and thus lowering the price of electricity throughout Maryland."
Changing Rationale
By proposing the RFP, the Maryland PSC was responding in part to the pointed comments of Maryland Gov. Martin O'Malley about the apparent failure of capacity markets to attract new investments in power plants. "A perverse system of capacity charges imposed by [PJM] has … added hundreds of dollars to residential bills with little benefit," O'Malley wrote in a December 2009 letter to the commission. "From 2008 to 2013, it is estimated that Maryland ratepayers will pay nearly $5 billion in capacity charges to incentivize the private sector to build new generation—enough to pay for seven new power plants—but no new base load generation will be built as a result of these incentives."
O'Malley's outrage is echoed by others who have lost their patience for the promised benefits of capacity auctions—especially given the recent RTO shopping by Duke and FirstEnergy, which seems to suggest capacity payments are mostly attracting existing resources rather than new construction.
"On the whole, capacity markets have been most effective at transferring wealth from customers to existing generators," says Susan Kelly, vice president of policy analysis and general counsel at the American Public Power Association.
Kelly notes that new generation investment hasn't materialized as promised by capacity market proponents when the construct was first conceived. "The rationalizations have changed," she says. "Now PJM is arguing that RPM ensures resource adequacy by keeping existing units online that otherwise might leave the fleet. That's not what it was supposed to do, and I don't know that it's smart to pay extra money to keep these old, smaller coal plants online if they otherwise wouldn't be economic to run."
Irrespective of whether it's new or old capacity, however, PJM's capacity auction arguably is working to reallocate oversupply from the Midwest to PJM, where demand is higher. Transmission additions, such as the TrAIL 500 kV line now being built from southwestern Pennsylvania into the territories of Allegheny Power and Dominion Virginia Power, might allow additional cross-regional wheeling—of coal-fired power as well as renewable capacity from those wind-swept plains in the Midwest. But that market opportunity also could encourage more Midwestern utilities to go RTO shopping.
Whether that ultimately turns out to be a good thing might depend as much on the patience of stakeholders in the markets as it does on the actions of RTOs and utilities.
"Profit levels among existing generators are substantially above cost-of-service levels. New entrants aren't coming in, and prices are going up," Kelly says. "Our question is 'Why?' Inquiring minds wonder, are competitive forces actually disciplining these markets or aren't they? There are all sorts of unintended consequences and perverse incentives out there. I wish there was more critical examination of what's going on, and not just a high priesthood saying 'It's all fine.'"