Deck:
With no guidance yet from FERC, Atlantic Wind is forced to wait.
Author Bio:
Bruce W. Radford is Publisher of Public Utilities Fortnightly magazine. Contact him at radford@pur.com.
When April came and went without any decision from the Federal Energy Regulatory Commission on its highly anticipated but even more controversial new rule on regional grid planning, the Atlantic Wind Connection project was left hanging.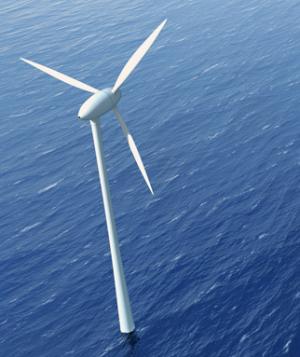 In fact, the $5-billion-plus project has been on standby since December, when, with a PR assist from Google, the project sponsors first applied to FERC for lucrative financial incentives to realize the vision of a 300-mile-long undersea, high-voltage DC backbone transmission line running along the Mid-Atlantic coast. The project is intended to foster development of 6,000 MW—or more—of offshore wind-generated power, to be delivered to the PJM regional power grid.
At issue is whether the nation is really committed to a green future, and whether it will agree to building infrastructure in a comprehensive and systematic way, or whether green power development will continue as it has up to now, marked by a series of one-off projects, each one in turn forced to fight the same political battles.
Opponents—and there are many—challenge Atlantic Wind's bid for financial incentives. But even more importantly, they challenge the very notion of building a transmission line, as they say, "on spec"—of building a backbone grid superhighway designed to serve a myriad of as-yet-unplanned and un-built wind turbine projects.
In truth, the project may be too perfect for its own good. Too novel, that is, to fit conveniently within any recognized regulatory cubbyhole.
Is it needed for reliability? No; not in terms of fixing any system weakness yet identified. Will it shave pennies off electricity prices? Not likely, if you count in the cost of the wind farms that surely must be built before the sponsors will want to go forward. Is it a merchant project, with investors eager to risk their shirts on market whims? Not hardly, as the sponsors say they intend to submit the project to PJM, for inclusion in the grid system's Regional Transmission Expansion Plan (RTEP), so that approval would make AWC eligible to pass project costs along to ratepayers in the PJM footprint, as provided for by PJM's federally approved regional transmission tariff.
Rather, Atlantic Wind is designed primarily to assure that Mid-Atlantic states can gather and assemble the green resources they will need to satisfy goals and timelines contained in legislatively mandated renewable portfolio standards—a laudable aim that nevertheless won't get to first base with PJM grid planners.
That's because PJM's RTEP tariff favors only those facilities that are needed for reliability or that will reduce the cost of delivered power by reducing line congestion in the transmission network.
Thus, Atlantic Wind up to now has chosen not to submit its project for approval at PJM, lest it fall through the cracks, without a hook on which to hang its hat.
All this could change, of course, if and when FERC should decide to move ahead with its planned Notice of Proposed Rulemaking (NOPR) in Docket RM10-23. That's the case in which FERC has proposed that projects like Atlantic Wind, which help further a governmental policy (such as development of renewable power), should win favor from regional transmission planners. That's the ruling that perhaps someday—if congressional Republicans ever agree to go along—will create a perfect fit for Atlantic Wind and other such projects that aren't needed in an economic or engineering sense, but only to help states go green.
Until then, Atlantic Wind is left to tread water.
Key to the Highway
Described by sponsors as "the first offshore transmission highway in the United States," the Atlantic Wind Connection (AWC) would be constructed off the coasts of New Jersey, Delaware, Maryland and Virginia, comprising perhaps nine offshore raised platforms to serve as hubs for collection of wind farm energy output, plus 750 or so circuit miles (650 miles offshore, 38 miles in close-in state-controlled waters, and 67 miles onshore), to create two separate and parallel backbone circuits (four 320-kV DC cables). These circuits would be located in two separate rights-of-way running about 20 miles offshore, and separated by enough ocean floor to minimize potential risk of damage from a single unplanned event, such as anchor drag from a passing ship.
The project would enable some 6,600 MW of offshore wind capacity to be developed and integrated into the PJM regional grid on a timetable necessary to allow the region to meet state renewable portfolio standards and other state and federal renewable energy goals.
"The Mid-Atlantic region's offshore waters hold vast potential for wind energy production," said Markian Melnyk, president of Atlantic Grid Development (AWC's development company), at a press conference held on in Washington, D.C., on March 31. That's the same day that AWC filed what spokesman and Director of Outreach Bryan Lee reported was the first-ever unsolicited right-of-way application with the Department of Interior's Bureau of Ocean Energy Management, for use of certain areas of the U.S. Outer Continental Shelf to construct an offshore electric transmission system.
"AWC offers a superhighway," Melnyk added, to allow "large-scale development of this strategically important clean domestic energy resource.
"AWC supports … renewable energy policy objectives … and would enhance the competitive regional electric market by increasing supply options and reducing congestion on existing facilities."
A key selling point for Atlantic Wind lies in its backbone design and platform hubs, all to be located in federal waters. As noted at the press conference, AWC will take responsibility for procuring all necessary state permits, and for building all transverse ship-to-shore lines needed to interconnect with the interstate grid. Any participating wind farm (or cluster of farms) need only link up with one of AWC's platform hubs in federal waters, and won't have to deal with a radial facility interconnection with PJM. The interconnecting party would be AWC.
This backbone design, say the sponsors, is the key to the project. In its application filed at FERC late last year seeking financial incentives, AWC claimed that, "compared to a radial approach [where each wind farm arranges for its own direct connection to the interstate grid network], the AWC project will facilitate offshore wind development on a larger scale and more quickly." By separating the siting of interconnection lines from the siting of the actual wind farms, AWC would enable wind turbines to be built farther from shore.
Congestion Relief?
In its December application, Atlantic Wind sought financial incentives under Federal Power Act sec. 219, and FERC Order 679, which require either (a) prior project approval by the regional grid planner (PJM) or a state permitting agency, or (b) proof that the project is needed to ensure reliability or to reduce the cost of delivered power by reducing grid congestion.
And as AWC hasn't even applied to be considered in PJM's regional grid plan, and lacks state permitting approval or proof of any compelling reliability need, it has up to now tried to make a case that it will ease congestion and produce dollar benefits by enhancing regional grid transfer capabilities and lower spot market prices, known as LMPs (locational marginal prices). On this point, however, the returns are mixed.
With help in analysis from The Brattle Group, AWC contends that connecting 6,600 MW of offshore wind via the project would produce $17 billion (net present value) in LMP reductions in PJM over 20 years, as compared with a base case of no offshore wind development. Yet, as the incumbent transmission owners (TOs) in PJM have pointed out, that $17 billion in benefits requires a $35 billion outlay to produce: $5 billion for the project, and $30 billion for the generation (implying a capacity cost of about $4,500/kW).
And while AWC claims annual congestion cost savings of $147 million even without participation from offshore wind, that benefit (a 20-year net present value of about $1 billion) still wouldn't match the $5 billion cost of the transmission project.
And these numbers don't take into account that the injection of so much offshore wind could require costly AC system upgrades back on land, or that LMP effects could be offset by hedging deals using financial transmission rights (FTRs).
One group of stakeholders, led by Old Dominion Electric Cooperative, suggests that since project benefits, if any, will come from wind farm development, rather than the line itself, that Atlantic Wind is attempting to "transform the use of risk-reducing transmission incentives into a shield for would-be developers [of offshore wind farms] against the risk inherent in their projects."
And AWC's own expert witnesses Johannes Pfeifenberger and Samuel Newell (both Brattle Group principals) seemed to reinforce that point when they testified, "It is unlikely that the project would be constructed without the accompanying development of offshore wind generation."
Will wind farm projects agree to sign on? One developer, Deepwater Wind Holdings, which plans to locate its Garden State Offshore Energy Project approximately 16 miles off the New Jersey coast, near the proposed path of Atlantic Wind, takes pains to point out that it won't necessarily participate in the AWC project:
"Deepwater Wind is concerned that the AWC Project may increase the complexity of development of offshore wind.
"While Deepwater may consider the AWC Project as an interconnection option for the GSOE Project, it also is exploring other interconnection options… Deepwater Wind will continue to develop offshore generation, including the GSOE Project, regardless of the existence of the AWC Project."
Too Much Backbone?
For the long run, perhaps the most important question pending in the Atlantic Wind case concerns whether offshore wind farms should connect to the land-based interstate grid via a single backbone grid system, or through individual, project-specific radial tie lines, each fashioned specifically to serve a single wind farm or cluster of closely located turbine projects.
Atlantic Wind touts its backbone design as "a systems approach to transmission planning for offshore wind, rather than the construction of transmission in reaction to sporadic individual generator interconnection requests."
And Brattle's Pfeifenberger and Newell argue further:
"It is highly unlikely that the individual radial tie-line approach can produce offshore wind in the quantities needed to accommodate existing RPS requirements, much less produce the economic, reliability, and carbon benefits that the AWC backbone approach provides."
The AWC project wins support on this point from the Maryland Energy Administration, which states that "backbone subsea HVDC transmission, linking multiple offshore wind farms and energy markets is an excellent way to both decrease the cost of developing an offshore wind farm by eliminating the need to develop individual radial lines … as well as increasing the value of that power by aggregating wind energy over a broader geographic scope of deployment in order to reduce intermittency."
Yet New Jersey Rate Counsel Stefanie Brand and District of Columbia Interim People's Counsel Brenda Pennington claim that, if one looks at historic examples, such as the Eastern and Western Interconnections, and even natural-gas gathering systems in the Gulf of Mexico, that energy resource development "commonly proceeds radially, with a looping overlay added later if and only if the radial development succeeds."
Brand and Pennington in effect argue that the generation should come first, and transmission second:
"A coastwise configuration," they claim, "amounts to a centrally planned, multi-billion-dollar societal bet on the future economics of far-offshore wind.
"In contrast," they argue, "a radial configuration, by linking transmission siting to generation siting, relies on the market's forecast of future wind generation sales."
Most remarkable is the fact that Atlantic Wind and its protesters each seize on the existence of state laws promoting renewable energy and offshore wind as evidence for its own particular theory: be it backbone or radial.
Thus, New Jersey's Brand and D.C.'s Pennington point out that state policymakers so far have adopted laws that would favor individual, project-specific wind installations with radial interconnections to the mainland grid, in a way that allows state regulators to link offshore wind development with particular rate-making stipulations or funding mechanisms that balance cost and risk with state-specific economic goals. A backbone system, they argue, "could be seen as side-stepping the state regulatory ratemaking treatment," thereby "undermin[ing] state offshore wind policies."
They offer expert witness testimony from economist David Dismukes, who cites certain "hard-fought" agreements ironed-out by state politicians—deals he says would have to be "re-entered" to accommodate a comprehensive backbone grid design, as proposed by Atlantic Wind.
According to Dismukes, most states to date are considering the use of direct, long-term purchased power contracts with required power deliveries to the state's onshore power grid to securitize offshore wind generation projects. By contrast, the Atlantic Wind grid project itself would provide offshore grid system hubs that would collect wind farm output and handle interconnection service to the mainland grid, but with no apparent guarantees regarding how much wind output would be delivered ultimately to individual states.
Other states, Dismukes notes, like New Jersey and Maryland, seek to tie project financial support directly to the delivered energy and environmental attributes of the projects.
For example, as Dismukes notes, the New Jersey Offshore Wind Economic Development Act (OSWEDA) creates a system of offshore wind renewable energy certificates plus an "Offshore Alternative Compliance Payment." The OACP, Dismukes claims, creates a "backstop" or "circuit breaker" on development costs that wouldn't likely exist under the formula rate plan proposed by the AWC companies. Also, he notes, AWC's requested financial incentive for rate recovery of construction work in progress (CWIP) wouldn't jive with rules in the New Jersey legislation that allow financial support for offshore wind only upon commercial operation.
In short, Dismukes claims that "the terms and conditions for state offshore wind policy support have come from long and often contentious debates, as well as inputs from a wide range of stakeholder groups." (See, Affidavit of David E. Dismukes, on behalf of New Jersey Division of Rate Counsel, FERC Docket No. EL11-13, filed Jan. 31, 2011.)
Nevertheless, The Atlantic Wind companies see these same facts and draw an entirely different conclusion.
Citing the same New Jersey legislation, as well as laws enacted or pending in Delaware, Maryland, and Virginia, AWC argues that development needs are best met through a comprehensive backbone system that would traverse the entire mid-Atlantic region, and which would be integrated with a region-wide grid plan.
According to AWC, developers such as Apex Offshore, Fishermen's Energy, and Deepwater Wind "are interested in an offshore backbone transmission project, like the AWC Project, with which to interconnect their proposed wind farms."
The "bottom line," says AWC, is that "PJM must decide how best to plan for connecting this energy to the grid."
Quoting from the Joint Strategic Plan of the U.S. Interior and Energy Departments, AWC claims that "the implications for adding large amounts of offshore wind generation to the power system need to be better understood to ensure reliable integration and to evaluate the need for additional grid infrastructure such as an offshore transmission backbone." (See, Answer of AWC Companies, FERC Docket EL11-13, filed Feb. 15, 2011.)
Forcing the Issue
When asked about Atlantic Wind's plans in mid-April, spokesman Bryan Lee confirmed that AWC doesn't intend to apply to PJM to win approval of its project in PJM's RTEP before the FERC releases its NOPR decision on transmission planning for so-called "policy-driven" grid projects—projects that fall through the cracks, like AWC, because they can't point to needed reliability or pricing benefits, but claim to help advance state or federal energy policy. Such a ruling by FERC would give PJM the go-ahead to give planning consideration to such policy projects.
However, it turns out that PJM since last year has been hedging its bets—exploring for itself, without direction from FERC, whether it should revise its grid planning process on its own to consider giving weight to public policy needs.
After all, the Midwest and California grid systems already have won partial approvals from FERC to implement planning schemes that consider policy-driven projects alongside those that address reliability or grid congestion.
In fact, last year PJM asked its Regional Planning Process Task Force (RPPTF) to evaluate and make recommendations to implement additional transmission planning criteria or procedures to include a broader range of assumptions that would be required to plan for public policy initiatives, such as renewable resource integration.
And, at a meeting this past January of PJM's Transmission Owner's Agreement Administrative Committee (TOA-AC), PJM staff stated that they were moving ahead on the idea despite legal uncertainty about the scope of PJM authority in this area, given the lack of guidance from FERC.
These developments led Atlantic Wind to state at the March 31 press conference that the project sponsors anticipated that PJM eventually would modify its planning process to accommodate policy-driven projects, and that AWC would submit a request for approval as part of PJM's RTEP regime, as soon as that happened.
Meanwhile, however, a number of PJM member utilities, including the PSE&G Companies, the PPL Companies, Rockland Electric and Baltimore Gas & Electric, have urged PJM to jettison these plans, arguing that it's unwise to attempt to go forward without clear guidance from FERC.
Even in New Jersey, where Gov. Chris Christie recently signed the Offshore Wind Economic Development Act to promote offshore wind projects for the Garden State, the state's Board of Public Utilities has taken sides against PJM in trying to augment grid planning rules:
"It would be inappropriate," the BPU stated in commenting on FERC's NOPR initiative, "to permit PJM members to set public policy that is presumably based on state and federal goals and regulations."
In a letter dated March 28 and addressed to the PJM Board of Managers, PSE&G, PPL, Rockland and BG&E asked PJM to defer its proposed changes to the RTEP process "until there is greater legal certainty and clarity on this issue."
That drew a response from Exelon's v.p. for transmission operations and planning, Susan Ivey, who wrote to PJM's Board Chairman Howard Schneider on April 4:
"In Exelon's opinion, the question is not whether PJM should include public policy assumptions in development of the RTEP, but how to do so."