Deck:
With no guidance yet from FERC, Atlantic Wind is forced to wait.
Author Bio:
Bruce W. Radford is Publisher of Public Utilities Fortnightly magazine. Contact him at radford@pur.com.
With no guidance yet from FERC, Atlantic Wind is forced to wait.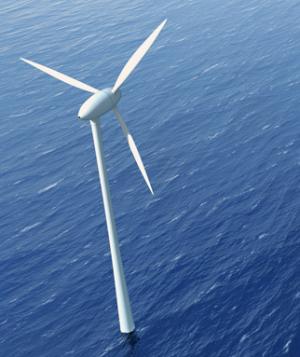 When April came and went without any decision from the Federal Energy Regulatory Commission on its highly anticipated but even more controversial new rule on regional grid planning, the Atlantic Wind Connection project was left hanging.
In fact, the $5-billion-plus project has been on standby since December, when, with a PR assist from Google, the project sponsors first applied to FERC for lucrative financial incentives to realize the vision of a 300-mile-long undersea, high-voltage DC backbone transmission line running along the Mid-Atlantic coast. The project is intended to foster development of 6,000 MW—or more—of offshore wind-generated power, to be delivered to the PJM regional power grid.
At issue is whether the nation is really committed to a green future, and whether it will agree to building infrastructure in a comprehensive and systematic way, or whether green power development will continue as it has up to now, marked by a series of one-off projects, each one in turn forced to fight the same political battles.
Opponents—and there are many—challenge Atlantic Wind's bid for financial incentives. But even more importantly, they challenge the very notion of building a transmission line, as they say, "on spec"—of building a backbone grid superhighway designed to serve a myriad of as-yet-unplanned and un-built wind turbine projects.
In truth, the project may be too perfect for its own good. Too novel, that is, to fit conveniently within any recognized regulatory cubbyhole.
Is it needed for reliability? No; not in terms of fixing any system weakness yet identified. Will it shave pennies off electricity prices? Not likely, if you count in the cost of the wind farms that surely must be built before the sponsors will want to go forward. Is it a merchant project, with investors eager to risk their shirts on market whims? Not hardly, as the sponsors say they intend to submit the project to PJM, for inclusion in the grid system's Regional Transmission Expansion Plan (RTEP), so that approval would make AWC eligible to pass project costs along to ratepayers in the PJM footprint, as provided for by PJM's federally approved regional transmission tariff.
Rather, Atlantic Wind is designed primarily to assure that Mid-Atlantic states can gather and assemble the green resources they will need to satisfy goals and timelines contained in legislatively mandated renewable portfolio standards—a laudable aim that nevertheless won't get to first base with PJM grid planners.
That's because PJM's RTEP tariff favors only those facilities that are needed for reliability or that will reduce the cost of delivered power by reducing line congestion in the transmission network.
Thus, Atlantic Wind up to now has chosen not to submit its project for approval at PJM, lest it fall through the cracks, without a hook on which to hang its hat.
All this could change, of course, if and when FERC should decide to move ahead with its planned Notice of Proposed Rulemaking (NOPR)