Generation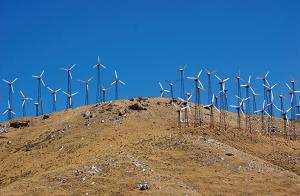 Google and Citi financed a second phase of the Alta Wind Energy Center (AWEC) being developed in Tehachapi, Calif., by Terra-Gen Power, an affiliate of ArcLight Capital Partners and Global Infrastructure Partners. The multi-phase AWEC project is expected ultimately to have a generating capacity of 1,550 MW when completed. Citi and Google each invested $102 million in the 168 MW Alta V project, in addition to the $55 million each company invested in the Alta IV project as announced previously, bringing each company's total investment to $157 million. The companies will now hold leveraged leases for two phases, totaling 270 MW, and Citi has also underwritten the equity financing for Alta Projects II-V, totaling 570 MW.
The Shaw Group completed a 500-MW combined-cycle natural gas-fired plant for NV Energy at the existing Harry Allen Generating Station north of Las Vegas.
Pattern Energy Group LP began construction on the Spring Valley wind project, located on public lands in northern Spring Valley , east of Ely, Nev. Pattern entered into a 20-year power purchase agreement with NV Energy for the output. Mortenson Construction managed construction of the project, which will use 66 Siemens 2.3 MW wind turbines and utilize an existing 230 kV transmission line for electricity distribution.
Calpine and GE unit GE Energy Financial Services obtained an $844.5 million credit facility to finance construction of the 619-MW, combined-cycle Russell City Energy Center in Hayward, Calif. Calpine says the power plant, now under construction, was the nation's first to receive a federal air permit that includes a voluntary limit on greenhouse gas emissions. The construction loan will convert to a 10-year term loan when commercial operations begin, expected in mid-2013. Pacific Gas and Electric contracted to buy the plant's full output and will supply natural gas fuel under a 10-year power purchase agreement that was approved by the California Public Utilities Commission in September 2010. A Calpine affiliate owns 75 percent of the plant while GE Energy Financial Services owns the balance.
DTE Energy Services (DTEES) received approval from the San Joaquin Valley Air Pollution Control District to convert an existing coal-fired power plant at the Port of Stockton to operate on biomass fuel—primarily urban wood waste, tree trimmings and agricultural residues. It will produce about 45 MW of power. DTEES completed a similar biomass conversion in Cassville, Wisc., and has another under way in Bakersfield, Calif. The plant is expected to provide power to PG&E under long-term contract.
Coca-Cola's bottling plant in East Hartford, Conn., unveiled 400 kW of new fuel cells. The project, developed through collaboration among Coca-Cola, UTC Power , the town of East Hartford and the Connecticut Clean Energy Fund, is expected to provide 100 percent of the electricity and 50 percent of the heat required to operate the East Hartford facility.
A consortium including GE and Australian company Leighton Contractors received a $130 million contract to supply and install 22 GE 2.5-100 wind turbines for the Mumbida Wind Farm . The 55-MW project, located 40 km southeast of Geraldton, is a 50/50 partnership between Verve Energy, a Western Australia