Generation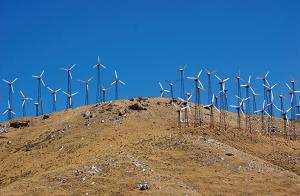 Google and Citi financed a second phase of the Alta Wind Energy Center (AWEC) being developed in Tehachapi, Calif., by Terra-Gen Power, an affiliate of ArcLight Capital Partners and Global Infrastructure Partners. The multi-phase AWEC project is expected ultimately to have a generating capacity of 1,550 MW when completed. Citi and Google each invested $102 million in the 168 MW Alta V project, in addition to the $55 million each company invested in the Alta IV project as announced previously, bringing each company's total investment to $157 million. The companies will now hold leveraged leases for two phases, totaling 270 MW, and Citi has also underwritten the equity financing for Alta Projects II-V, totaling 570 MW.
The Shaw Group completed a 500-MW combined-cycle natural gas-fired plant for NV Energy at the existing Harry Allen Generating Station north of Las Vegas.
Pattern Energy Group LP began construction on the Spring Valley wind project, located on public lands in northern Spring Valley, east of Ely, Nev. Pattern entered into a 20-year power purchase agreement with NV Energy for the output. Mortenson Construction managed construction of the project, which will use 66 Siemens 2.3 MW wind turbines and utilize an existing 230 kV transmission line for electricity distribution.
Calpine and GE unit GE Energy Financial Services obtained an $844.5 million credit facility to finance construction of the 619-MW, combined-cycle Russell City Energy Center in Hayward, Calif. Calpine says the power plant, now under construction, was the nation's first to receive a federal air permit that includes a voluntary limit on greenhouse gas emissions. The construction loan will convert to a 10-year term loan when commercial operations begin, expected in mid-2013. Pacific Gas and Electric contracted to buy the plant's full output and will supply natural gas fuel under a 10-year power purchase agreement that was approved by the California Public Utilities Commission in September 2010. A Calpine affiliate owns 75 percent of the plant while GE Energy Financial Services owns the balance.
DTE Energy Services (DTEES) received approval from the San Joaquin Valley Air Pollution Control District to convert an existing coal-fired power plant at the Port of Stockton to operate on biomass fuel—primarily urban wood waste, tree trimmings and agricultural residues. It will produce about 45 MW of power. DTEES completed a similar biomass conversion in Cassville, Wisc., and has another under way in Bakersfield, Calif. The plant is expected to provide power to PG&E under long-term contract.
Coca-Cola's bottling plant in East Hartford, Conn., unveiled 400 kW of new fuel cells. The project, developed through collaboration among Coca-Cola, UTC Power, the town of East Hartford and the Connecticut Clean Energy Fund, is expected to provide 100 percent of the electricity and 50 percent of the heat required to operate the East Hartford facility.
A consortium including GE and Australian company Leighton Contractors received a $130 million contract to supply and install 22 GE 2.5-100 wind turbines for the Mumbida Wind Farm. The 55-MW project, located 40 km southeast of Geraldton, is a 50/50 partnership between Verve Energy, a Western Australia government-owned utility, and Macquarie Capital.
Minnesota Power accelerated its plans to build its third wind energy project in North Dakota, citing several factors for moving up its timeline—a competitive turbine market, federal production tax credits and regulatory support. Minnesota Power submitted a plan to the Minnesota Public Utilities Commission to build a 105-MW, $157 million wind farm in Oliver and Morton counties in central North Dakota. The 35-turbine Bison 3 project is sited near the company's Bison 1 and 2 wind projects. The energy from all three projects will be delivered to Minnesota Power customers via a direct-current transmission line, extending 465 miles from the Square Butte substation in Center, N.D., to the company's Arrowhead substation near Duluth. The addition of Bison 3 will move the company within 5 percent of achieving the state's 25-by-2025 renewable portfolio mandate in the year 2020.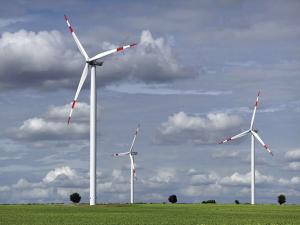 Hydro Green Energy LLC (HGE), a renewable energy company with proprietary hydropower technology, filed for a FERC license to install and operate seven hydro power projects on locks and dams operated on the Mississippi River by the Army Corps of Engineers. The projects, initially totaling 56 MW of green power, are located within the Midwest Independent System Operator service territory (MISO).
Green Mountain Power installed an NPS 100 wind turbine from Northern Power Systems at a customer site. Green Mountain Power will own, operate and maintain the turbine. The project will be group-net metered, with the host site receiving 10 percent of the energy generated, and the rest used by Green Mountain Power. Northern Power Systems says it will provide web-based monitoring of the turbine allowing the host and others in the community to view in real time the output and green credits generated by the NPS 100.
Southern Company's 25-MW carbon capture and storage facility is now operating and capturing carbon dioxide. Located at Plant Barry near Mobile, Ala., the CCS facility is the world's largest for a coal-fired power plant. It will capture approximately 150,000 tons of carbon dioxide (CO2) annually, or the equivalent of emissions from 25 MW, for permanent underground storage in a deep saline geologic formation. The project uses Mitsubishi KM-CDR amine solvent technology. Captured CO2 from the plant will be supplied to the Southeast Regional Carbon Sequestration Partnership (SECARB) for transport by pipeline and injection 9,500 feet underground at a site within the Citronelle oil field.
Suzlon Wind Energy received a new order for a 31.5-MW wind project in Amherst, Nova Scotia, being developed by Sprott Power. Suzlon is delivering the S97-2.1 MW turbines, 15 in total, as part of an engineering, procurement and construction (EPC) contract. Startup is scheduled for March 2012.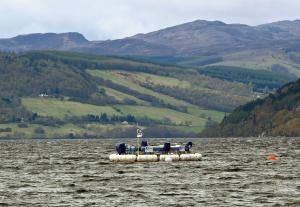 SOLON announced an agreement with UniSource Energy Services (UES) that will bring a 1.22-MW solar system to Kingman, Ariz. UES will own and operate the system on six acres owned by the Kingman Unified School District (KUSD). SOLON is leading EPC services, and will provide development and support. The project will use six of SOLON's single-axis trackers, manufactured at the company's Tucson headquarters. Local county contractors will assist in installation. Construction is scheduled to be completed by the end of 2011.
SAEP Indiana Michigan Power awarded a contract to the Shaw Group to provide plant life-cycle management services for the Cook Nuclear Plant in Bridgman, Mich. The contract, signed in the second quarter of fiscal year 2011, follows a detailed feasibility study conducted by Shaw earlier this year for potential life cycle management upgrades and modifications to the plant. Shaw will provide EPC services on approved projects designed to extend the life cycle of major components for 20 more years.
Westinghouse Electric installed a replacement steam dryer at Xcel Energy's Monticello Nuclear Generating Plant, a single-unit GE-designed boiling water reactor (BWR) located near Monticello, Minn. The component was designed by Westinghouse Sweden and modified by Westinghouse's U.S.-based BWR engineering team with support from Toshiba for use in the American market. The one-piece assembly is 17 feet in diameter, 16 feet tall and weighs 60,000 pounds. BWR steam dryers are used during the final stage of moisture removal to provide the highest-quality steam to the turbine. Westinghouse removed Monticello's original steam dryer from the reactor and installed the replacement during the plant's spring 2011 refueling outage.
Oldcastle Precast secured a $1.1 million nuclear vault project involving the construction of 36 nuclear canister storage vaults for the Department of Energy's new integrated waste treatment unit (IWTU) at Idaho National Laboratory. The vaults are part of the $570 million project, which will start turning 900,000 gallons of sodium-bearing liquid waste into a stable granular material ready for permanent disposal.
T&D
Serious Thermal Products introduced the new Serious Toaster ground-thawing machine. Using infrared technology, the toaster thaws frozen ground up to 1.6 inches deep per hour in a 2-foot-by-10-foot area. Serious Thermal says the units can be placed in many hard-to-reach areas, and they don't require the surface to be cleared of snow and ice prior to use.
Pioneer Transmission LLC, a joint venture between American Electric Power and Duke Energy, will develop a 55-mile, extra-high-voltage transmission project with Tennessee Valley Authority in Indiana and Kentucky. The parties propose to build a 765-kilovolt (kV) transmission line connecting AEP's Rockport Station with TVA's Paradise Station in Drakesboro, Ky. The cost of the project, which would also include construction of a new 765-kV substation at Paradise, is estimated at $275 million, subject to approved routing. Pioneer and TVA will submit the Rockport-Paradise proposal to the PJM Interconnection (PJM) for consideration in its regional planning process. In addition, the project will require siting approval from the Kentucky Public Service Commission.
Electric Transmission Texas LLC (ETT) executed master agreements with three construction firms for transmission and infrastructure services associated with the competitive renewable energy zone (CREZ) projects assigned to ETT by the Public Utility Commission of Texas (PUCT). The agreements with Quanta Services, MYR Group and TIC Holdings ensure ETT has construction resources committed to help complete its CREZ program in West Texas. ETT, a joint venture between subsidiaries of American Electric Power and MidAmerican Energy Holdings, will construct nearly $1.4 billion in CREZ projects by 2013, totaling 450 miles of transmission lines and facilities. PUCT recently approved the required certificates of convenience and necessity for ETT's CREZ projects, and ETT expects to acquire rights-of-way from property owners over the next 18 months.
Smart Grid & Metering
The Hutchinson Utility Commission selected the Sensus FlexNet communications network as its advanced metering infrastructure (AMI) communications platform with more than 10,000 AMI endpoints for electric and gas meters by 2012. Hutchinson (Minn.) expects the system to improve record-keeping accuracy and theft detection, utilize current smart grid development initiatives, and better manage and balance natural gas purchases and sales.
Scottish and Southern Energy Supply Limited (SSE) selected Elster for the first phase of its smart metering deployment, to be completed by mid-2012. SSE will use Elster's AS300 electricity meter and the BK-G4 gas meter.
Alliant Energy contracted Open Systems International (OSI) to supply an advanced, centralized volt/VAR control (VVC) system, which is expected to enable Alliant Energy to reduce system losses, manage reactive power supply and provide the future ability to implement conservation voltage reduction. The project will initially span 333 distribution feeders, and will interface with Alliant's AMI system. 
Survalent Technology commissioned a new SCADA system for Oxford Electric Department, which serves approximately 8,335 customers in north-central Mississippi and is a member of Tennessee Valley Public Power Association (TVPPA).
Avista selected Tropos Networks and Itron Inc. jointly to develop a smart grid solution as part of a $38 million smart grid demonstration project in the city of Pullman, Wash., and the nearby community of Albion. Avista is deploying AMI, smart grid communications, and distribution automation (DA) devices. The goal of the project is to use smart technologies to increase system reliability and reduce outage time, incorporate renewable energy sources, and provide customers with more tools and information to monitor their energy usage.
M&A
Alstom has taken a 40 percent equity share in Scottish renewable energy company AWS Ocean Energy, which Alstom says represents its entry to the wave energy market. Alstom will be a shareholder alongside Shell Technology Ventures Fund 1 and Scottish Investment Bank. Created in 2004, AWS Ocean Energy is developing its AWS-III wave energy converter, a 12-sided floating device that uses the action of the waves to produce electricity.
PSEG Power agreed to sell its remaining Texas generating asset, the 1,000 MW gas-fired Odessa generating facility in West Texas, to Odessa Power LLC, a subsidiary of Energy Capital Partners II LP, for $335 million. There's no debt attached to the asset and the sale isn't subject to financing contingencies. The sale is expected to close during the third quarter of 2011 subject to customary regulatory approvals. Goldman Sachs acted as financial advisor to PSEG Power. The sale of Odessa will complete the Texas asset sale process announced by PSEG Power in early 2011.
Siemens acquired approximately 16 percent of U.S. pioneering solar company Semprius, which develops high concentrating photovoltaic modules. Siemens says it will act as a strategic investor to help Semprius develop its technology to market maturity. Financial details weren't disclosed. 
DR and Conservation
GridPoint released GridPoint Energy Manager, a platform for enterprise and utility energy management. The platform allows integration and control of energy endpoints, including building systems, solar arrays, electric vehicles and home energy management technologies, and provides energy-use information and analysis.
Enterprise Software
The Nuclear Regulatory Commission (NRC) selected Dell's wholly-owned subsidiary, Perot Systems Government Services (PSGS), a unit of Dell Services, to provide a full scope of information technology services as well as hardware, enterprise, and software products. The program will aid the commission in planning, directing, and overseeing the delivery of centralized and efficient information technology infrastructure and information management services. Under the six-year, $252 million contract, Dell Services will operate, maintain and enhance a comprehensive, agency-wide IT infrastructure for the NRC's Office of Information Systems.
Voith IT Solutions selected Mariner as a key technical resource for its internal IT consulting organization. Mariner will provide consulting, development, deployment, adoption, implementation and support services for Voith's Microsoft data, application and office productivity platforms.
Baltimore Gas and Electric (BGE) chose Networkfleet's telematics solution and AssetWorks FleetFocus asset management software to track GPS location and report on maintenance issues for 400 utility service vehicles. BGE intends to use the system to streamline maintenance scheduling and reduce vehicle downtime.
Lockheed Martin introduced Palisade, a new cyber security solution tailored for the energy industry. Palisade provides threat detection and forensic tools that help utilities defend and maintain their networks.
People
Glen S. Bernstein joined Morgan Lewis as partner in its energy practice office in Washington, D.C. As outside counsel to numerous energy providers, he has handled federal and state energy litigation, argued at the trial and appellate levels, defended companies in enforcement actions, and assisted numerous clients in establishing structures for transactions that satisfy Federal Energy Regulatory Commission (FERC) and other regulatory requirements.
Alstom made a series of executive changes. Philippe Joubert was appointed deputy CEO. Since March 2009, he was power sector president for Alstom. Philippe Cochet, currently senior v.p., hydro and wind, was appointed thermal power president and executive v.p. of Alstom. Jérôme Pécresse, formerly of Imerys, joins Alstom as renewable power sector president and Alstom executive v.p. Henri Poupart-Lafarge, currently executive v.p. of Alstom and grid sector president, was appointed transport sector president. Grégoire Poux-Guillaume, a former Alstom manager, leaves CVC Capital Partners to return to Alstom. He was appointed grid sector president and Alstom executive v.p.