Deck:
The dash to gas brings volatility in shareholder performance.
Author Bio:
Michael T. Burr  (burr@pur.com) is  Fortnightly's editor-in-chief. He acknowledges the assistance of Jean Reaves Rollins, managing partner at the C Three Group in Atlanta, who developed the  Fortnightly 40  model and provides financial analysis for each year's report. He also acknowledges the efforts of Jason Allen at Accenture, who provided additional analysis for Figures 8 and 9.
The dash to gas brings volatility in shareholder performance.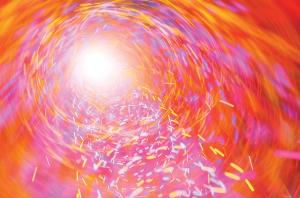 The financial ranking model behind the annual Fortnightly 40 Best Energy Companies survey and report is designed with a few purposes in mind. It's intended to compare the shareholder value performance of publicly traded U.S. electric and gas companies, across a range of metrics – from profit margin to sustainable growth. It provides a uniform data set for analyzing trends among leading companies in the industry. And it sets an empirical benchmark that allows us to gauge the success of different business strategies.
Judging by the way the rankings have developed over time, one strategy seems to have distinguished itself as the industry's most successful. As measured by our model ( see sidebar "Behind the Fortnightly 40 Rankings" ), integrated utilities – with complementary generation, transmission, and distribution assets – are generally the "Best Energy Companies."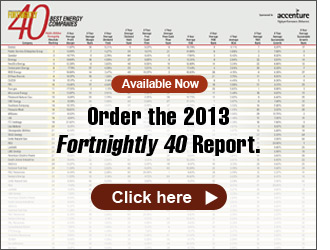 The obvious standout example is Exelon, which for the second year remains #1 in our ranking, after acquiring Constellation last year. The combined company is one of the biggest in the U.S. utility industry, with $23.5 billion in revenues and $79 billion in assets, serving 6.6 million customers in Illinois, Pennsylvania, and Maryland. It operates almost 35,000 MW of generation capacity, including America's largest nuclear fleet.
Other large integrated companies also have a solid grip on our top 5 ranks, including PSEG (#2 for the second straight year), Entergy (repeating at #4), and NextEra (again #5). But size isn't necessarily the determining factor that makes a company one of the best by our reckoning; rather, it's integration. Small integrated utility companies that feature prominently in our ranking include MGE Energy (up to #7 this year from #11 last year), El Paso Electric (#8 this year, up from #12), and Cleco (#9 this year, up from #16).
Of course, the F40 ranking includes companies with various business models. But among the top 20, most are integrated companies with a mix of generation, transmission, and distribution assets. The question is, will integrated utilities retain their dominance indefinitely? Or will market forces bring a change in the rankings. 
Across the industry companies face a range of pressures, such as environmental regulations, renewable energy mandates, and new technologies that are advancing quickly enough to make executives worry about their disruptive effects. Against that backdrop, utilities also face the need to replace aging infrastructure at a time when customer demand is flat – or even shrinking. In its annual Financial Review, the Edison Electric Institute reported that the industry's total electric output fell in 2012 by 1.8 percent – despite U.S. GDP growing by 2.8 percent last year, and despite a hot summer with 22 percent more cooling degree days