Author Bio:
Steve Mitnick is President of Lines Up, Inc., Editor-in-Chief of Public Utilities Fortnightly, author of "Lines Down: How We Pay, Use, Value Grid Electricity Amid the Storm."
From the dawn of the electric utility industry, when Nikola Tesla and George Westinghouse built the first major hydroelectric power plant — Adams Station at Niagara Falls — and electrified Buffalo twenty-two miles away, through World War Two, "extra extra read all about it" was how paperboys alerted the public that news of such great importance had just taken place, monumental enough that their paper published an extra edition. Indeed, if the breaking news was so important, such as death of a president or declaration of war, the extra edition was devoted entirely to this development.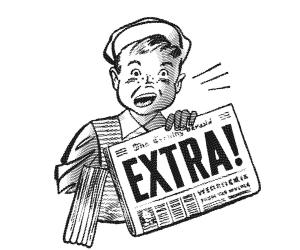 And that's exactly why Public Utilities Fortnightly is publishing its very first extra edition on these pages. The breaking news that is the subject of this extra edition will have such an enormous impact on utilities that this edition's immediacy and singular focus is, in our opinion, well-deserved.
The Federal Communications Commission, a federal regulatory body most readers of PUF follow far less closely than the Federal Energy Regulatory Commission and other federal and state regulators, shook our industry on a Wednesday in mid-May. In a single order, the FCC carved out of the radio spectrum ample "beachfront property" for utilities particularly to deploy private broadband LTE.
Wow! This means utilities can secure their communications separate from the Internet where everything from the loading of cat videos to the unloading of cybersecurity attacks from hostile nation states resides.
This is what the FCC accomplished on May 13. Enabling utilities to migrate their critical communications, like for the bulk transmission system, from open public networks to closed private networks. And enabling utilities to create protected communications links with customers as the grid becomes two-way and more customer-centric.
When it appeared that the FCC's Chair would talk with the PUF team about the broadband order's implications, and a U.S. Senator as well, we realized this might really be big stuff. Then the question became, could our team actually publish an extra edition of PUF in the tradition of those papers of the early twentieth century with their shouting newsies?
So, we stopped the presses and put together the publication before you. If we could be on the streets in front of your office building, you can be sure that we'd shout to the top of our lungs, extra extra read all about it. Followed by, FCC allows utilities private LTE.
If you happened to be passing by, you can be sure our shouting and the magnitude of this development would grab your attention. And you'd likely say, hey kid, here's a dime, hand me a copy.
Fortnightly Extra Edition Articles:
FCC Allows Utilities Private LTE Broadband
By PUF Staff

Extra. Extra. Read All About It.
By Steve Mitnick, Editor-in-chief

Chair Pai's View
Why the FCC Acted
By FCC Chair Ajit Pai

Senator Warner's View
By U.S. Senator Mark Warner

President Presley's View
By NARUC President Brandon Presley

CEO Fanning's View
Cybersecurity Implications
By Southern Company CEO Tom Fanning

Commissioner Chong's View
By Commissioner Rachelle Chong

Coolest Thing FCC Has Done in Decades
By Steve Mitnick, Editor-in-chief