Beacon Power delivers flywheel electronics; PPL awards dry sorbent injection contract to United Conveyor.
Energy Services and EVs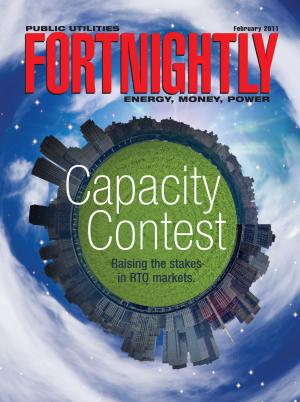 Beacon Power Corp. has delivered and put in place the initial flywheel power electronics and associated support equipment as part of the construction of what the company calls the world's first grid-scale flywheel energy storage plant in Stephentown, N.Y. The systems, consisting of power electronics, cooling and other support equipment housed in specially equipped containers, were lowered onto permanent foundations. After the containerized systems are wired in place, they will be interconnected with Beacon flywheels. Support equipment for a total of 4 MW of energy storage capacity was delivered to the site. Eighty flywheel foundations already have been installed, and the company is delivering and installing 40 flywheels (4 MW) during the third quarter of this year. The 4 MW of storage capacity is expected to be connected and earning revenue from frequency regulation services by the end of the fourth quarter. The balance of the 20-MW plant is expected to be completed and operational by the end of the first quarter 2011.
The University of Michigan solar car crossed the finish line first at the American Solar Challenge Race in Naperville, Ill. The race started in Broken Arrow, Okla., and over the course of six days, the car called Infinium traveled 1,100 miles averaging 40 mph. Seventeen teams from the United States, Canada, Germany and Taiwan competed. In order to keep the car weight down, a primary light-weight component of the car included car battery enclosures designed by StahlinWorldwide. The fiberglass composite material met both weight and rigidity requirements for the vehicle, and the company says the material translates well into uses for renewable power storage.
Customer Systems
Cape Light Compact, an inter-municipal utility serving 21 communities near Cape Cod, Mass., reports that participants in a year-long conservation pilot program reduced daily energy use by 9.3 percent or 2.9 kWh/day. The program deployed the GroundedPower Interactive Customer Engagement System (iCES) integrated with Digi International's X-Grid to connect consumers' home energy devices. The Digi X-Grid is an extended grid that enables real-time, IP-based monitoring and control of home energy devices beyond the electric meter. The iCES system delivers customers an interactive application for better understanding of energy use and cost, and tools to allow energy savings. The GroundedPower system enables real-time viewing of energy use and demand, savings metrics in kWh, dollars and CO2 emissions and provides opportunities for customers to sign up for energy saving activities.
Chesapeake Utilities Corp. selected Vertex to install its customer information system (CIS), eCIS+, to establish and implement uniform business processes across all of the organization's utility operations. Vertex will work with Chesapeake to improve efficiencies and enable the company to deliver more cost-effective customer service. Vertex also will consolidate Chesapeake's multiple CIS databases, including the existing Vertex e-CIS solution used by affiliated Florida Public Utilities, and upgrade the entire organization to eCIS+.
Energy Trading
The Iberian power market derivatives exchange, Operador do Mercado Ibérico de Energía (OMIP), and Trayport, a provider of exchange trading systems, announced the OMIP market commenced live operation using Trayport's GlobalVision exchange trading system. That system replaced OMIP's previous trading platform and will support the MIBEL Derivatives Market. Using the GlobalVision system, OMIP will start offering inter-period and inter-product spreads driven by Trayport's industry-leading spread functionality and also introduce a range of new opening and closing auctions. For OMIP's members, the GlobalVision system provides the option of accessing the OMIP market through a dedicated front end or the Trayport GlobalVision Trading Gateway.
Generation
United Conveyor Corp. (UCC) has been awarded a turnkey contract at PPL's Montour power plant in Washingtonville, Pa., for two dry sorbent injection (DSI) systems. The announcement follows UCC's recent acquisition of O'Brien & Gere's DSI technologies business. The Montour plant is replacing an existing wet SO3 removal system with DSI technology to improve overall reliability and lower operating costs. UCC performed computational fluid dynamic (CFD) predictive modeling and applied its predictive modeling database to ensure effective SO3 removal performance and operation reliability. The new systems will be installed on two 750-MW units with project completion scheduled for late 2010. The 1,500-MW Montour plant uses advanced environmental control technologies, including flue-gas scrubbers, electrostatic precipitators and selective catalytic reduction.
Puget Sound Energy completed construction of a new fish hatchery and an advanced upstream trap-and-haul facility on the North Cascades' Baker River, projects expected to further increase the river's salmon populations. The new facilities follow PSE's 2007-'08 construction of an innovative floating surface collector (FSC) on Baker Lake that lures and safely captures juvenile salmon for downstream transport around PSE's two Baker River hydroelectric dams. The 1,000-ton, semi-submerged FSC set new records in 2009 and 2010 for outmigration of juvenile salmon. This spring, an all-time high of more than 520,000 fingerling salmon, mostly sockeye, were collected by the FSC and transported downstream. In addition to building a new, larger fish hatchery on the Baker River, PSE is upgrading its nearby sockeye spawning beach. The man-made, 20-year-old beach—essentially a series of large, gravel-bottom pools with spring-fed water circulating through them—provides a controlled, predator-free environment for adult sockeye to lay and fertilize their eggs.
Renewvia Energy Corp., in cooperation with Aha Macav Power Services (AMPS) and Clean Energy Capital, began operating a 4-kW solar-test facility located on the Fort Mojave Indian Reservation, which spans areas in California, Arizona and Nevada. As an initial step, the test facility is collecting valuable production data on the latest thin-film solar modules from Sharp Solar, while providing power to the Fort Mojave Indian Tribe through the AMPS electrical grid. When testing is completed, Renewvia says the partnership will create one of the largest solar thin-film photovoltaic farms in the United States. Renewvia teamed with AMPS to build the module test facility at a capital cost of $80 million, while in discussions to finalize a joint venture with the Fort Mojave Indian Tribe to develop a 24.4-MW solar-farm installation.
The U.S. DOE selected 10 projects aimed at developing advanced technologies for capturing carbon dioxide (CO2) from coal combustion. The projects, valued at up to $67 million over three years, focus on reducing the energy and efficiency penalties associated with applying currently available carbon capture and storage (CCS) technologies to existing and new power plants. The selections focus on improving efficiency and reducing the added costs to electricity at power plants with carbon capture systems to less than 30 percent for a new pulverized coal plant and 10 percent for a new advanced gasification plant. The Obama administration has made a goal of developing cost-effective deployment of CCS technologies within 10 years, in order to bring five to 10 commercial demonstration projects online by 2016.
Direct Grid Technologies, manufacturer of photovoltaic (PV) micro-inverters and related monitoring systems, has secured $4.7 million in private equity financing. The company will use proceeds to launch manufacturing with capacity to meet secured purchase agreements with a variety of solar equipment manufacturers. The financing will speed up expansion into all major global markets, as demand for this new class of micro-inverter accelerates. Direct Grid's SMART series are standalone, state-of-the art PV micro-inverters for converting DC power generated from PV modules to grid-compliant AC power. The company says its closed loop planar technology offers power handling capabilities to an unprecedented 460 watts to enhance reliability and efficiency versus historical micro-inverters. The SMART series, designed specifically for grid-tied applications, includes Echelon communication that permits each micro-inverter in the network to communicate with a remote access node.
American Electric Technologies Inc. (AETI) introduced its integrated solar inversion station (ISIS), which AETI says is the industry's first completely pre-commissioned, utility-grade, 1-MW, direct-to-medium voltage solar inverter system designed to provide greater, more reliable operating power for solar farms in the harshest environments. AETI's ISIS is delivered to the farm as one integrated solution designed for IEEE 1547 and UL 1741 specifications. The 1-MW system incorporates a photovoltaic (PV) master combiner and disconnect, dual 500-kW grid-tie inverters, medium voltage switchgear and transformer, and integrated cooling system for quick deployment of solar power conversion, control and distribution. After being lifted from the truck to the pad and wiring it for operation, the station immediately can begin PV solar generation. The station inverts up to 1,200 volts of PV power and outputs directly to 15-kV medium voltage (MV) alternating current (AC) power collection systems—providing the highest output solar inversion solution on the market.
Metering
ColumbiaPowerandWaterSystems (CPWS), a Columbia, Tenn.-based utility, selected Elster for its multi-utility smart-grid project. CPWS will deploy Elster's EnergyAxis smart-grid solution to create an advanced metering infrastructure (AMI) system that will improve customer service, meter reading and outage management. The Elster AMI deployment is the first phase of the CPWS smart-grid initiative, scheduled to roll out over the next five years. CPWS will deploy approximately 25,000 Elster smart electricity meters and 25,000 smart water meters. Elster says the EnergyAxis system will increase meter accuracy, providing additional load data for engineering analysis, reduce water loss, improve responsiveness for restoring unplanned outages and add customer service offerings including demand response.
Trilliant Inc. completed agreements with Iberdrola USA subsidiary, CentralMainePower (CMP), to provide a smart-grid communications network and AMI solution for all of CMP's 620,000 residential, commercial, and industrial customers. The project is funded in part by a $96 million matching grant under the American Reinvestment and Recovery Act. It uses Trilliant's SecureMesh communications network to interconnect meters and other smart-grid devices. Trilliant's UnitySuite head-end software will manage the network. Trilliant partnered with General Electric and Landis+Gyr, which are providing electric meters, and IBM is providing Tivoli Netcool software integrated with UnitySuite applications for managing CMP's smart-grid communications infrastructure.
Trilliant also closed $106 million in financing from Investor Growth Capital (the wholly-owned venture arm of Investor AB of Sweden), VantagePoint Venture Partners and two manufacturing companies, ABB and GE. The financing was coordinated by Deutsche Bank and includes a credit facility from a major venture credit provider, as well as continuing financial support from existing investors MissionPoint Capital Partners and Zouk Ventures.
Landis+Gyr and Current Technologies International GmbH have signed an agreement to deliver energy management solutions in Spain and Portugal. Landis+Gyr and Current joined to deliver standards-based smart-grid solutions by integrating Current's Prime technology into the Landis+Gyr Gridstream product line. The companies say their offering will help European distribution infrastructure to handle intermittent renewables, increased load, and new forms of electricity generation along with new two-way communications and data management systems.
eMeter Corp. closed a $12.5 million round of private financing, led by longtime investors Sequoia Capital and Foundation Capital, plus new investor Northgate Capital. eMeter provides software solutions to enable smart-grid implementations. Over the past year, eMeter has hired enterprise software veteran Gary Bloom as CEO, partnered with such companies as IBM, Siemens, and SAP, and signed new U.S. utility customers including Bluebonnet Electric Cooperative, Burbank Water and Power, CenterPoint Energy, Silicon Valley Power, Westar Energy, Central Vermont Power and Wabash Energy.