Generation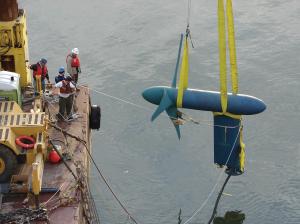 New York-based Verdant Power filed an application with the Federal Energy Regulatory Commission (FERC) that would allow the company to install up to 30 new tidal power turbines in the East Channel of the East River in New York. If approved, the Roosevelt Island Tidal Energy (RITE) project would be the first tidal power plant in the United States licensed to transmit energy onto the grid. Verdant Power's Free Flow kinetic hydropower system uses three-bladed turbines deployed in fast-moving tides and rivers to generate clean energy.
ABB supplied mechanical, electrical, and automation equipment for Yukon Energy Corp.'s Mayo B hydroelectric project, located on the Mayo River, in the Yukon, Canada. ABB is executing the project as part of a strategic alliance with Chongqing Yunhe Hydropower Group, one of the world's leading turbine suppliers in the small hydro market, and will be providing the turbines and generators. ABB will supply the excitation system, governor system, and various mechanical and electrical auxiliaries for this equipment. In addition, ABB will provide required site services to ensure the project is operational by the end of 2011
San Diego County for the first time approved a vertical axis wind turbine. The 3.4 kW Falcon turbine from WePOWER was installed on an 18' pole on private property by Joe Moore Construction, an authorized WePOWER dealer. Testing and certification organization TUV SUD America inspected and approved the job.
Abengoa Solar finalized a $1.45 billion financing to build Solana, the world's largest parabolic trough concentrating solar plant. This plant, with a total investment of approximately $2 billion, will generate 250 MW. Following the conditional commitment announced by President Obama last July, the Department of Energy issued a loan guarantee to support the project. The facility will sell power to Arizona Public Service under a 30-year agreement.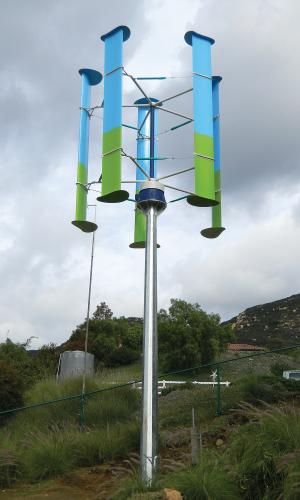 The California Public Utilities Commission (CPUC) moved to implement Pacific Gas and Electric's (PG&E) solar PV program, which the CPUC adopted in April 2010. PG&E's five-year solar PV program will facilitate the development of 500 MW of solar PV facilities in the range of one to 20 MW in PG&E's service area. Under the program, PG&E is authorized to hold competitive solicitations for approximately 50 MW per year and to execute contracts with independent power producers for 250 MW during the course of the program.
SunPower signed three power purchase agreements with Southern California Edison (SCE) totaling 711 MW. SunPower will install its Oasis modular solar technology at sites in Rosamond and Los Banos, Calif. Engineered to optimize use of available land, each SunPower Oasis power block uses 425 watt solar panels and tracking systems.
The Department of Energy finalized a partial loan guarantee for $1.3 billion to support the world's largest wind project. The loan will finance the Caithness Shepherds Flat project, an 845 MW wind generation facility located in eastern Oregon sponsored by Caithness Energy and GE Energy Financial Services. The Caithness Shepherds Flat wind project will be the first in North America to use 338 GE 2.5xl wind turbines, which have been used in Europe and Asia. Once completed, the project will sell its power output and renewable energy credits to Southern California Edison under 20-year fixed price agreements.
Fotowatio Renewable Ventures, an independent power producer, signed power purchase agreements for four PV projects with Southern California Edison (SCE) totaling 120 MW. FRV plans to finance, develop, construct, own and operate the facilities, with startup in 2013. The PPAs include one 60 MW and two 20 MW installations in Kern County, and one 20 MW installation in Los Angeles County. The projects will connect with existing transmission lines.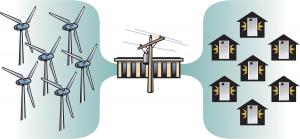 Hawaiian Electric Co., subsidiary of Hawaiian Electric Industries, signed a contract for a local company, Aina Koa Pono, to provide sustainable, locally grown and processed biofuel for electric generation in Hawaii. With planned operations in the Ka'u region of Hawaii Island, the project will initially supply biofuel to Keahole power plant. The project complements Hawaiian Electric's plans for adding significant amounts of renewable energy from other sources, including solar, wind, waste-to-energy, biomass, geothermal, ocean and others. Subject to approval by the Public Utilities Commission, with input from the consumer advocate, the contract would initiate an innovative plan to provide economic support to Hawaii Island customers while encouraging more renewable energy statewide.
Iberdrola Renewables sold the output of its 100 MW New Harvest wind power project, now being built in Iowa, to Commonwealth Edison (ComEd) and Ameren Illinois. Under 20-year contracts, Iberdrola will provide roughly equal amounts of output to both utilities, beginning June 1, 2012. Iberdrola Renewables will own the New Harvest project, which it's building in Crawford County, Iowa, on farm land new Schleswig. New Harvest will use 50 Gamesa G87 wind turbines.
The Illinois Commerce Commission (ICC) approved long-term power purchase agreements between Invenergy and utilities ComEd and Ameren Illinois. Invenergy plans to build two facilities to deliver wind and solar power under the agreements. The new Bishop Hill II wind project in Henry County will provide power to Ameren Illinois, and a yet-to-be-named PV facility in Illinois will generate solar energy for ComEd. Invenergy's existing Grand Ridge IV wind farm in LaSalle County will generate wind power for ComEd.
CPV Renewable Energy, an affiliate of Competitive Power Ventures, completed construction and testing of its 152 MW (MW) Keenan II wind farm in Oklahoma, and the project is now delivering energy into the electric grid. Located on approximately 8,000 acres 12 miles southwest of Woodward, Okla., the project is the second phase of a multi-phased wind generation project with a total build-out potential exceeding 350 MW. CPV developed and sold the 101 MW Keenan I wind farm to Oklahoma Gas & Electric (OG&E) in September 2008. The Keenan II project sells power under a 20-year power purchase agreement with OG&E. In addition to CPV, the wind farm is co-owned by GE Energy Financial Services and Tyr Keenan II, an indirect subsidiary of ITOCHU Corp.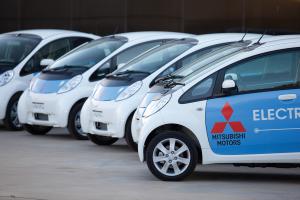 NorthWestern Energy signed a memorandum of understanding to purchase a 25 MW wind project in central Montana to be developed by Compass Wind. The project, which was submitted to NorthWestern in response to a 2009 community renewable resource solicitation, is consistent with recent Montana legislation that provides for the reintegration of the unbundled utility. The Spion Kop wind project is intended to be placed into the Montana utility's rate base with both the energy and associated renewable energy credits used to meet future renewable portfolio standards obligations.
Sustainable Energy Capital Partners (SECP), a California-based developer of renewable energy projects, created a joint venture with POSCO Power to develop and build a 300 MW photovoltaic solar power plant in Boulder City, Nev. SECP has invested in more than 400 MW of solar projects in the southwestern United States. For POSCO Power, the largest independent power producer in South Korea, it represents the first overseas renewable energy project developed without the involvement of parent company POSCO.
Transmission
Exelon Nuclear awarded Doble Engineering a multi-year contract for transformer-related consulting services. Exelon, which operates the largest nuclear fleet in the United States and the third largest fleet in the world, is investing in the future of its nuclear energy facilities through a decade-long transformer replacement project. As part of this proactive replacement project, Exelon Nuclear commissioned Doble's team of transformer experts to oversee its transformer design review and witness the manufacturing and testing of its transformers; this includes the continuous monitoring of the construction process. In addition to the work on these new transformers, Doble will continue to support Exelon Nuclear at its various stations, providing testing, root cause analysis, and other technical support.
PSEG Fossil, a subsidiary of the Public Service Enterprise Group (PSEG), selected ABB to supply its Hudson generating station in Jersey City, N.J., with a multi-phase controls project including: operator console upgrades, existing plant controls upgrades and new controls. The multi-phase award includes an upgrade to the Hudson Unit 2 control systems equipment to refurbish it for an additional 20 years of service. The existing distributed control system (DCS) is a mix of the Bailey Network 90 and INFI 90 systems and will be upgraded to be compatible with the new DCS equipment being installed as a part of the BET project.
ABB won orders worth approximately $580 million from Svenska Kraftnät of Sweden and LITGRID Turtas AB of Lithuania to supply a new power transmission link between the Nordic and Baltic regions. ABB will deliver a high-voltage direct current (HVDC) transmission system comprising two converter stations and cable to transmit 700 MW of electricity with minimum losses across a distance of more than 400 km. ABB will design, engineer, supply and commission two 700 MW converter stations using ABB's HVDC Light technology, one in Nybro, Sweden, the other in Klaipeda, Lithuania. The order also includes the supply and installation of two 300 kV underwater cables, each 400 km long, and land cables of the same voltage in Sweden and Lithuania.
M&A
Silent Power sold $2 million of Series A preferred stock. England Securities served as exclusive financial advisor to Silent Power, which provides turn-key energy storage solutions, especially for integrating renewable energy and electric vehicle charging systems into utilities' distribution systems and on customer premises. This round of financing will support the commercial deployment of Silent Power's OnDemand energy storage systems and expand its distribution into new markets.
Atlantic Power closed its previously announced acquisition of Cadillac Renewable Energy, a 39.6 MW wood fired facility located in Cadillac, Mich. The purchase price was $77 million, plus customary working capital adjustments, and was funded by $34 million of cash on hand and $43 million of assumed non-recourse, project-level debt. The assumed non-recourse debt amortizes fully over the term of the power purchase agreement. Operations and maintenance will be managed by Rollcast Energy, Atlantic Power's majority-owned affiliate. The company expects to receive distributions from the project in the range of $3.5 million to $4.5 million per year, starting in 2011.
Taiwan-based UMC Capital, the corporate venture arm of leading semiconductor foundry United Microelectronics Corp (UMC), invested in Trilliant. UMC Capital joins Investor Growth Capital, VangtagePoint Venture Partners, ABB and GE in Trilliant's latest round of financing. Trilliant also announced plans to open a corporate office for the Asia Pacific market. Along with the investment, UMC will be assisting Trilliant with the company's planned market expansion.
Blue Castle Holdings, a developer of a proposed new nuclear power plant project in Green River, Utah, acquired 100 percent of Willow Creek Companies (WCC). WCC is primarily engaged in the construction, replacement and repair of natural gas pipelines, crude oil pipelines, storage facilities and civil site work in Colorado, Utah, Wyoming, North Dakota and New Mexico. Willow Creek Companies will now operate as Willow Creek LLC, a wholly owned subsidiary of Blue Castle Holdings. Terms of the transaction weren't disclosed.
Navigant acquired BTM Consult, a forecaster and data source for the international wind industry. BTM Consult provides wind market assessments, business development assessments and due diligence investigations.
GE Intelligent Platforms acquired SmartSignal, a privately-held analytics software company based in Lisle, Ill. SmartSignal specializes in providing remote monitoring and diagnostics solutions to the power generation, oil & gas and other industrial sectors. The company's software and monitoring services are used to anticipate, prevent, and avoid equipment failure, by detecting and identifying abnormal equipment behavior and providing exception-based notifications of developing problems along with diagnoses and prioritizations. The company's systems are found on equipment from GE, Siemens, Rolls Royce, Alstom, Flowserve, Waukesha, Byron Jackson, Cooper-Bessemer, and other companies.
People
Dr. Steven R. Specker was appointed to Trilliant Inc.'s board of directors. Dr. Specker most recently served as President and CEO of the Electric Power Research Institute (EPRI) in from 2004 to 2010.
Energate, a provider of home energy management and residential demand response solutions, named Lori Reslock vice president of marketing. Lori will be responsible for corporate marketing and communications, channel partnerships, and sales support. Prior to joining Energate, Ms. Reslock was vice president of marketing at CURRENT Group, where she worked with utilities across North America and Europe.
Geosyntec added Andrew Goldberg and Anica Haynes to its Baton Rouge, La., office. Goldberg and Haynes bring experience in securing regulatory authorizations for new and existing energy facilities, including pipelines and natural gas storage facilities, electric power generation and transmission, and alternative energy facilities. They specialize in the development and comprehensive environmental permitting of gas storage and pipeline projects.
Metering
Silicon Valley Power (SVP), the City of Santa Clara's municipal electric utility, selected Elster's EnergyAxis Smart Grid solution for deployment across its service area. As part of the SVP Meter Connect program, EnergyAxis will provide AMI for businesses and residents of Santa Clara. Tropos Networks will provide the infrastructure for backhaul transfer of the data collected and managed by EnergyAxis. 
PECO, a subsidiary of Exelon Corp., signed a contract to purchase and deploy of the Sensus FlexNet advanced metering infrastructure (AMI) communications network and smart meters for more than 1.6 million customers over the next 10 years. PECO expects the investment to serve its outage management, distribution automation and voltage monitoring applications. Sensus says the FlexNet technology will give PECO clear and reliable communications in a dense urban environment via FCC-licensed spectrum and will support future smart grid applications.
Itron and Silver Spring Networks finalized an expanded agreement to integrate Itron's Centron II electricity meters, 100G gas ERT modules and 100W water ERT modules with Silver Spring's smart energy platform. Under the terms of the agreement, the companies have addressed the technical, functional and solution delivery issues required to deliver a multi-vendor advanced metering solution for gas, water and electricity providers. This further extends the company's existing agreement that provides for compatibility of the Itron CENTRON I electricity meter with the Silver Spring platform.
Smart Grid
Survalent Technology commissioned a new SCADA system for City of Opelika Light and Power. The new system features Survalent's dual-redundant open-architecture system based on Windows Server 2008, and includes several of Survalent's open system applications.
AT&T and Elster signed a new agreement that will enable comprehensive end-to-end wireless solutions for utilities. The combined offering enables utilities to integrate distribution area networking from AT&T's high speed, cellular data network with Elster's Energy Axis AMI solution.
The Demand Response and Smart Grid Coalition (DRSG) added six new members: Intel, Ingersoll Rand, Siemens, Schneider Electric, UISOL, and Constellation NewEnergy. DRSG is the trade association for companies that provide products and services in the areas of demand response and smart grid technologies and practices. DRSG works to educate and provide information to policymakers, utilities, consumers, and other key stakeholders to support efforts aimed at modernizing the electricity system and introducing smart grid practices.
Trilliant completed its pilot and was selected to implement the smart metering communications infrastructure at Burbank Water and Power (BWP). BWP, a recipient of an American Reinvestment and Recovery Act (ARRA) grant, deployed about 1,000 commercial and residential meters during Phase I of its smart grid pilot program. As part of the initial deployment, all of BWP's customers using 250 kW and above were converted to time-of-use rates.
EVs & Storage
The first five all-electric Mitsubishi i-MiEVs have arrived in Boucherville, according to Hydro-Québec and Mitsubishi Motor Sales of Canada (MMSCAN). Hydro-Québec will be leading the road tests that aim to evaluate the performance of up to 50 electric vehicles under a variety of circumstances, notably winter conditions. The project, was announced at the Montreal International Auto Show in 2010, is designed to study users' charging habits, driving experience and overall satisfaction as well as vehicle behavior when interfaced with the electric grid.
AES Energy Storage began operation of an 8 MW battery-based storage system located in Johnson City, N.Y. AES says the project, which is designed to level the variability of generation and demand on the grid in the New York power market by delivering instantaneous response to grid operator requests for power, is the first of its kind in the United States. Upon its anticipated completion in 2011, the project will supply 20 MW of emissions-free reserve capacity. On Dec. 31, 2010, the project completed its initial performance testing with the New York Independent System Operator (NYISO) and is operating as a frequency regulation provider, delivering reserve capacity that helps grid operators maintain the balance between generation and load.