Author Bio:
Erik Larson is a director in Guidehouse's global Energy, Sustainability, and Infrastructure segment with more than 13 years of management consulting and advisory experience. He has advised some of the world's largest energy companies and utilities, midsized generation and distribution companies, and energy startups. He provides valuable support to both regulated and unregulated business segments across the energy value chain, with a focus on market assessment, utility business models, investment due diligence, mergers and integration, regulatory and growth strategy, and operations improvement.
Are utilities well-equipped for next generation Energy Cloud business models? What is your view on the industry's readiness? What can utilities do now to be ready?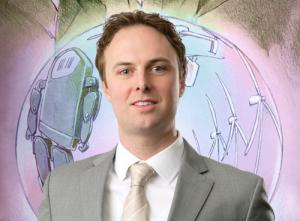 Next generation Energy Cloud business models are quickly gaining traction. Increasingly, customers seek choice, control, convenience, and cost-effective solutions that embrace a more sustainable, decarbonized future. 
Although policy and regulatory reform is an important driver of transformation, customer demand and technology innovation are relentless instigators of disruption.
Few utilities are at the forefront of disruption. Only one in four major utilities in the U.S. have made meaningful progress in developing future-oriented business models, according to Guidehouse analysis.
Only one in ten have done so proactively with little outside pressure from regulators, customers, or competition. The utility industry is behind on the business model innovation curve. 
That is precisely why our industry has become a ripe target for disruption from a diverse set of emerging non-utility competitors taking aim with equally giant ambitions.
Utility executives need to adopt an agile, dual-track approach to innovation. In the short-term, they must play defense by optimizing the current business model (commodity sales) and play offense by aggressively pursuing new business models.
There is opportunity in scaling new and improved customer journeys, new platforms to enable Vehicle-to-Grid and Building-to-Grid applications that decarbonize and digitize whole new systems, and new ways to drive energy efficiency, resiliency, and sustainability more effectively with less investment.
Utilities should tactically invest in disruptive platforms, partner with customers and innovative companies to codevelop better solutions, push for regulatory structures to maximize customer value, and encourage a startup culture of agility and innovation that makes transformation and reinvention the norm.
PUF posed a baker's dozen questions about power's future to a similar number of the thought leaders at Guidehouse: