Author Bio:
Michelle Fay is a partner in Guidehouse's global Energy, Sustainability, and Infrastructure segment supporting clients as they implement transformational programs. She brings more than 20 years of experience planning and delivering complex and innovative programs for utilities. Michelle's expertise includes program and project management, organizational change management, account management, process and performance improvement, grid modernization, energy efficiency, and analytics. She is an experienced leader specializing in emerging technologies and is respected for her integrity, leadership, team building, strategic planning, and laser-focused execution.
What will the utility of the future look like in 2030? How will it be different from today's utility?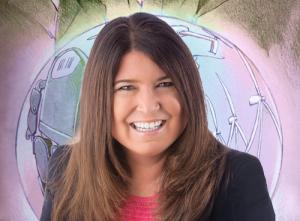 The utility of the future still provides its traditional, core services, but has also embraced new customer needs, changing policies and regulations, higher penetration of clean and distributed energy resources (DER), and new disruptive competitors. 
The utility of the future will improve resiliency and adapt to, and prepare for, more crises, while simultaneously addressing its aging infrastructure and workforce. 
The industry is at the inception of a massive digital transformation, and utilities will become more dependent on technology and data to drive value, manage the grid, and enable decision making. 
Utilities will need to manage higher penetrations of DER and millions of smart devices that need to operate seamlessly with the grid. The management of this complex grid, which Guidehouse calls the Neural Grid, will require the use of advanced technology to forecast load, facilitate third party interconnections, and securely manage these new sources of flexible load options without impacting reliability. 
While this complex system of digitally connected devices is complex to manage, it also generates volumes of valuable data that can be used to drive valuable insights. Future utilities will use robotic process automation to automate highly repetitive processes.
They will use digital technology and visualizations to improve situational awareness for events or outages and engage customers in new ways. They will leverage data and insights to identify opportunities to develop innovative customer-focused products and services and enable decision making, potentially filling the gaps in the aging workforce.
As utilities are required to operate more horizontally and integrated, they should change their operating model to enforce collaboration of previously siloed departments. A dramatic increase in DER, for example, requires a cross-functional team and cross-functional strategic planning and delivery operating model.
Finally, utilities will need to embrace and adopt new technologies as increasing complexity makes it impossible to rely on a handful of individuals who know the system. As an aging workforce faces retirement, institutional knowledge will dissipate, requiring greater use of analytics and automation.
PUF posed a baker's dozen questions about power's future to a similar number of the thought leaders at Guidehouse: