Author Bio:
Jenny Hampton is a director in Guidehouse's global Energy, Sustainability, and Infrastructure segment with more than 10 years of experience implementing and evaluating energy efficiency and renewable energy programs in the residential, commercial, and industrial sectors. She led the evaluations of dozens of behavior change programs, conducted customer engagement and market segmentation research, managed primary data collection and analysis efforts, developed campaign creative and media plans, and coordinated program partnerships between local communities and utilities.
How can utilities use design thinking to develop game-changing innovations? What lessons can be learned from other industries?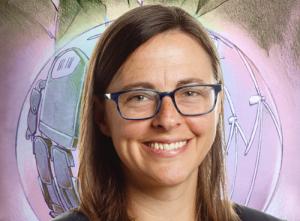 Utilities face more complexity than ever before and are under constant pressure to evolve their business models to better address shifting customer needs. 
Utility decarbonization efforts, for example, require an unprecedented level of integration between people and technology focused on deploying thousands of game-changing innovations that incorporate people's needs, behaviors, and their actual day-to-day experiences. 
While design thinking and innovation labs have sprung up in many utilities, we have yet to see a sizable shift in focus from more traditional business models.
Innovative ideas don't just magically appear. At Guidehouse, we know innovation happens through an iterative process of listening to, observing, and empathizing with people. 
We use a five-phase design thinking process to help utilities move from effectively scoping a problem, to learning from people, generating ideas, testing and iterating on solutions, and planning for full-scale implementation.
Design thinking focuses on people and their needs and uses critical thinking and creativity to help utilities solve problems, gain a competitive advantage, and deliver exceptional customer experiences.
The computer mouse was created using design thinking. Airbnb was taken from a failing start up to a billion-dollar business using design thinking. To be competitive in a rapidly accelerating industry transformation, utilities need to deploy and optimize creativity so they can better address shifting customer demands and capitalize on a rapidly changing competitive landscape.

PUF posed a baker's dozen questions about power's future to a similar number of the thought leaders at Guidehouse: