T&D and Pipelines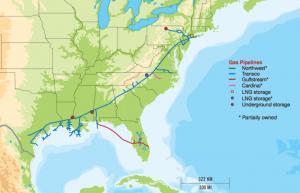 Williams Partners L.P. placed into service two expansions on its Transco natural gas pipeline, adding a combined 598,500 dekatherms per day of firm transportation capacity to serve markets in the southeastern United States. New service from the Mobile Bay South II expansion project created an additional 380,000 dekatherms per day of southbound firm transportation capacity on the Mobile Bay Lateral from Transco's mainline at Station 85 near Butler, Ala., to its interconnect with Gulfstream Natural Gas System in Coden, Ala. The project cost approximately $35 million.
Great Plains Energy and Kansas City Power & Light (KCP&L) announced an agreement with Google and the City of Kansas City, Mo., to bring Google's ultra high-speed fiber optic Internet service to residents and businesses in Kansas City. As part of the agreement, KCP&L will provide Google access to its poles, infrastructure and existing fiber network to deliver its ultra high-speed service. Deploying service over KCP&L's existing infrastructure allows Google to reduce costs as well as time for engineering, permitting and construction.
As part of a national effort to modernize the grid, MISO and its members achieved a milestone in their three-year smart grid program to install electronic measurement devices known as synchrophasors across the region, completing the integration of 44 such devices at strategic points along the regional transmission network. The $34.5 million program is funded partly by $17.3 million in ARRA stimulus funds.
Siemens Energy installed a turnkey HVDC (high-voltage direct-current), 12-km link to connect the power supply networks of New Jersey and New York, allowing an additional 660 MW of power to be transmitted across the Hudson River. The customer is Hudson Transmission Partners of Fairfield, Conn. The total contract value is approximately $400 million. The power link is scheduled to come on line in summer 2013.
DR and Conservation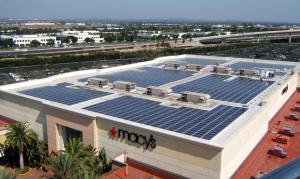 Constellation Energy and Lynxspring Inc. agreed to increase automated load response users through the Lynxspring Energy Partner (LEP) network. The relationship will allow building controls providers and systems integrators to offer their customers Constellation Energy's load response programs and VirtuWatt Energy Manager to automate load response. The LEP network is available to building controls providers serving customers in Constellation Energy's load response markets in the Mid-Atlantic, New England, New York, Texas, California and Ontario. Through the LEP network, vendors will receive training in load response and energy markets, establishing curtailment plans, and deploying automated curtailment programs.
Servidyne was awarded contracts to provide energy efficiency and demand response services for commercial and institutional buildings in the city of San Antonio, Texas. The initial two contracts, valued in excess of $560,000, call for Servidyne to provide retro commissioning and energy audit services for these facilities over the next two years. Servidyne also will perform demand response audits as part of the contracts, which were awarded by the City of San Antonio as part of the city's Better Buildings Program, financed by a $10 million federal grant.
EnerNOC will provide demand response capacity to Electricity North West Limited, a major distribution network operator that delivers power to 2.4 million domestic and industrial customers in northwestern England, including Greater Manchester and Cumbria. The five-year agreement will promote efficient electricity use within Electricity North West's service territory and enable regional businesses and organizations to be paid to reduce their energy usage when capacity is needed to support the grid.
People
Alstom Grid appointed Keith Stentiford to the newly-created position of regional v.p. for North America. Stentiford, who previously held senior leadership positions with Alstom's North American Transport business, will oversee the grid sector's business activities across Canada, Mexico and the United States. He will be based in Alstom's U.S. headquarters, located in Washington, D.C.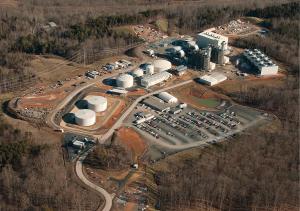 Craig Husa was named CEO of 3TIER, a renewable energy risk analysis firm. He previously served as CEO of NeuralIQ, General Software, and Healia. He also founded CourtLink, which was acquired by LexisNexis.
Generation
Macy's, SunPower and Arizona Public Service (APS) dedicated a 3.5-MW solar power system at the Macy's online fulfillment center in Goodyear, Ariz. SunPower designed and installed the system and is providing operations and maintenance services. The system uses the SunPower T5 solar roof tile, which combines a high-efficiency solar panel, frame and mounting system into a single pre-engineered unit.
Dominion Virginia Power began commercial operations at its Bear Garden Power Station in central Virginia. The 580-MW plant is expected to reduce the amount of electricity brought into Virginia, which imports more power than any other state except California. The $619-million project received approval from the Virginia State Corporation Commission in March 2009, and construction began a month later. The station's two 170-MW turbines burn natural gas with oil as a backup fuel source. The combined cycle system provides an additional 240 MW.
Envision Solar International completed the design, engineering and installation of a 300-kW shaded parking solar array for Morrow Meadows in Arizona. The array will provide shaded parking for the tenants of a commercial property while generating solar energy. Envision Solar is responsible for the solar master planning, design and development of solar projects and the supply of its ParkSolar designs. Morrow Meadows provides electrical, engineering and contracting services.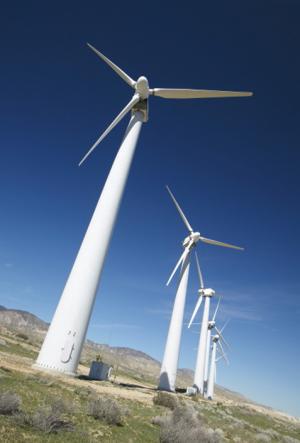 Riley Power, a subsidiary of Babcock Power, received a contract to design and supply a selective catalytic reduction (SCR) system for Salt River Project's (SRP) Coronado Generating Station (CGS) near St. Johns, Ariz. Riley Power will supply an SCR system for the 435-MW Coronado Unit 2 to reduce Nitrogen Oxide (NOx) emissions. The SCR is expected to be commissioned by June 2014.
Siemens Energy was selected by Syncarpha Capital to provide engineering, procurement and construction services for a 3-MW, ground-based PV power plant in Easthampton, N.J. Construction began in May 2011 and the plant is scheduled to go online in September 2011. Syncarpha Capital will finance the plant, which will use Siemens technology and plant performance guarantees.
Community Energy Solar and Exelon Generation closed a 15-year agreement for the purchase of power and renewable energy credits from a 6-MW solar project that Community Energy is building in Lancaster County, Penn. The agreement will support the construction of the largest solar energy facility in the state, consisting of approximately 25,000 solar panels installed on approximately 30 acres. The project will be located along Lancaster Pike south of the city of Lancaster.
AREVA Canada signed a three-year business development agreement with Cegertec to promote and increase the scope of engineering services for maintenance and service work in the Québec nuclear energy market. The agreement is an extension of the working relationship between AREVA and Cegertec, which have already worked on projects in Québec, India and the United States.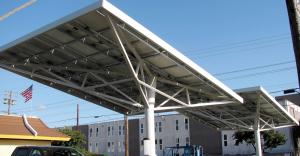 First Wind started commercial operations at the 102-MW Milford Wind Corridor Phase II project. Located in the counties of Millard and Beaver, Utah, the Milford Phases I and II are the two largest wind energy projects in the state. Milford II, which features 68 1.5-MW GE turbines, is located north of the 204-MW Milford Phase I project. The projects sell their output to Southern California Public Power Authority (SCPPA) under a power purchase agreement, for distribution by the Los Angeles Department of Water and Power (LADWP) and Glendale Water and Power.
Western Massachusetts Electric Co. (WMECo) launched development of a solar energy facility in the Indian Orchard section of Springfield. The selected site—owned by the Springfield Redevelopment Authority—encompasses 12 acres and will accommodate 8,200 solar panels to produce 2.2 MW of electricity. Upon completion, the Indian Orchard facility will join WMECo's Silver Lake solar facility in Pittsfield as one of the largest in the Northeast region. The project is expected to be completed in the fourth quarter of 2011.
NJR Clean Energy Ventures (NJRCEV), a subsidiary of New Jersey Resources, leased 13 acres of land in Manalapan, N.J., for a 3.6-MW, $18 million ground-mounted solar system. Power output is to be sold into the PJM wholesale electric market, with solar renewable energy certificates (SRECs) sold to load serving entities in New Jersey. NJRCEV will lease the site for 21 years from Village At Manalapan Solar, an affiliate of Spano Partners Holdings. NJR expects investments made by NJRCEV will qualify for a 30-percent federal investment tax credit.
Cogentrix of Alamosa secured from the U.S. Department of Energy a conditional commitment for a $90.6 million loan guarantee to support construction of the 30-MW Alamosa concentrating solar photovoltaic generation project located in south-central Colorado. The proposed facility will use concentrating optics and multi-junction solar cell panels controlled by a dual-axis tracking system. According to the project sponsor, the multi-junction solar cells are nearly 40 percent efficient. The project will sell its electricity output to Public Service Company of Colorado.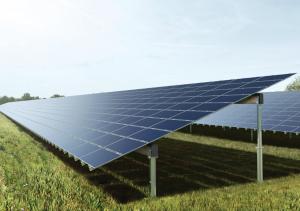 Carmanah Technologies was awarded a contract valued at approximately CAN$1.8 million to provide solar grid-tied PV systems for two elementary schools in Southern Ontario. Each school will be outfitted with a 100-kW rooftop system, consisting of more than 500 solar modules as well as a web-enabled data monitoring system where the collected information will be accessible for educational purposes. The grid-tied PV structure will be incorporated into the sloped infrastructure of the building with the arrays large enough to be seen from ground level.
EVs and Storage
Scientists at the U.S. Department of Energy's Brookhaven National Laboratory have helped to uncover the nanoscale structure of a novel form of carbon, contributing to an explanation of why this new material acts like a super-absorbent sponge when it comes to soaking up electric charge. The material, which was recently created at the University of Texas-Austin, can be incorporated into supercapacitor energy-storage devices while retaining other attractive attributes such as superfast energy release, quick recharge time, and a lifetime of at least 10,000 charge-discharge cycles. Scientists say the processing techniques used to create the new form of carbon are readily scalable to industrial production.
Tesla Motors and the Electric Power Research Institute (EPRI) have joined U.S. DRIVE, a voluntary government-industry partnership focused on research and development of electric vehicles and related infrastructure technology. The Department of Energy also announced that the research consortium was being re-named from the FreedomCAR and Fuel Partnership to U.S. DRIVE, which stands for Driving Research and Innovation for Vehicle efficiency and Energy sustainability.
M&A
Constellation Energy acquired a 25-MW solar generation project in Sacramento, Calif., from photovoltaic power plant developer Belectric Inc. The system will be comprised of approximately 381,000 First Solar thin film photovoltaic panels, ground-mounted at multiple sites near the city of Sacramento. Constellation will own and operate the system and sell the electricity generated from it to the Sacramento Municipal Utility District (SMUD) under multiple 20-year power purchase agreements. The project is expected to be commercially operational by the end of 2011. The transaction was arranged by Smart Energy Capital LLC.
Spectra Energy Partners entered an agreement with EQT Corp. to acquire all of the ownership interests of Big Sandy Pipeline, a federally regulated natural gas pipeline system in eastern Kentucky, for $390 million in cash, subject to customary closing adjustments. Big Sandy Pipeline has 171 million cubic feet per day of capacity and is approximately 70 miles long. EQT will be the main shipper on the pipeline, with over 80 percent of the pipeline's capacity under firm, 16-year transportation agreements. Big Sandy Pipeline's interconnect with the Tennessee Gas Pipeline system links the Huron Shale and Appalachian Basin natural gas supplies to the Mid-Atlantic and Northeast markets.
Duke Energy Renewables purchased the Shirley wind power project from a subsidiary of Central Hudson Enterprises. The wind farm is located on approximately 500 acres of leased land in Glenmore, 30 miles southeast of Green Bay, Wisc. The project, which began commercial operation in December 2010, sells all of its output and associated renewable energy credits to Wisconsin Public Service under a 20-year power purchase agreement.
Exelon acquired Wolf Hollow, a combined-cycle natural gas-fired power plant in north Texas, from Sequent Wolf Hollow for $305 million, as adjusted for working capital. The transaction adds 720 MW to Exelon's fleet in the Electric Reliability Council of Texas (ERCOT) power market, where the company owns and operates three other natural gas-fired power plants. Wolf Hollow, located near Granbury, Texas, began operation in August 2003. It's equipped with two Mitsubishi combined-cycle gas turbines and serves the Dallas and Fort Worth areas. Exelon currently has a power purchase agreement with Wolf Hollow, through 2023, to purchase 350 MW of its output. The Wolf Hollow transaction is subject to approval by the Public Utility Commission of Texas and the notification and reporting requirements under the Hart-Scott-Rodino Act. Exelon plans to finance the transaction with existing cash flow and liquidity resources and expects to close it in the third quarter of 2011. Barclays Capital acted as financial advisor to Exelon.
Magma Energy and PlutonicPower completed their merger, which was approved by the Supreme Court of British Columbia on May 9, 2011. Magma acquired all of the outstanding shares of Plutonic on the basis of 2.38 common shares of Magma and Cdn. $0.0001 in cash for each Plutonic common share. Magma will change its name to "Alterra Power Corp." and its common shares are expected to trade on the Toronto Stock Exchange under the symbol "AXY."
Juhl Wind closed its acquisition of the 10.2-MW Woodstock Hills wind farm, located near the company's headquarters in Woodstock, Minn. Juhl was the original developer of the Woodstock Hills wind farm, which entered service in 1999 and was previously owned in concert with two institutional investor partners. The 10.2-MW wind farm uses 17 Vestas V-44 turbines and sells the output to Xcel Energy under a long-term power purchase agreement. Juhl paid $400,000 to acquire a controlling, 99.9-percent ownership interest alongside the 0.1-percent local owner. Juhl expects the wind farm to continue to generate revenue of approximately $1.2 million per year, as it has historically.
Science Applications International Corp. (SAIC) acquired the transmission and distribution (T&D) engineering capabilities of Patrick Energy Services (PES), which provides services for planning, design, engineering and construction of transmission, substation, distribution, smart grid, SCADA (supervisory control and data acquisition), and protection and control systems.
Fortis agreed to acquire the outstanding common shares of Central Vermont Public Service, the largest integrated electric utility in Vermont, for $35.10 per share in cash, for an aggregate purchase price of approximately $700 million, including the assumption of approximately $230 million of debt on close.
Metering
DTE Energy selected Itron and Tropos to supply technologies for its $168 million SmartCurrents program. SmartCurrents is targeted at modernizing the electric grid, improving distribution system reliability and efficiency, as well as providing electric customers with more information about their power usage. Phase one spans more than 500 square miles and includes the installation of approximately 800,000 Itron OpenWay meters; DTE already has installed nearly 300,000 OpenWay meters. In addition to the meters and endpoints, the communications architecture for the SmartCurrents program includes Tropos high-performance wireless communications technology and mesh routers. The project also includes rollout of distribution automation applications and involves upgrades to 11 substations and 55 distribution circuits.
Bangor Hydro implemented Itron software to help it migrate from automated meter reading (AMR) processes to an AMI system. Itron Enterprise Edition meter data management (IEE MDM) is a part of Bangor Hydro's smart grid initiative and will calculate billing determinants for multiple pricing programs—including day-ahead hourly pricing, which Bangor Hydro says is one of the first programs of its kind in the United States. IEE MDM validates the meter data, stores it in a centralized repository and calculates billing determinants, which are distributed to billing and web applications. Bangor Hydro will use IEE Customer Care to present customers with more detailed usage and pricing information through a new web portal, giving them information to manage their electricity consumption and costs.
Long Island Power Authority(LIPA) and its agent National Grid Electric Services selected eMeter's EnergyIP meter data management platform. The project will serve as a part of the foundation to deploy a smart grid framework across the electric service territory, and eMeter's Energy Engage online consumer portal to allow LIPA customers to manage their energy use. The implementation is part of LIPA's Smart Corridor Project being funded by a American Recovery and Reinvestment Act (ARRA) grant from the Department of Energy.
Kansas City Power and Light (KCP&L) selected Siemens Energy to implement eMeter EnergyIP, a meter data management system (MDMS), as part of its ARRA-funded smart grid demonstration project. Siemens will provide configuration, testing and integration services into KCP&L's information technology systems. The primary objective of the project is to demonstrate standards-based interoperability between the MDMS and other KCP&L smart grid systems.
Elster and the Salt River Project (SRP) deployed Elster's EnergyICT EIServer MDMS to manage more than 900,000 planned advanced metering devices throughout the utility's service territory. The system will perform detailed smart meter data analysis on information collected from every Elster AMI endpoint, allowing SRP to implement time-of-use (TOU) metering, and providing operational benefits, including: work-flow management to integrate processes and data, improved sampling and expanded data options for load research, more accurate forecasting to improve power buy and sell decisions, real-time data processing, asset optimization and demand response. The implementation is expected to be completed in July 2011.
City of Dayton, Tenn., selected Elster EnergyAxis to power its advanced metering infrastructure (AMI) project. Elster, along with its regional distribution partner WESCO Distribution, will supply 8,000 residential and 2,000 commercial Elster REX and A3 Alpha smart meters. The system will allow Dayton to modernize its infrastructure to provide customers with pricing and usage information through TOU rates. The meters will be installed by the Dayton Electric Department with a project completion date of September 2012.