Deck:
Case studies on integrating renewable resources.
Author Bio:
Seth Parker is a principal and vice president of the energy consulting firm, Levitan & Associates Inc. (LAI). Jack Elder is LAI's manager of power systems and market design, and Boris Shapiro is an executive consultant with the firm.
Case studies on integrating renewable resources.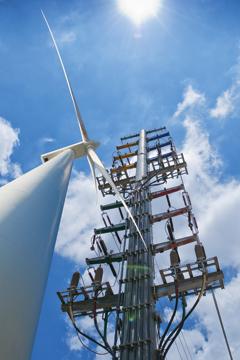 Transmission issues of need and siting have been around for decades. More recently, the push to integrate renewable resources has raised new transmission issues of planning, risk allocation, and funding responsibility. Many regional transmission organizations (RTOs) and other transmission entities have been wrestling with these new issues, and now FERC has weighed in with Order 1000 that provides transmission planning and cost allocation guidelines while preserving the RTO stakeholder processes.
FERC issued its final rule in Order 1000 on July 21, 2011. Order 1000 applies Order 890's planning principles—coordination, openness, transparency, information exchange, comparability, dispute resolution, regional coordination, economic planning, and cost allocation—to regional transmission planning. Order 1000 also requires RTOs and other entities to cooperate on transmission planning and cost allocation matters, and requires regions to adopt a form of "beneficiaries pay" cost allocation to ensure that transmission costs are allocated to beneficiaries, commensurate with estimated benefits.
Some of the regions where the wind integration processes have been most successful developed and adopted basic transmission planning and cost allocation principles prior to FERC Order 1000. Instructive examples can be found in the experiences of three states that have integrated, or are trying to integrate, substantial wind resources into their high voltage grids: Texas, California, and Hawaii.
Texas and Hawaii transmission organizations aren't jurisdictional to FERC, so Order 1000 doesn't apply to them directly. Texas and California have single-state RTOs, which has facilitated renewable development and has avoided free rider and cost allocation issues plaguing multi-state RTOs. Hawaii, also a single-state market, is wrestling with these very issues. Notwithstanding the successes to date, there are still many renewable integration challenges that require further attention.
Texas: Competitive Zones
Parts of Texas have significant wind resources. In 2005, the Texas Legislature established a Renewable Energy Program directing the Public Utility Commission of Texas (PUCT) to identify competitive renewable energy zones (CREZ), geographic areas ideally suited for wind generation construction. In response to this legislation, the PUCT issued an order in Docket No. 33672 in 2008 designating CREZ areas and defining a set of transmission upgrades to interconnect the wind projects, plus a small amount of other renewable energy projects. Those upgrades were planned to transmit energy from 18,456 MW of wind resources in remote parts of west-central and northern (Panhandle) Texas to highly populated metropolitan areas of the state, including Austin, Dallas-Fort Worth, and San Antonio. The new wind resources were planned to be located in five CREZ zones with a total incremental capacity of 11,553 MW (see Figure 1) . The remaining 6,903 MW is the base-case wind capacity that would exist without the CREZ program. It was expected that the wind energy would improve the air quality in Texas and minimize reliance on the then-high cost of gas-fired generation.
The