T&D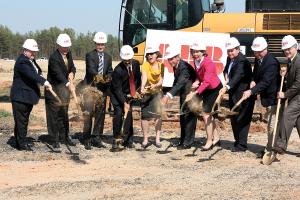 ABB broke ground for a new high-voltage cable factory in Huntersville, N.C. The new facility, located at the Commerce Station Business Park, will supply high-voltage and extra high-voltage transmission cables to carry electric power underground. ABB says the factory will produce "smart grid-compliant cables," for use in both AC and DC applications. ABB is investing approximately $90 million in the new manufacturing facility, which is the newest addition to Charlotte's Energy Hub economic development initiative.
ABB launched its latest generation 245-kV ELK-14 series of gas insulated switchgear (GIS). ABB says the footprint of this latest GIS product is 40 percent smaller than conventional designs and it uses 20 percent less SF6 gas compared to the previous generation, making it more environmentally friendly. The unit can be delivered as an assembled bay, fully tested and mounted on a frame, which ABB says reduces installation time. Control and protection equipment installed in the control cubicle directly at the bay also is intended to enable smart grid integration. The systems were designed for a rated voltage of 253 kV, with a maximum current rating of 3,150 amps.
Duke Energy and American Transmission Co. (ATC) created the Duke-American Transmission Co. (DATC), a joint venture that will build, own and operate new electric transmission infrastructure in North America. The joint venture will operate as a transmission utility. As a result, it will be subject to the rules and regulations of the Federal Energy Regulatory Commission, MISO, PJM and various other independent system (grid) operators, as well as any states in which DATC develops projects. Per the structure of their new joint venture, Duke Energy and ATC may continue to develop transmission projects independently. DATC will own all of the transmission assets it builds and operates. Equity ownership of DATC will be split equally between Duke Energy and ATC.
Tres Amigas awarded a $200 million contract to Alstom Grid to deliver high-voltage direct-current (HVDC) converter and automation technology for the first stage of the Tres Amigas SuperStation project in New Mexico. The project aims to interconnect America's three primary electricity grids, the Eastern (Southwest Power Pool), Western (Western Electricity Coordinating Council) and Texas (Electric Reliability Council of Texas) networks. Under the contract, Alstom Grid will supply a 750-MW, 345-kV DC converter scheme. Engineering design for the transmission interconnection is underway, with construction scheduled to commence by 2012, and commercial operations expected in 2014.
Environmental
American Electric Power (AEP) installed GE's ABMet wastewater bioreactor system at the utility's Mountaineer coal-fueled power plant in New Haven, W.Va. The proprietary biological treatment system uses a special molasses-based product as a nutrient for microbes that reduce selenium, a constituent found in many coal-fired power plant water emissions. GE's ABMet technology utilizes special strains of common, non-pathogenic microbes that facilitate conversion of soluble selenium into elemental selenium, which is removed from the system during periodic backwashing. The microbes, which are fed the molasses-based nutrient, are seeded in a bed of activated carbon that acts as a growth medium for the microbes to create a biofilm. Selenium-laden wastewater passes through this bioreactor and a reduction reaction occurs. Other than the addition of the nutrient, GE says the system will be self-sustaining once it's established. Selenium is an element found in coal that is not consumed in the combustion process and typically can be found in several of a plant's post-combustion waste streams. AEP is installing GE's system to allow its 1,300-MW Mountaineer generating station to comply with a new discharge limit for selenium. Construction of AEP's treatment facility began in July 2010. The system is scheduled to become operational by the end of 2011.
TÜV SÜD America announced that the Massachusetts Department of Environmental Protection (MassDEP) approved the Massachusetts-based company as a verification body to provide verification services for the Massachusetts Greenhouse Gas (GHG) Reporting Program. The Global Warming Solutions Act (GWSA) required MassDEP to promulgate mandatory GHG reporting regulations.
Smart Grid
ABB won orders from CenterPoint Energy for the latest Service Suite mobile workforce management software from Ventyx and for the FocalPoint business intelligence solution from ABB's latest acquisition, Obvient. These will be integrated into CenterPoint's advanced distribution automation system, based on ABB's Network Manager distribution management system (DMS).
The governing board of the public-private Smart Grid Interoperability Panel (SGIP) voted in favor of a new smart grid standard and a set of guidelines. The documents address the need for wireless communications among grid-connected devices, as well as the ability to upgrade household electricity meters as the smart grid evolves. The SGIP identified "Guidelines for Assessing Wireless Communications for Smart Grid Applications" and "Meter Upgradeability Standard" as critical needs for realizing a modern power grid.
Generation
Survalent Technology commissioned a new SCADA system for the Golden Spread Electric Cooperative Antelope Station. Antelope Station is a gas-fired power plant with 18 9-MW gensets capable of generating about 170 MW, allowing the plant to quickly respond to regional capacity requirements.The SCADA system includes Survalent's open system applications.
Dynamic Solar completed a 250-kW solar system in Philadelphia, Pa., for the Philadelphia Water Department. Dynamic Solar teamed with CETCO Contracting Services and Nucero Electric to design, engineer and install the 250-kW ground mounted system. The array is located at the Southeast Water Pollution Control Plant and is expected to generate approximately 330,000 kWh of solar electricity per year.
Chevron Mining Inc. recently began operating a 1-MW concentrating solar photovoltaic (CPV) power plant at the tailing site of its molybdenum mine in Questa, N.M. The 20-acre facility includes 172 solar trackers. Kit Carson Electric Cooperative is buying the output under a power purchase agreement.
Dominion Virginia Power is planning to convert three 63-MW power stations from using coal to biomass. The power stations in Altavista, Hopewell and Southampton County are identical and went into operation in 1992, providing peaking power supplies. When converted, they would generate 50 MW each, but operate as a base-load resource. The facilities will be fueled with logging waste. Pending approvals from the Virginia Department of Environmental Quality and the Virginia State Corporation Commission, the facilities could begin burning biomass in 2013.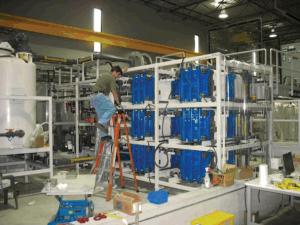 NextEra Energy Resources entered a power purchase agreement with Google Energy to purchase 100.8 MW of capacity from NextEra Energy Resources' Minco II Wind Energy Center, currently under development in Grady and Caddo counties in Oklahoma. The project is comprised of 63 GE 1.6-MW wind turbines and is expected to be operational by the end of 2011. This is the second power purchase agreement for wind energy between the two companies. Google Energy also purchases 114 MW from NextEra Energy Resources' Story II Wind Energy Center located in Story and Hardin counties in Iowa.
Fotowatio Renewable Ventures (FRV) closed financing and began construction on the 30-MW Webberville solar project, one of the largest solar PV systems in the United States. The project, located near Austin, Texas, is scheduled to be operational by year-end. Renewable Energy Systems Americas (RES Americas) was selected to construct the project and provide operations and maintenance services for five years. Austin Energy will buy the plant's output under a 25-year power purchase agreement. FRV partnered with Bayerische Landesbank (BayernLB), which underwrote the project construction debt. The project will use crystalline 270-Watt photovoltaic modules from Trina Solar.
The Solar Electric Power Association (SEPA) announced five utility groups have joined SEPA: American Municipal Power (AMP); City of Lake Worth, Fla.; Central Hudson Gas & Electric (CH Energy Group); Greenwood Utilities Commission; South Mississippi Electric Power Association. SEPA says its utility membership now represents more than 95 percent of the nation's installed solar capacity and 47 percent of all U.S. electric customers.
Solar Power Partners (SPP) and JCM Capital have signed an agreement with Solar Power Network (SPN), to provide full project financing for up to 20 MW of commercial-scale rooftop installations to be located throughout southwestern Ontario. The agreement follows the recent Solar Power Partners and JCM Capital announcement on the launch of their fund to develop, finance, own, and operate 200 MW of solar projects in Ontario. The SPN contract brings the current fund volume to 50 MW. SPP and JCM have already initiated 20 MW of projects that will start construction in 2011. The fund focuses on the installation of solar projects on large commercial and industrial buildings across Ontario, using the province's feed-in-tariff program via solar PPAs with the Ontario Power Authority.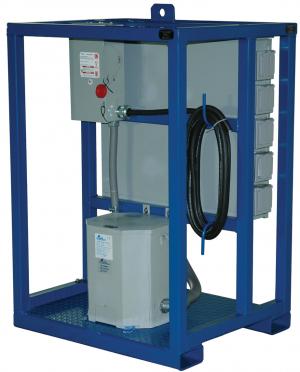 Boeing and South Carolina Electric & Gas (SCE&G) created an energy partnership that will enable Boeing South Carolina to operate as a 100 percent renewable energy site. Renewable energy will be generated at the North Charleston site in part with thin-film solar laminate panels owned, installed and maintained by SCE&G on the new Boeing 787 Final Assembly building roof. Under the arrangement, SCE&G will install the solar generation system and dedicate the power from the system to the Boeing site. SCE&G will then supplement the solar generated energy with power from its system resources, coupled with renewable energy certificates from its renewable generating facility, to meet all of Boeing's energy requirements.
Constellation Energy and Holyoke Gas & Electric Department (HG&E) are developing a new 4.5-MW solar installation that will generate electricity for Holyoke. Constellation Energy will build, own and maintain the system, and HG&E will purchase the output under a 20-year PPA at a fixed cost that Constellation says is less than projected market rates. HG&E's solar power system will include 18,400 SolarWorld photovoltaic ground-mounted panels at two locations. The system is scheduled for commercial operation in summer 2011.
Hartz Solar Hamilton, a wholly-owned subsidiary of Hartz Mountain Industries, selected RMT Inc. to design and construct its Hamilton solar project. The facility, nominally rated at 7.5 MW AC, is located in Hamilton Township, Mercer County, N.J. RMT says it will begin construction in June, with commissioning in November. RMT is responsible for engineering, procurement, and construction (EPC) of the foundations and racking systems, the PV modules, the DC and AC collector systems, the SCADA system, and testing and commissioning. The project will involve installation of more than 30,000 Suntech 280-Watt crystalline PV modules.
The California Public Utilities Commission (CPUC) approved Pacific Gas & Electric's 20-year contract to purchase 150 MW of solar power from Sempra Generation's Mesquite Solar 1 PV power facility in Arizona. Mesquite Solar 1 is the first phase of Sempra Generation's planned 700-MW Mesquite Solar complex located 40 miles west of Phoenix. With approval of the contract secured, the company plans to begin construction in June.
San Diego Gas & Electric (SDG&E) and subsidiaries of Soitec Solar Development signed three contracts with a combined capacity of 30 MW of solar energy. The electricity will be generated at three solar power plant sites in San Diego County that will use Soitec CPV modules to be manufactured in a new factory being built in the San Diego area. The contracts require approval from the California Public Utilities Commission.
San Diego Gas & Electric (SDG&E) entered a 20-year contract for up to 156 MW of power supplied from the first phase of Sempra Generation's Energía Sierra Juárez wind project in Baja California, Mexico. Both SDG&E and Sempra Generation are subsidiaries of Sempra Energy. SDG&E selected Energía Sierra Juárez as part of the utility's 2009 competitive solicitation for renewable resources. The project was compared to other competitive bids, and the process was overseen by an independent evaluator, as required by the California Public Utilities Commission (CPUC). The contract is subject to approval by the CPUC and Federal Energy Regulatory Commission. Construction on Energía Sierra Juárez 1, about 70 miles east of San Diego and just south of the U.S.-Mexico border, is expected to begin in 2012.
Ocean Power Technologies (OPT) awarded four contracts to Oregon companies in connection with the manufacturing of its PB150 PowerBuoy wave energy generating device. The four companies receiving contracts are: American Bridge Manufacturing, Oregon Iron Works, Cascade General (a subsidiary of Vigor Industrial), and Sause Bros. Inc. After the initial PowerBuoy is deployed and tested off the coast of Reedsport, expected later this year, OPT plans to construct the first commercial-scale wave power station in the United States, consisting of up to nine additional PowerBuoys and grid connection infrastructure, subject to receipt of all necessary regulatory approvals and additional funding.
Areva Solar was awarded a major contract to install a 44-MW solar thermal augmentation project at a 750-MW coal-fired power station in Queensland, Australia. Areva says the project is the largest solar project in the Southern Hemisphere and the world's largest solar power augmentation project at a coal-fired facility. Areva Solar will use its Australian-pioneered compact linear Fresnel reflector (CLFR) technology at CS Energy's Kogan Creek Power Station. Construction is scheduled to begin in the first half of 2011, with commercial operation planned for 2013.
Sempra Generation entered a 20-year contract to sell 21 MW of wind energy to Maui Electric Company from the Auwahi Wind project on the Ulupalakua Ranch in the southeastern region of Maui. The project is currently undergoing environmental review by Maui County, and state and federal agencies. Construction is expected to begin in early 2012.
DR and Customer Systems
Baltimore Gas and Electric (BGE) selected Opower's Advanced Customer Engagement (ACE) platform as the front-end solution for its upcoming smart meter rollout. Opower's ACE platform takes individual and neighborhood energy-usage data and transforms it into personalized reports that help customers understand their own energy usage more clearly. The reports also offer advice on ways to reduce energy use, helping customers lower their gas and electricity bills.
Con Edison added Apogee's online tools to its website, www.conEd.com, as part of its "The Power of Green" campaign, to help customers evaluate their energy use and find ways to save on their energy costs. The Energy Toolkit provides answers to energy questions; the HomeEnergyCalculator analyzes the customer's energy use and makes recommendations for savings; and specialized calculators allow customers to run what-if scenarios on the use of lighting, appliances, TVs, and thermostat settings.
GreenHouse Holdings announced a partnership with EnergyConnect. Together, the companies will offer customers integrated energy management and automated demand response (auto-DR) services. Under the terms of the agreement, GreenHouse will offer its auto-DR services to EnergyConnect's customers, and EnergyConnect will market its products to Greenhouse's customer base.
SavWatt USA subsidiary Pro EcoSolutions entered a non-exclusive agreement with Comverge and Con Edison to implement their targeted demand side management program, which offers incentives for upgrading to more energy efficient equipment. Pro EcoSolutions will work with New York City businesses to replace existing incandescent bulbs, subsidize the cost of lighting, and administer the installation. Con Edison will be paying Pro EcoSolutions 65 cents per Watt saved.
Metering
Kansas City Board of Public Utilites (KCBPU) selected Elster for the utility's smart grid deployment. KCBPU will implement Elster's EnergyAxis to streamline business and operational processes. The municipal utility plans to deploy more than 69,000 of Elster's smart electric meters and 55,000 Elster smart water meters over the next few years.
Comision Federal de Electricidad (CFE) selected Elster's EnergyAxis smart grid solution to power the utility's first advanced metering infrastructure (AMI) project in Mexico City. The Mexican Secretaria de Energia (SENER) and CFE will use the EnergyAxis pilot as a benchmark for evaluating Elster's technologies for potential future deployments. CFE has already deployed nine other EnergyAxis systems throughout 14 of Mexico's 16 service areas.
BC Hydro awarded a $270 million contract to Itron to supply smart metering and meter data management systems. Itron will provide its OpenWay smart meters, run over a multi-application communication network powered by Cisco.
EVs and Storage
Duke Energy plans to store electricity generated at its Notrees Windpower project in west Texas using an energy storage and power management system developed by Austin-based Xtreme Power. Duke Energy will work with the Energy Reliability Council of Texas (ERCOT) to integrate the wind power and battery storage system into the state's independent power grid. The Electric Power Research Institute (EPRI) will advise the project team, collect data and help assess the potential for broader adoption of energy storage solutions throughout the industry. Duke Energy is targeting an in-service date for the battery storage system by late 2012.
Siemens Energy was commissioned to install five multi-level electric vehicle (EV) charging stations to support Loudoun County, Va.'s new commuter park-and-ride lot in Scott Jenkins Memorial Park. Siemens multi-level charging stations are designed for public outdoor applications. The stations deliver Level II charging and Level I charging through two separate outputs, which can deliver energy simultaneously. Siemens' EV charging stations will be equipped with connectivity via the ChargePoint Network, which allows access to all manufacturers of vehicle charging stations, provides station monitoring and driver support, and mobile apps for station status and charging notifications. The stations were scheduled to be installed at the Loudoun County park in May 2011.
The EA Technology Group collaborated with Energetix Pnu Power to market compressed air batteries worldwide. Headquartered close to Energetix Pnu Power in Capenhurst, U.K., EA Technology will use its network of offices in the United States, China, Middle East and Australia, together with 35 distribution partners, to develop sales of Pnu Power products in a range of power backup and uninterruptible power supply applications. These include utility switching, industrial processes and data centers.
Newmark Energy Solutions (NES) formed strategic relationships with UTC Power Corp. (UTC), Newmark Knight Frank, and Austin Energy Partners Solutions (AEP) to market, deliver, maintain and warranty fuel cells to commercial real estate markets across the United States. NES distributes UTC Power stationary fuel-cell units in the United States, and plans to permit, design, finance, construct, and operate a fleet of UTC fuel cells, installing 20 MW of capacity each year. Under the strategic relationship with Newmark Energy Solutions, UTC will provide fuel-cell product and support, while Newmark brings commercial real estate resources and expertise. AEP is expected to provide risk management expertise.
People
SightLogix appointed Jack Tomarchio to its board of directors. Tomarchio is a former deputy secretary for intelligence and analysis operations under Pres. George W. Bush. Before that Tomarchio practiced law with an expertise in national security issues. He recently retired as a colonel from the United States Army Reserve where his last assignment was with the United States Special Operations Command.
Ross Malme joined Skipping Stone as a partner and member of the board of directors as an equity owner. Malme previously held executive-level roles with Schneider Electric's demand response resource center, Enron Energy Services, Schlumberger and Chevron. Ross was also the founder and CEO of RETX, a demand response technology firm, which has since been acquired by Schneider Electric. He served as chairman of Peak Load Management Alliance (PLMA) and formed a global demand response initiative in conjunction with the International Energy Agency (IEA).
M&A
Google and subsidiaries of ITOCHU and Sumitomo joined GE Energy Financial Services and developer and managing member Caithness Energy as owners of the 845-MW Shepherds Flat wind project under construction near Arlington, Ore. The three new participants are investing approximately $500 million in the $2 billion project. The Shepherds Flat wind project stretches across 30 square miles of Gilliam and Morrow Counties in north-central Oregon.
Lincoln Renewable Energy(LRE) closed a $41 million power sale and project finance deal with Macquarie Energy. As part of the deal, Macquarie will enter a long-term purchase agreement for power and renewable energy credits from LRE's New Jersey Oak solar project, and Macquarie will provide construction financing and term debt. LRE will be the long-term owner of the facility. Quanta Services is building the plant and providing O&M services under an EPC contract. The New Jersey Oak solar project is a 10-MW PV project to be constructed in Fairfield Township, Cumberland County. The project will consist of some 55,000 solar panels constructed on a 100-acre site and will connect to Atlantic City Electric's distribution system when it's completed late in 2011.
Ioxus Inc. received $21 million from Energy Technology Ventures, a GE-NRG Energy-ConocoPhillips joint venture; Northwater Capital through its Northwater Intellectual Property Fund; Aster Capital (representing Alstom, Schneider Electric and Rhodia); and return investor Braemar Energy Ventures. Ioxus will use this funding to develop its technology and expand sales, marketing and manufacturing to meet growing demand for ultracapacitors.
Calico Energy Services received financial backing from Point B Capital and engaged the services of Point B, a management consulting firm that specializes in strategic execution. The investment provides capital to accelerate the company's growth, and will allow Calico to use Point B's leadership and management consulting services.
Nexamp acquired SolVera Energy as part of an initiative to grow its utility-scale and distributed renewable energy business. The company also formed into two new business units, Renewable Energy Solutions and Clean Energy Advisory Services, which is focused on energy efficiency consulting services for commercial and industrial customers.
Pattern Energy partnered with Samsung Renewable Energy to acquire wind power projects in Ontario from Acciona and Boralex. These projects will be combined with Pattern and Samsung's larger South Kent Wind Farm, which is under development. The 270 MW wind farm is located in the Regional Municipality of Chatham-Kent. Samsung and its partners have an agreement with the Province of Ontario to provide 2,500 MW of new renewable energy. The first phase involves 400 MW of wind power and 100 MW of solar power. The companies secured dedicated transmission capacity for these initial projects. Pattern and Samsung agreed to develop more than 500 MW of wind power using Ontario-made wind turbine components from the new factories in Tillsonburg and in Windsor.
Pattern and Samsung recently announced the acquisition of land from the Fargo Wind Project from Suncor Energy and a nearby wind project development from Northland Power.
DeWind Co, a wholly owned subsidiary of Daewoo Shipbuilding and Marine Engineering, acquired the rights for the 20-MW Frisco wind project, located in the northern-most portion of Hansford County, Texas, from local developer Distributed Wind Systems. DeWind will install 10 of its 2-MW D8.2 wind turbines at the Frisco site, which is scheduled to be in commercial operation by the end of 2011. The D8.2 turbines will be furnished from DeWind assembly contractor TECO-Westinghouse located in Round Rock, Texas.
PPL completed its acquisition of the Central Networks electricity distribution business, the second-largest such business in the United Kingdom. PPL, through a U.K. subsidiary, acquired Central Networks from E.ON UK plc for $5.7 billion in cash, inclusive of certain permitted pre-closing adjustments, and $800 million of existing public debt to be assumed through consolidation. To complete closing, PPL used acquisition financing under a syndicated bridge facility arranged by Bank of America Merrill Lynch and Credit Suisse. The permanent financing plan includes a combination of common stock, equity units and debt. PPL expects to complete the permanent equity financing in the second quarter of 2011 and the debt financing by the end of the year.
The boards of directors of Exelon and Constellation Energy agreed to combine the two companies in a stock-for-stock transaction. Under the terms of the transaction, Constellation investors would receive the equivalent of $38.59 a share, about an 18-percent premium. The combined entity would have a market value of roughly $34 billion. The resulting company would retain the Exelon name and be headquartered in Chicago. Exelon's power marketing business (Power Team) and Constellation's retail and wholesale business would be consolidated under the Constellation brand and be headquartered in Baltimore. Both companies' renewable energy businesses also would be headquartered in Baltimore, and the three utilities within the new Exelon—BGE, ComEd and PECO—would remain standalone organizations.