T&D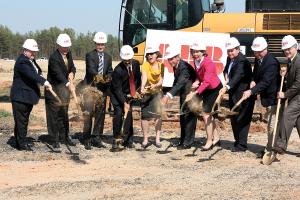 ABB broke ground for a new high-voltage cable factory in Huntersville, N.C. The new facility, located at the Commerce Station Business Park, will supply high-voltage and extra high-voltage transmission cables to carry electric power underground. ABB says the factory will produce "smart grid-compliant cables," for use in both AC and DC applications. ABB is investing approximately $90 million in the new manufacturing facility, which is the newest addition to Charlotte's Energy Hub economic development initiative.
ABB launched its latest generation 245-kV ELK-14 series of gas insulated switchgear (GIS). ABB says the footprint of this latest GIS product is 40 percent smaller than conventional designs and it uses 20 percent less SF6 gas compared to the previous generation, making it more environmentally friendly. The unit can be delivered as an assembled bay, fully tested and mounted on a frame, which ABB says reduces installation time. Control and protection equipment installed in the control cubicle directly at the bay also is intended to enable smart grid integration. The systems were designed for a rated voltage of 253 kV, with a maximum current rating of 3,150 amps.
Duke Energy and American Transmission Co. (ATC) created the Duke-American Transmission Co. (DATC), a joint venture that will build, own and operate new electric transmission infrastructure in North America. The joint venture will operate as a transmission utility. As a result, it will be subject to the rules and regulations of the Federal Energy Regulatory Commission, MISO, PJM and various other independent system (grid) operators, as well as any states in which DATC develops projects. Per the structure of their new joint venture, Duke Energy and ATC may continue to develop transmission projects independently. DATC will own all of the transmission assets it builds and operates. Equity ownership of DATC will be split equally between Duke Energy and ATC.
Tres Amigas awarded a $200 million contract to Alstom Grid to deliver high-voltage direct-current (HVDC) converter and automation technology for the first stage of the Tres Amigas SuperStation project in New Mexico. The project aims to interconnect America's three primary electricity grids, the Eastern (Southwest Power Pool), Western (Western Electricity Coordinating Council) and Texas (Electric Reliability Council of Texas) networks. Under the contract, Alstom Grid will supply a 750-MW, 345-kV DC converter scheme. Engineering design for the transmission interconnection is underway, with construction scheduled to commence by 2012, and commercial operations expected in 2014.
Environmental
American Electric Power
(AEP) installed
GE
's ABMet wastewater bioreactor system at the utility's Mountaineer coal-fueled power plant in New Haven, W.Va. The proprietary biological treatment system uses a special molasses-based product as a nutrient for microbes that reduce selenium, a constituent found in many coal-fired power plant water emissions. GE's ABMet technology utilizes special strains of common, non-pathogenic microbes that facilitate conversion of soluble selenium into elemental selenium, which is removed from the system during periodic backwashing. The microbes, which are fed the molasses-based nutrient, are seeded in a bed of activated carbon that acts as a growth medium for the microbes to create a biofilm. Selenium-laden wastewater passes through this bioreactor