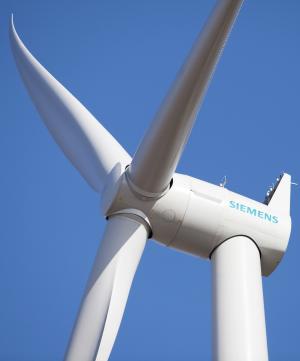 Burbank Water and Power selects Tropos Networks for smart grid project, Survalent Technology installs SCADA system for Pearl River Valley Electric Power Association, Gemma Power Systems signs contract with Bishop Hill Energy, American Superconductor selects subcontractors for the Tres Amigas SuperStation transmission hub in Clovis, N.M., and more ...
Generation
Siemens Energy will supply 15 of its SWT-3.0-101 direct drive wind turbines for Minnesota Power's Bison 1 wind power plant near Center, N.D. Minnesota Power modified its original order, replacing 33 Siemens SWT-2.3-101 geared wind turbines to now include 16 SWT-2.3-101, 2.3 MW machines and 15 SWT-3.0-101, 3 MW direct drive turbines.
Governor Jack Markell and state officials welcomed Calpine to Delaware for the opening of its new regional headquarters, following the company's $1.63 billion acquisition of Conectiv Energy from Pepco Holdings.
Louisville Gas and Electric and Kentucky Utilities selected Black & Veatch's Power Plant MD solution to enhance operations of its fleet of large-scale power generating stations in Kentucky. The technology streams power plant operating data to Black & Veatch's monitoring and diagnostics center in Overland Park, Kansas. There, engineers use advanced data recognition technologies to identify emerging problems or early warnings of potential equipment issues and work directly with the plant operations and maintenance staff to prioritize the appropriate corrective actions.
Macpherson Energy has acquired 50 percent ownership in Kern County's Mt. Poso cogeneration plant and will co-lead its conversion to a 44 MW energy center operating 100 percent on biomass fuel. Macpherson Energy and DTE Energy Services subsidiaries acquired the Mt. Poso plant from its previous partners effective November 1. Mt. Poso has a 15-year agreement to sell the output to Pacific Gas & Electric.
First Wind began construction of the 102 MW expansion of the company's Milford Wind project. Located in Millard and Beaver County, Utah, the Milford Wind Phase II project began construction in July, with 68 additional 1.5 MW GE turbines being installed.
Tri-State Generation and Transmission Association announced the completion of the 51 MW Kit Carson wind power project, located in east-central Colorado. The wholesale power supplier is purchasing the output of the facility through a 20-year agreement with a subsidiary of Duke Energy . The facility is comprised of 34, 1.5 MW General Electric turbines on a 6,000-acre site northwest of Burlington, Colo.—within the service territory of tri-state member co-op K.C. Electric Association.
Argan Inc. announced that its wholly owned subsidiary Gemma Power Systems has signed an approximately $51 million EPC contract with Bishop Hill Energy , a wholly-owned subsidiary of Invenergy Wind North America to build a 200 MW wind farm in Henry County, Ill. The Bishop Hill wind farm is expected to consist of up to 134 General Electric wind turbines. Gemma Renewable Power will provide design and construction of roads, foundations, and electrical collection systems in addition to erecting towers, turbines, and blades. The project is anticipated to be completed in late 2011.
AEP Ohio , a unit of American Electric Power, signed a long-term power purchase agreement for wind energy with Paulding Wind Farm II LLC, a subsidiary of Horizon