Burbank Water and Power selects Tropos Networks for smart grid project, Survalent Technology installs SCADA system for Pearl River Valley Electric Power Association, Gemma Power Systems signs contract with Bishop Hill Energy, American Superconductor selects subcontractors for the Tres Amigas SuperStation transmission hub in Clovis, N.M., and more ...
Generation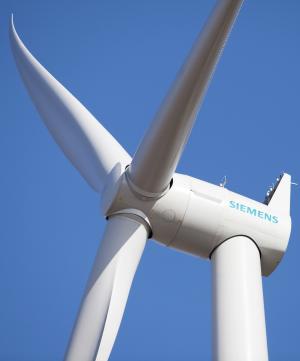 Siemens Energy will supply 15 of its SWT-3.0-101 direct drive wind turbines for Minnesota Power's Bison 1 wind power plant near Center, N.D. Minnesota Power modified its original order, replacing 33 Siemens SWT-2.3-101 geared wind turbines to now include 16 SWT-2.3-101, 2.3 MW machines and 15 SWT-3.0-101, 3 MW direct drive turbines.
Governor Jack Markell and state officials welcomed Calpine to Delaware for the opening of its new regional headquarters, following the company's $1.63 billion acquisition of Conectiv Energy from Pepco Holdings.
Louisville Gas and Electric and Kentucky Utilities selected Black & Veatch's Power Plant MD solution to enhance operations of its fleet of large-scale power generating stations in Kentucky. The technology streams power plant operating data to Black & Veatch's monitoring and diagnostics center in Overland Park, Kansas. There, engineers use advanced data recognition technologies to identify emerging problems or early warnings of potential equipment issues and work directly with the plant operations and maintenance staff to prioritize the appropriate corrective actions.
Macpherson Energy has acquired 50 percent ownership in Kern County's Mt. Poso cogeneration plant and will co-lead its conversion to a 44 MW energy center operating 100 percent on biomass fuel. Macpherson Energy and DTE Energy Services subsidiaries acquired the Mt. Poso plant from its previous partners effective November 1. Mt. Poso has a 15-year agreement to sell the output to Pacific Gas & Electric.
First Wind began construction of the 102 MW expansion of the company's Milford Wind project. Located in Millard and Beaver County, Utah, the Milford Wind Phase II project began construction in July, with 68 additional 1.5 MW GE turbines being installed.
Tri-State Generation and Transmission Association announced the completion of the 51 MW Kit Carson wind power project, located in east-central Colorado. The wholesale power supplier is purchasing the output of the facility through a 20-year agreement with a subsidiary of Duke Energy. The facility is comprised of 34, 1.5 MW General Electric turbines on a 6,000-acre site northwest of Burlington, Colo.—within the service territory of tri-state member co-op K.C. Electric Association.
Argan Inc. announced that its wholly owned subsidiary Gemma Power Systems has signed an approximately $51 million EPC contract with Bishop Hill Energy, a wholly-owned subsidiary of Invenergy Wind North America to build a 200 MW wind farm in Henry County, Ill. The Bishop Hill wind farm is expected to consist of up to 134 General Electric wind turbines. Gemma Renewable Power will provide design and construction of roads, foundations, and electrical collection systems in addition to erecting towers, turbines, and blades. The project is anticipated to be completed in late 2011.
AEP Ohio, a unit of American Electric Power, signed a long-term power purchase agreement for wind energy with Paulding Wind Farm II LLC, a subsidiary of Horizon Wind Energy. Through a 20-year agreement, AEP Ohio will purchase all of the output from the 99 MW facility, to be located in Paulding County, Ohio. The project will consist of 55 V100-1.8 MW turbines manufactured by Vestas. The facility is expected to be in commercial operation by mid-summer 2011.
FirstEnergy cancelled plans to repower units 4 and 5 at its R.E. Burger Plant in Shadyside, Ohio, said it would permanently shut down the units by Dec. 31, 2010. Since the Burger biomass repowering project was announced, market prices for electricity have fallen significantly, and expected market prices no longer support a repowered Burger plant.
Nuclear Innovation North America LLC (NINA), the nuclear development company jointly owned by NRG Energy and Toshiba, awarded the engineering, procurement and construction contract for its South Texas project units 3 and 4 to a restricted EPC consortium formed by Toshiba America Nuclear Energy (TANE) and the Shaw Group. NINA says the 2,700 MW South Texas nuclear power expansion project remains on track for permitting in 2012 and for the first unit to come online in 2016 and the second in 2017.
Public Service Electric & Gas marked the first phase of construction at its Yardville Solar Farm in Hamilton Township, N.J. The 4.4 MW facility is one of four ground-mounted solar farms that the utility is developing as part of its $515 million Solar 4 All program, including development of more than 20 solar projects.
SolarReserve is proceeding with purchases of long-lead materials and equipment as it advances in financing arrangements with the U.S. Department of Energy (DOE) loan guarantee program for its Crescent Dunes Energy Project in Tonopah, Nev., and Rice Solar Energy Project in Riverside County, Calif.
West Virginia will rely on the Generation Attribute Tracking System (GATS) from PJM Environmental Information Services (PJM EIS) in accounting for megawatt hours generated to satisfy the state's new renewable portfolio standard. The PJM GATS, specified by the West Virginia Public Service Commission, provides tracking registry services.
BlackLight Power announced that researchers at Rowan University in New Jersey independently demonstrated the company's controversial Catalyst-Induced-Hydrino-Transition (CIHT) technology to produce electric power from the conversion of hydrogen to "hydrinos," which BlackLight says is a more stable form of hydrogen. A group of four Rowan University professors issued a joint statement, saying: "In tests conducted over the last 12 months [we] independently and consistently generated energy in excesses ranging from 1.3 times to 6.5 times the maximum theoretical heat available through known chemical reactions."
Transmission Systems
Pattern Energy Group completed the Trans Bay Cable project in San Francisco, Calif., owned and operated by SteelRiver Transmission, an affiliate of SteelRiver Infrastructure Partners. Pattern Energy's transmission team conceived, developed and managed for SteelRiver the construction of the Trans Bay Cable, a 53-mile, 400 MW high voltage direct current submarine transmission line that can transmit up to 40 percent of the peak power needs for the city of San Francisco.
Puget Sound Energy completed transmission line upgrades along 40 miles of the company's existing utility corridor between its Sedro-Woolley substation in Skagit County and its Horse Ranch substation near Everett in Snohomish County. The project upgraded PSE's existing 115 kV transmission line to a 230 kV transmission line and installed a new fiber-optic line, improving electric reliability to utility customers throughout the region and increasing capacity of the regional bulk electric system.
The Electric Reliability Council of Texas, grid operator and manager of the wholesale electric market, launched its new "nodal" systems . Nodal pricing became officially binding for financial settlement and billing on Nov. 30, 2010, replacing zonal market pricing that was in place since 2001. ERCOT says the market redesign and systems upgrade will improve grid reliability, increase market efficiency, and enable transparency of wholesale energy prices.
Bonneville Power Administration (BPA) selected Schweitzer Engineering Laboratories SEL-487E station phasor measurement unit (PMU) for the Western Electricity Coordinating Council's (WECC) Western Interconnect Synchrophasor Project (WISP). BPA plans to install approximately 160 PMUs throughout the Northwest over the next three years. SEL says its PMUs meet a strict set of system integrity protection requirements based on wide-area, time-synchronized phasor measurements, which BPA specified to meet its needs beyond the specifications defined in the IEEE C37.118-2005 standard.
American Superconductor selected Korea's LS Cable Ltd. and France's Nexans as the superconductor power cable subcontractors for the Tres Amigas SuperStation transmission hub being developed in Clovis, N.M.
Electric Transmission America (ETA) has signed two separate memoranda of understanding (MOUs) with Exelon and MidAmerican Energy to develop two 765 kV, extra high-voltage transmission projects in the Midwest. ETA and Exelon expect to jointly develop 420 miles of 765 kV transmission lines extending from the Indiana-Ohio border west across Indiana into Henry County, Ill. Commonwealth Edison will build the $1.6 billion, Illinois portion of the project. It would be built in phases, likely between 2015 and 2018. And in the second MOU, ETA plans to jointly develop another 180 miles of 765 kV transmission that would extend from the terminus of the first project in Henry County, Ill., to Louisa County, Iowa, and then to Buchanan County, Iowa. The proposed $650 million project is expected to be operational by 2019, depending on the timing of regulatory approvals. ETA's estimated share of both projects totals approximately $675 million, subject to final routing, design, and regulatory approvals.
EVs & Storage
Direct Energy is teaming with NRG Energy to deliver what the companies called America's first, privately-funded electric vehicle charging solution to consumers. Initial rollout plans will deliver home and remote charging capabilities across Houston, with a broader Texas and U.S. rollout set to follow. The eVgo fueling package launched by NRG is designed to provide electric vehicle consumers with a turnkey solution for vehicle charging.
DR & Efficiency
GE Appliances & Lighting says it plans to be the first major appliance company to provide a whole-home solution for energy management. GE is developing solutions to help consumers better manage and control their energy use and costs by offering new technology such as the GeoSpring hybrid hot water heater, Nucleus energy manager, programmable thermostats, GE appliances enabled with Brillon technology and GE smart meters.
SmartGrid
Alstom's smart grid demonstration was among five projects selected by U.S. Energy Secretary Steven Chu to receive $6 million in federal funding aimed at optimizing the U.S. electric grid with smart grid technologies. The Alstom Grid (formerly Areva T&D) demonstration project was designed to efficiently integrate distributed energy resources into the electric grid. Its objective is to help the DOE reach its smart grid targets for 2030. Alstom says the project will be implemented with several partners, including Duke Energy, Pacific Northwest National Laboratory, the University of Washington and the University of Connecticut.
The U.S. Department of Energy (DOE) also awarded On-Ramp Wireless a smart grid technology grant, to utilize On-Ramp's Ultra—Link Processing (ULP) wireless communication system to develop and demonstrate a wireless grid sensor and faulted circuit indicator capable of monitoring underground systems. On-Ramp says it successfully demonstrated the ability to connect wireless sensors throughout the distribution grid in a field test with Schweitzer Engineering Laboratories (SEL) in July 2010, and will conduct the project on in partnership with two Western utilities.
CenterPoint Energy Houston Electric selected ABB for its intelligent grid advanced distribution management system (ADMS). Using ABB's Network Manager, the ADMS will process data from power line sensors and smart electric meters to identify the location of power outages and remotely control intelligent grid switching devices to shorten the duration of power outages. Phase 1 is expected to be completed in 2013 and will cover more than half a million Houstonians.
Cooper Power Systems introduced the SMP 4/DP, a more advanced automation and integration platform of the SMP line of distribution processors. Cooper says its latest communication gateway product provides utilities with secure and reliable data acquisition and management.
Burbank Water and Power (BWP) selected Tropos Networks as part of the municipal utility's smart grid network. Tropos'GridCom architecture will be used in the city's wireless distribution area network, providing connectivity for multiple utility smart grid applications. BWP's smart grid investment is estimated at $62 million with rollout planned over the next three years. The program is funded by BWP and a $20 million U.S. Department of Energy (DOE) smart grid investment grant (SGIG). BWP recently completed its smart grid proof of concept phase that includes 900 advanced meter infrastructure (AMI) meters, portions of the Tropos GridCom network, a meter data management system (MDMS) and an outage management system (OMS).
Survalent Technology installed a new SCADA system for Pearl River Valley Electric Power Association. Survalent says the open-architecture system, based on Windows Server 2008, incorporates numerous applications, including: command sequencing, event data recorder, remote alarm, fault data recorder, and MultiSpeak interfaces for engineering analysis, outage analysis, AMI, load management, and GIS.