EVs & Storage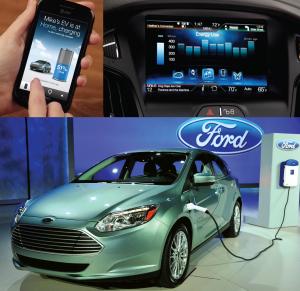 Ford Motor Co. unveiled the Focus Electric, the company's first-ever all-electric passenger car, at the Consumer Electronics Show in January. Ford says the Focus is the flagship of its line of hybrid, plug-in hybrid and all-electric vehicles coming to North America and Europe by 2013. The Focus Electric will launch in late 2011 and introduces a new version of the MyFord Touch driver connect system especially for electric vehicles, using Microsoft technology and a smartphone app called MyFord Mobile that helps plug-in owners control their vehicles remotely. The Focus Electric's lithium-ion battery pack features liquid cooling and heating to help maintain charge and extend battery life. The company says the car will go about 100 miles on a charge. Ford also is offering customers a 240-volt wall-mounted charge station that will be sold separately, reportedly for about $1,500, that will provide a full recharge in about 3.5 hours. After federal tax incentives, the basic Focus Electric will carry a sticker price of about $33,500. Both Focus gasoline and electric variants to be sold in North America will be built at Ford's Michigan Assembly Plant in Wayne, Mich.
Midwest ISO arranged for dozens of its employees to test drive—and buy—plug-in electric vehicles (PEVs), manufactured by electric car maker THINK. The Ride & Drive event was sponsored by Energy Systems Network as part of Project Plug-IN, an initiative to bring electric cars to the streets of central Indiana. The Midwest ISO plans to install a charging station at its headquarters in Carmel, Ind. Project Plug-IN aims to introduce plug-in vehicles in the Indianapolis metropolitan area, with plans to install more than 200 charging stations throughout the region.
The Electric Power Research Institute (EPRI) and the Tennessee Valley Authority demonstrated a new prototype six-bay integrated solar-assisted electric vehicle charging station at the EPRI laboratory in Knoxville, Tenn. EPRI says it's among the first stations in the U.S. that incorporates energy storage technology into the design. The prototype station will produce data that will assist in implementing key components of a smart grid, such as integrating renewable energy onto the grid, assessing the impact on reliability of distributed resources, testing advance metering infrastructure, and analyzing electric vehicle equipment.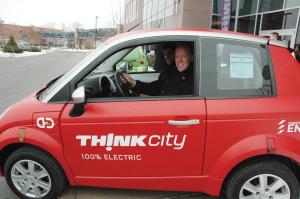 Zigbee Alliance and SAE International collaborated on ZigBee Smart Energy standard development. Their efforts aim to make ZigBee Smart Energy the preferred technology supporting plug-in electric vehicles (PEV) and enabling essential vehicle to grid (V2G) communication and power capabilities. This initiative will provide future PEV drivers with real-time information to control transportation energy use, manage charging costs and apply utility program incentives. It also provides control functions to manage PEV charging while maintaining grid integrity. ZigBee says Smart Energy version 2.0 is scheduled for completion next year.
ZBB Energy successfully tested and delivered its ZESS POWR PECC and ZESS 50 energy storage solutions to the energy lab at University of Wisconsin-Milwaukee's College of Engineering & Applied Science. WERC researchers will use ZBB technology to study individual wind turbines and remodel an entire wind farm system to improve reliability and dispatchability.
A123 Systems received an order